In high-rise buildings, stairs are essential. A beautiful staircase can easily fit into a big house, but architects and interior designers also need to be practical without sacrificing beauty. Because of this, designing staircases for small spaces is important and challenging. 
Finding the right solution for small spaces can be tricky, but creative ideas can help develop small space-friendly stairs. 
Designs should focus on creating great objects that enhance the aesthetics of the home and save space. Small-space stair designs can be employed to optimize the space available for steps. 
If you want the best concrete staircase design for your home, you might need some help. We are ready to assist you. 
For more information, see our most recent blog post. If you are looking for specific stair design ideas, Decorchamp has written a whole blog post for you. 
A Curved concrete stair
This living room with parquet flooring has a stunning curved staircase. Set these steps aside for the holidays! It will be stunning with all the glossy red and gold decorations.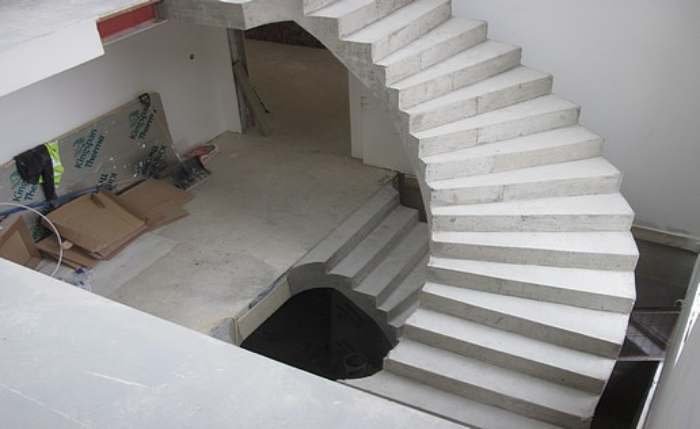 Alternately, candles can be placed at the ends of each stair and socks can be neatly hung on the stairs. This concrete staircase is ideal for couples who require curved staircases. The layout of the hallway is perfectly complemented by a stunning white rug in the living room.
Here, you can also try these modern steel staircase railing designs with photos.
Concrete stairs in a modern design for a small house 
Are you the owner of a modern house? Then you need a contemporary staircase to go with it. Take a look at this L-shaped concrete staircase. 
Metal and glass handrails adorn this contemporary living room's staircase. class, surely? Your television can be set up on the floor beneath this concrete staircase. Under these stairs, there is a shelf with an LED strip where you can put things. 
Unexpected spiral staircase 
Do you want to give your Victorian home a touch of luxury? Then, take a look at this spiral staircase. 
The white marble floors in this living room are elegant. It includes a console coffee table with light wooden legs and a sofa made of solid wood with gray throw pillows.
This fair is ideal for you if you have always been influenced by the British because it is heavily influenced by them. 
A benefit of a spiral suitcase is that it has room underneath for a table or even a bookcase. Under the stairs, you can create a cozy reading area. 
Contemporary cement staircase
After that, there should be a grand staircase. This ladder is the best. If your property has two floors and little space, you might want to consider this concrete staircase design for a small house. 
Glass sides and stainless-steel balustrades provide support for this staircase. An entertainment unit with a sofa and TV is below the structure, and a study room with a library is above the stairs. 
To save money on your stair design, you can read here – how to reduce constuction cost in India.
Minimalist Staircase design
This staircase is based on a simple design. These procedures are not particularly difficult; They lack glittering paint and intricate decorations. 
The simple design is emphasized by the spacious, open layout and white walls. Special attention is due to the stairs' clever concealment behind two walls and strategic location. 
The house is largely unoccupied thanks to this design, but the location still looks amazing. You can keep a few small plants at the bottom of the steps to brighten up the area and counteract the effects of cold colors.
Colorful design
The steps are well thought out. Despite being made of concrete, they appear to be very trendy. Orange and blue are used as two opposing colors in the monochromatic stages.
The floating appearance is perfectly maintained, and the design of the entire staircase gives the house life and freshness.
White staircase design
You'll fall in love with this white staircase the moment you see it. The staircase has been so meticulously and completely created that it resembles a gateway to paradise. 
There is a little light next to each stair. When lighted up, it produces an enchanting and glistening ambiance.
Deep Brown beauty
The dark brown wood that was used to build this chic staircase gives it a beautiful look. The dim inside of the room appears differently about the yellow light that ponders especially well the condo floor. 
This room's layout never gets old. One is compelled to ascend the stairs to experience the enchantment that awaits her upstairs!
Multipurpose Stairs
Stairs that can be used for a variety of purposes. If your home is small and you only have a limited amount of space, a staircase that can be used for a variety of purposes is an excellent choice. 
It can also be used to connect two levels in a study. Also good for photos is this minimalist cement staircase design for a small apartment.
You should also consider the quality of cement before choosing any stair design. Just pick one of the best cement in India after consulting with your architect. 
Dynamic stair design
It is not necessary to position a staircase in the corner if you are designing a staircase for a small house. 
If the staircase is made of glass, it's a great idea to put it in the middle of the room. It can keep the room light and give it a modern feel. These contemporary staircases for small homes will give your house some personality.
You may also like to read – The Safest Choice For Your Staircase: Glass Railings
The Best Layouts for small staircases:
How to Pick: 
High-rise Housing:
When there is a limited amount of space for stairs in high-rise homes, continuous designs that do not twist or bend are preferred. It can be used as a focal point and is simple to clean.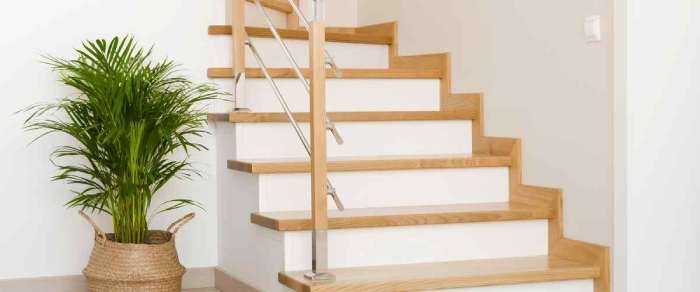 Although wood is an excellent material for designing stairs for small spaces, it should be regularly protected with a protective coating to prevent termite infestation and moisture damage.
If you want to see some more options then choose from these fascinating staircases designs for your home. 
Duplex:
Due to the limited space available for staircase design in apartments, the spiral shape is ideal.