When choosing our ideal dining table, a zillion questions pop into our heads, including what colour would be ideal, what size is best, and so on. Anyone can become confused by the wide variety of dining table designs available today. 
The following blog gives you an overview of wooden table designs and instructions on how to pick the best one for you.
Why Opt For A Wooden Dining Table?
By opting for a wooden dining table would offer a sleek and aesthetic appeal in the vibe and brings out the natural beauty of your space. Some more reasons for you to get one would be:

Everyone today is aware of the quality of products in the market and has observed how quickly tables and objects get worn or damaged.

While opting for a wood table, would ensure the durability and longevity of the table as it would be completely naturally made. They are less prone to damage compared to other materials.

And it has been long known that high-quality wooden tables are even passed down to generations with the proper care and maintenance.
When you want to go classic and 90's look, a wooden dining table would be the best option for you. They tend to add a natural elegance, and warmth to your living space making it match your aesthetic.
While choosing your perfect aesthetic for dining tables, you are not bound by a single wood design.

But there is a wide variety of designs you can investigate, From rustic farmhouses to sleek contemporary ones. Along with designs don't forget to measure the dining table dimensions as per your available space in your house. 
Different types of wood would create a different type of design and wood that you can go for:

Oak

Walnut

Maple

Freedom for customization-
Usually, wood tables are made on demand itself which gives the freedom for one to choose the dimensions, and different designs and consider other options.

Additionally, wood can be stained or painted in various colours to match your decor palette.
As wood is sustainable and renewable, it is the best eco-friendly option we can choose for a dining table.

Choosing a wooden dining table promotes environmental sustainability and reduces the carbon footprint of your furniture.
As bizarre as it may sound but maintenance of a wood table is quite easy. Only regular dusting and polishing would ensure the durability of your table.
You can also try these steel dining table designs in your home. 
Different Types Of Wood Table Design 
There are numerous varieties of wood table designs out there, each with its own qualities and styles. Following are some popular wood table designs:
Farmhouse Table
If you are looking for a rustic or countryside look then a farmhouse table might be the one for you! They are very durable as they are made from sturdy and solid wood and are usually thick and have a rectangular top.
The farmhouse table features a simple and straightforward look that best suits a nature-inspired aesthetic. 
Mid-Century Modern Table
If you are looking for a sleek and modern look, then this design right here is the option you were looking forward to. They focus on:
Sleek lines

Minimalist designs

Functionality
They offer a sleek look and showcase the beauty of nature by adding only essential and minimal and simple details.
Pedestal Table
If you do not wish to have the same 4-legged tables as everyone, but something different from that, then a pedestal table is the best choice. It features a single, central support (pedestal) instead of four legs.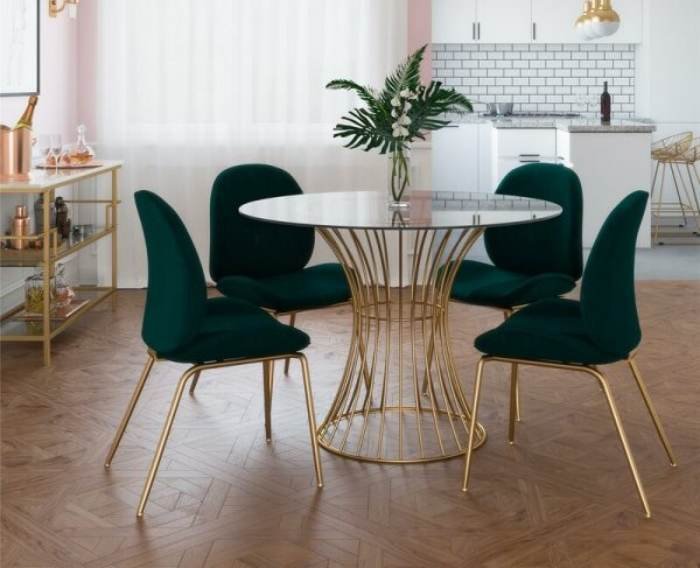 The best part about this design is that it allows you to have more leg space and flexibility. 
They are built in all type's sizes and shapes, such as:
Rectangle

Circle

Square

Oval
Trestle Table
Trestle tables feature two or more legs at either end that support a horizontal beam (the trestle) in the middle. 
These tables are made of strong materials and frequently have a traditional or rustic appeal. Trestle tables can be found in a variety of sizes and configurations, including 
Round

Square

Rectangular.
Modern Contemporary Table
The best option and preferred choice, if you are looking for a modern and something up-to-date, is the Modern Contemporary Tables. These tables focus on simplicity and functionality with sleek and clean lines. These tables often feature:
Smooth surfaces

Minimalist designs
And a mix of materials such as:
These contemporary tables looks good with glass material. Here are some unique glass dining table designs to try. 
Folding or Extendable Table
If you are short on space or living alone, the best option is to get a folding or an extendable table. It helps you save space and provide the flexibility you were looking for. 
These folding dining tables contain mechanisms that enable them to enlarge or contract, seating extra guests or changing to suit various requirements.
What to Keep in Mind While Selecting a Wood Dining Table Design?
Now that you know all the features a wood dining table has to offer and all types of design, you still need to gather your thoughts and then decide. Some tips which can help you in the following:
The size of the Dining Table
It might not seem too important but it is the most crucial decision. You must decide whether you want a large or small table and the factor that you should keep in mind are:
Your living area space

No. of people in the family
Material and design of The Table
You must choose the right material for the table as it would stay for a very long period with you. Also, consider matching your theme and aesthetic to the design and material so that it is not easily replaced in the future.
You may also like to read – Wooden Pooja Mandir Designs for Home
Conclusion
Wood tables offer a flexible and long-lasting eating alternative, adding warmth and natural beauty to your living area. You can select a table that matches your aesthetic tastes from the best types of wood and patterns. Wood's sustainability guarantees lifespan, and frequent cleaning and polishing make up the minimal maintenance required. You may improve the aesthetics of your eating area while using a sustainable and attractive piece by considering elements like size, material, and design.
Consider Reading

:-