Mandir or prayer room is an important aspect of many Indian homes and home-owners take this precaution of aligning everything according to Vastu directions.
Whether it is 1895 or 2023 people in India still have the mentality to follow Vastu principles as it brings a sense of positivity, harmony and peace at home.
People still engage in Vastu activities as they think Vastu promotes a healthy and balanced lifestyle with financial stability and improved career prospects along with harmonious relationships of peace and prosperity.
Mandir is a place that can totally change the vibes of your place. The presence of mandir at home is itself an aura that gives a sense of relief in one's mind.
Starting from choosing the right direction for the mandir to choosing right colors for your mandir all comes under Vastu- how things should be aligned in a way that maintains an envelope of positivity.
If you are planning your new home, then it's the right time to grab a piece of paper and note down all important points that will bring good luck to you and your family and if you already have a puja room in your house, go through the necessary aspects and make changes as soon as you can.
By following these changes, you will definitely find it helpful and a sense of positivity will arise in your corner.
Here are some Vastu tips for your Home Mandir:
Location and Placement of Mandir
The most important step while constructing your mandir is the right position. You must know place of pooja room or idols in the wrong direction is bad luck according to Vastu. So your mandir should always face the North-East direction.
If your north-east direction is preoccupied or you have already settled in then you can look for a place around the North or East direction. According to science and Neurology, North-East is the most ideal location as it receives maximum solar power(energy) there. 
Here are some key points to look out for the placement of Idols:
The mandir should always be placed at some height so God feet must come to the Devotees chest while praying.

God Idol should not be more than 15 inches away as it is considered as inauspicious.

Always keep some mat, carpet or cloth while praying or sitting in front of the mandir.

It will be good if the mandir is constructed by white marble as it is considered as a home of peace.

Do not keep the temple directly on the floor as it means disrespecting God.

Do not keep a late ancestor's picture or portrait in the mandir. 

The direction of Idols should always face north or west.
Idol's Mandir Direction
Yes, after finding the right corner at your home the next step is to find the right direction to place idols in the mandir.
Just like the mandir, idols should also be placed in the right direction which is north-east direction or either east or west is considered as auspicious. You must also make sure that idols are not kept in a cramped manner and only no same idols should be kept twice in the mandir.
One-one idol each you can keep but not the same idol twice as it is considered as a sign of negativity and disrespect of almighty god.
Position of Mandir Doors
While constructing a mandir make sure of the direction of doors. According to Vastu, the doors or windows of the mandir should ideally open in the north or east directions as they are believed to promote positive energy flow in the entire house.
The north and east direction receives ample sunlight, having doors in this direction can bring natural light to the puja room and even proper ventilation is maintained by receiving fresh and clean air in the environment.
Related article: Designing main entrance door
Ground Floor: Best Place to Construct Mandir
If you are living in a villa or multi-storey duplex then the ground floor is considered as the most appropriate floor to build a mandir.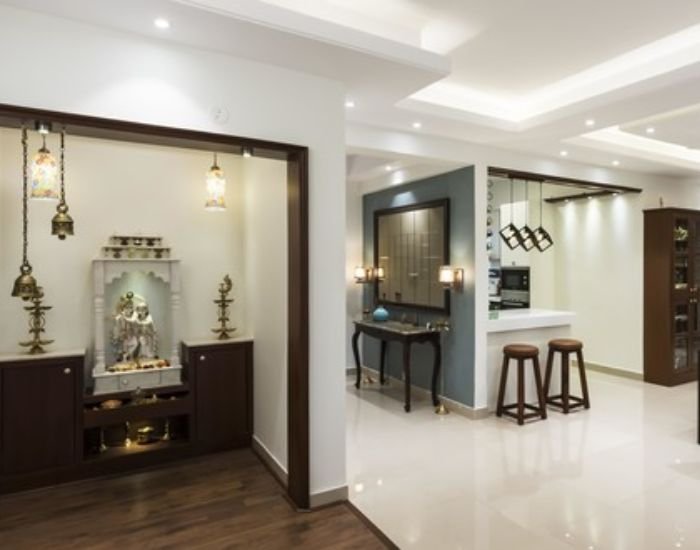 It generates a positive vibe in the house as the main entrance is from the ground floor only, where people just can enter the house and have a sense of positivity in their minds and among their relationships.
In earlier days, there was quite a big "aangan" in the middle of the house where mandir used to be kept but now the times have changed, people live in their new modern constructed houses that match their status.
Position of Diya and Agni Kund
According to Vastu-shastra, designing diyas or agni kunds in the south-east direction reflects a sign of good-luck and prosperity in one's mind and soul. The south-east direction is considered with fire-place or fire-element that is believed to promote positive energy, prosperity and good-luck.
South-East direction also is a sign of abundance which attracts wealth and financial prosperity. You can also place diyas in the east or north direction. Placing diyas in east is believed to bring good health in the family
Lightning
Lightning in mandir is also an important aspect of Vastu. It is ideal to enter natural lights in the mandir that's why it is recommended to have windows or doors in the north-east direction to receive ample sunlight.
If natural light is not sufficient then you can add artificial lights too but it should be warm and welcoming. Lightning diyas or lamps are an essential part of hindu culture, always using ghee or oil to light the lamps.
Decorate The Mandir
Decorating the mandir with religious books, rudraksh-maala's, thaali's and other auspicious puja items. You must avoid storing things in mandir rather keep it simple and natural with a little bit of decoration with puja items only.
Well you should also not store any money or even a coin in the mandir as it seems to be a hindrance in positive vibes of the allotted place. It is also recommended to use light, soothing and vibrant colors like white, light yellow, light blue in the mandir. Avoid using dark colors like black or gray as they are overwhelming.
Related article: Designs to consider for Puja Room
CONCLUSION
In Conclusion, Vastu-Shastra is an ultimate guide for setting up a mandir at home. According to Vastu the mandir should be located in the North-East direction of the house.
The direction of idols in the mandir as well as direction of doors and windows also plays an essential role in the mandir. The mandir should be kept-clean and natural light is considered as ideal.
The use of diyas, lamps and placement of religious books and items are considered important and auspicious aspects of Vastu-Shastra for mandir at home. Lightning in mandir should always be light, warm and welcoming.
Placing agni-kund in the south east direction is believed to promote positive qualities as it is a symbolic representation of the fire element.
By following these guidelines, one can create a positive and harmonious environment in their homes which can promote peace, prosperity and spiritual well-being.
However it is important to note that Vastu is based on ancient indian beliefs and practices and should be followed as per own beliefs and cultural tradition.  
Explore more about- Best Vastu Tips for your Home