A U-shaped kitchen is a great option if you have a large kitchen space. It offers plenty of countertop and storage space, and you can add a kitchen island for even more workspace.
This kitchen layout works well for both small and large kitchens, so it's a great option regardless of your kitchen size.
What Is a U-Shaped Kitchen Design?
A U-shaped kitchen is one in which the fourth end is open for access and contains three adjacent walls of cabinets, with the third connected by an open fourth wall.
The sink and countertop are located along with one of the cabinetry walls. It's easier to get to various parts of the kitchen without having to walk across the room because U-shaped kitchens free up space on the floor.
Pros
The layout offers three sides with a long countertop and plenty of storage.

The floor plan is simple to use since it has an effective layout.
Cons
There are many corners, so you'll need to be particularly meticulous when it comes to designing base corner cupboards.

It can result in a cramped layout in a tiny home, as well as locations where the passageway is narrow.

Have a look at the latest modular kitchen designs photos here.
U-Shaped Modular Kitchen Designs
Simple U-Shaped Design
If you have a limited amount of space, go for a minimalistic kitchen style. Do not fill the modular kitchen with too many appliances and attachments.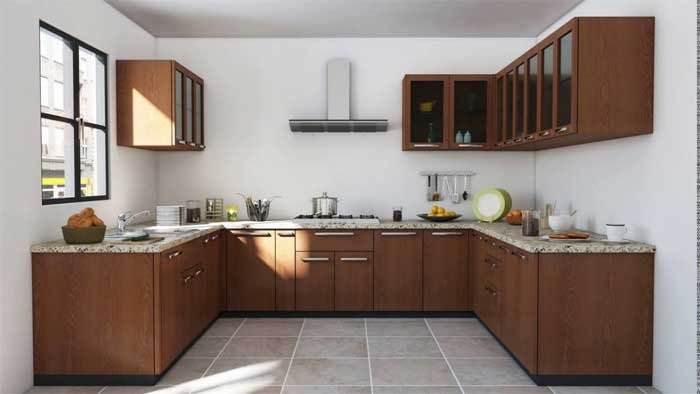 This attractive all-white and yellow U-shaped kitchen is basic, with sleek push-to-open cabinets in high-gloss laminate above and below. The combination of white and yellow is pleasant.
Bright U-Shaped Kitchen
It's a flexible arrangement. Paint your U-shaped kitchen in an eye-catching hue to add more life to it. The bright color scheme of this kitchen is certainly appealing.
With its bright green parrot green granite worktops, white speckled marble countertops, brick wall backsplash, and cute white knobs on cabinets, this kitchen is the envy of the neighborhood.
Try these G-shaped modular kitchen designs if you have good space and want to construct a kitchen that would have good space.
U-Shaped Kitchen with Island
This is a bit of a difficult situation for a U-shaped kitchen, but if you have extra space, consider adding an island.
On either side of it, you may also add extra storage for cabinets and drawers.
Also read the kitchen direction as per vastu here while constructing a modular kitchen for your home.
U-Shaped Kitchen with Window
For a U-shaped kitchen, establish it around a window. The cabinets and shelves will undoubtedly stand out in the light of day.
Warmth and closeness are added to this entire environment with white brick tiled backsplash and hardwood floors finished in natural tones.
This kitchen window allows plenty of fresh air to flow into this area along with the natural light. To enhance this light opt for a kitchen modern pop plus minus design in light colors so that they reflect the light and increase it naturally.
Neutral Theme U-Shaped Kitchen
In previous generations, smaller self-contained rooms commonly housed the kitchen. In today's open-plan kitchens, this may appear to be a disadvantage, but restricting your kitchen to a single room with a U-shaped plan has certain benefits.
It ensures that everything will be within reach and simplifies cooking and cleaning up. To keep the little U-shaped kitchen feeling light and airy, stick to a small color palette of neutrals and grays.
Dramatic U-Shaped Kitchen
A stunning piece of slab stone/wood above the cooktop, statement pendant lighting, stunning tilework, or a huge-scale artwork in an L-shaped modular kitchen design with equal sides may all serve as a major focal point on the far wall.
U- Shaped Kitchen with Open Shelving
Keep your clutter under control by following these guidelines, and don't miss out on the design opportunities for adding bright glass, accessories, artwork, or other decor elements to make the area feel more homey and welcome.
Mixed Finishes and Round Tables
A U-shaped kitchen with built-in floor-to-ceiling storage may help you keep an organized and minimalist look.
Adding a round table instead of a square or rectangular island in the center of a big U-shaped kitchen adds visual appeal, breaks up all those straight lines, and increases flow for many people.
Also read: vastu for kitchen slab color here to make it vastu compliant.
Monochromatic U-Shaped Kitchen
U-shaped kitchens with long sides may get congested when cabinets and appliances line all three walls.
To create balance, try using an all-white color scheme, concealing appliances such as the refrigerator behind built-in cupboards to match the cabinetry, and adding wood accents on the flooring, kitchen island, or furniture.
Peninsula Style U-Shaped Kitchen
If there isn't enough space for tables or chairs in a tiny U-shaped kitchen, it might be difficult to work in.
A peninsula is a clever idea, especially for open-plan areas, and may offer a physical barrier between the living room and kitchen that most homeowners desire. Choose the perfect modular kitchen colour combination to make your kitchen a unique one.
A corner breakfast table is also used to provide you with more surface area and storage capacity. One of the most essential things to know about U-shaped kitchens is that there is a lot of freedom when it comes to designing them.
Choose a U-shaped kitchen that is appropriate for your way of life and requirements by talking to your designer.
Tips To Design U-Shaped Kitchen
If you're looking for a U-shaped kitchen design, consider the following tips:
Go for maximum storage

: A U-shaped kitchen gives you plenty of opportunities to add storage, so make the most of it! Install floor-to-ceiling kitchen almirah designs on one or two walls and consider adding a pantry if you have the space.

Create an efficient workflow

: The key to any good kitchen design is creating an efficient workflow. In a U-shaped kitchen, this means placing your major appliances (such as the fridge and oven) in strategic locations so you can move easily from one to the other.

Maximize counter space

: One of the great things about a U-shaped kitchen is that it offers plenty of counter space.

Consider your lighting

: Lighting is an important aspect of any kitchen design, but it's especially important in a U-shaped kitchen. Make sure you have plenty of task lighting at your workstation and consider adding accent lights to highlight specific areas of the room.

Don't forget the details

: The little things can make a big difference in a U-shaped kitchen. Add some personality to the space with fun cabinet hardware, unique light fixtures, colorful backsplash tiles, or kitchen wall stickers.
With these tips in mind, you're well on your way to designing the perfect U-shaped kitchen for your home.
Conclusion
The U-shaped kitchen is a popular layout for many homeowners. With a little planning and forethought, you can create a functional and stylish U-shaped kitchen that will be the envy of all your friends and family.
Consider Reading: Modern Kitchen Sink Design here.