Looking for a two-color combination for your bedroom walls? Green two-color combinations for bedroom walls can be very effective. Green is a great option!
Green is a good option as it matches well with other colours, be it two colour or three colours, and gives a unique look to your bedroom walls.
Listed below are the latest, modern colour combinations which are unique and attractive with green colour. Lets have a look at these.
Tips To Use Green for Different Walls of the Room
Use different shades of green to create depth and interest.
Combine green with other colors such as white, cream, or brown for a classic look.
Add pops of brighter green to create a more modern feel.
Use green as an accent wall color to add contrast and visual interest.
Paint all four walls green for a serene and peaceful bedroom retreat.
This will help you see how the two colour combination for bedroom walls look in different lights and give you a better idea of whether or not they're right for your space.
Green Two Colour Combination for Bedroom Walls
Green and Mustard Yellow
This two-color combination for bedroom walls gives a very earthy and soothing look to the room.
Green and White
You can use different shades of green on the walls and ceiling to create a cohesive look or go for a more contrasting look by using one shade of green on the walls and another on the ceiling.
If you're not sure which colors to use, take a look at some green paint samples and see what catches your eye.
If you are looking for a modern two colour combination for living room then you can try these colour combinations as well for your living room.
Pale Green and Tan
Green is a refreshing and popular color for bedrooms, but it can be tricky to use in a way that is both stylish and calming.
A two-color combination of pale green and tan can achieve this look.
The key is to use the colors in a way that complements each other rather than competing against each other.
For the pale green, look for a shade that has gray undertones. This will help to create a serene feeling in the space.
Paint the walls with this color and then use tan as an accent color in the room. This can be done through throw pillows, window treatments, or even painting one wall in the room tan.
Consider reading How to make orange colour paint.
Too much green can feel overwhelming, so be sure to use it in moderation. A good rule of thumb is to use green as the dominant color in the space and then use tan as an accent color.
Lime Green and Pink
This green two-color combination with pink colour is perfect for a fun and girly bedroom. The lime green walls will add a pop of color, while the pink accessories will bring a sense of playfulness to the space.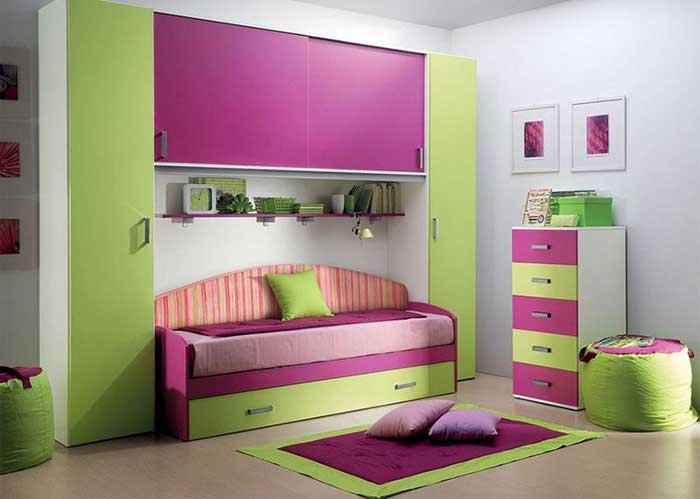 Add in some white furniture and you've got a cheerful and bright room that any little girl would love.
Olive Green and Orange Combination
If you're looking for a two-color combination for your bedroom walls with green color, why not try olive green and orange?
Try these wall colour combination for hall as well here.
It's a great way to add some warmth to your space, and it can also help to make your room feel more inviting.
When choosing furniture for your olive green and orange bedroom, you'll want to keep in mind the colors you've chosen.
For example, if you've chosen a light olive green, you may want to consider using white or cream-colored furniture. If you've chosen a dark olive green, you may want to consider using darker-colored furniture. This will help to create a more cozy and intimate space.
If you want to give skin colour shade with green colour, then here is how to make skin colour shade.
Emerald Green and Burnt Orange
These two colors make for a stunning and vibrant combination that is perfect for injecting some personality into your bedroom.
Emerald green is a rich, deep shade that evokes feelings of luxury and sophistication, while burnt orange is a warm and inviting hue that creates a cozy and welcoming atmosphere.
If you want to add a touch of glamour to your bedroom, then this is the color combination for you.
The rich emerald green walls will provide a luxurious backdrop for your furniture and accessories, while the burnt orange accents will add a warm and inviting touch.
This color combination is perfect for those who want to create a stylish and sophisticated space without compromising on comfort.
Forest Green and Brown
Whether you're looking to create a nature-inspired oasis or simply want to add a touch of green to your home décor, consider using forest Green and Brown two colour combinations as your primary bedroom wall color.
Forest Green is a rich, deep hue that evokes images of lush forestry and natural landscapes. When paired with the warm tones of brown colour shades, this color combination can create an inviting and relaxing space in which to unwind and enjoy quality time with family and friends.
To start incorporating this color scheme into your bedroom room design, begin by painting the walls Forest Green.
Then, add brown furniture pieces and accents throughout the space for a cohesive look.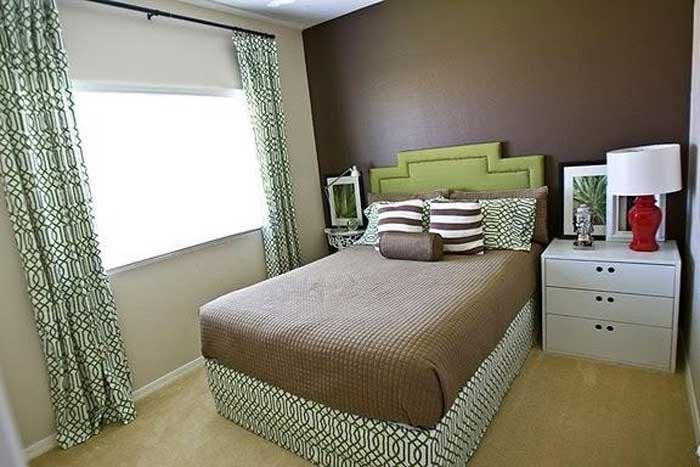 Incorporate earthy tones and materials such as wood and stone to bring the outdoors inside. Finally, add some greenery in the form of houseplants or cut flowers to complete the natural feel of your space.
Emerald Green and Navy
Looking for a two-color combination for your bedroom walls that is both stylish and unique? Why not try emerald green and navy blue?
Consider reading: main iron gate colour combination in different colours.
This dynamic duo is perfect for creating a chic, sophisticated space that is still warm and inviting.
Emerald green is a rich, jewel-toned colour that adds a touch of luxury to any space. Navy blue is the perfect complementary shade – it is deep and calming, making it ideal for a bedroom.
Note: Green also matches with purple colour when you have enough lighting in the bedroom and can be tried. Here is how to make purple colour shades that matches with green colour for your bedroom walls.
When used together, these colors create a stunning visual contrast that will make your bedroom stand out from the rest. Plus, they are both very versatile colours that can be easily paired with other colours and patterns if you want to change up the look of your space in the future.
How to Maintain a Green Color Bedroom Wall?
It is easy to maintain the green color bedroom wall. To keep the wall looking good, you should repaint it every few years.
If you want to change the color of your bedroom walls, then you can do so by using different paint colors.
Consider opting for modern texture paint designs for your bedroom walls with any of the green shade you choose from the above list.
Conclusion
There are many different color combinations that you can choose from when painting your bedroom walls. If you want to create a space that is both stylish and inviting, then consider using one of the following color combinations in green shaded for your bedroom walls:
Olive green and orange

Emerald green and burnt orange

Forest green and brown

Emerald green and navy blue.
Also read asian paints colour combination with code here.
Whatever color combination you choose, be sure to maintain the wall by repainting it every few years and keeping it clean.