Rangolis are beautiful designs and patterns that can add more charm to a place, bringing it more life and light.
Connecting dots to create these designs, they can be monochromatic or colorful.
As Rangolis are quite popular, we have decided to showcase some beautiful designs made by connecting dots.
Some of these are easy to recreate, while others might take more practice. But don't worry–with a good amount of effort, you'll be able to make them too!
Swastika Rangoli with Dots:
To create a swastika rangoli, start by drawing four dots in the shape of a cross. Then, join the dots to form a square.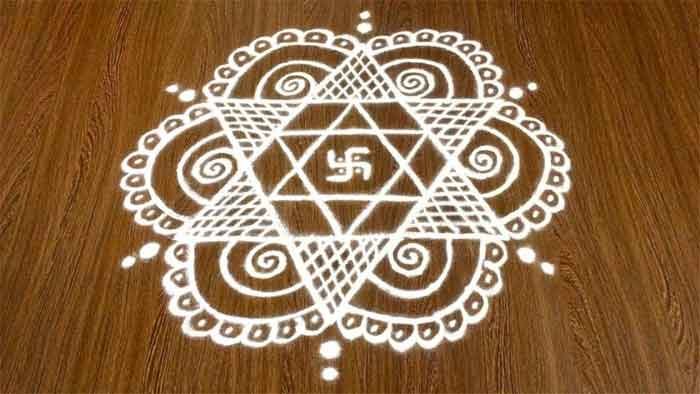 Next, draw diagonal lines from the corners of the square to the center and then fill in the gaps with colors or patterns of your choice.
Lotus with Dots Rangoli:
The lotus is another popular design for dot rangoli. Join the dots to form a square.
Next, draw diagonal lines from the corners of the square to the center, and then fill in the gaps with colors or patterns of your choice.
After that, draw another square inside the first one and then fill it in with your desired colors or patterns.
Dotted Rangoli Muggu
This octagon-shaped rangoli design with dots is unlike any other you have seen before. Simple patterns inside the design connect the dots of various colors, creating a beautiful and one-of-a-kind piece.
It's commonly seen in South India, and people usually make it using lime powder or rice. The straightforward and uncomplicated design eliminates bad energy from the home.
For diwali decoration, try these Diwali decoration ideas for home to decorate your home this diwali.
Five Parallel Dots Rangoli:
To create one, a dot is placed in the center and then joined by four other dots at the corners to form an intricate pattern.
This is a famous geometric design that can be found in households all over, usually made with colors or simply lime powder. It symbolizes power and purity and is primarily used for festivals.
Diwali Dot Rangoli Design:
Rangoli is a beautiful Indian art form often seen during holidays like Diwali. If you're new to rangoli, don't worry!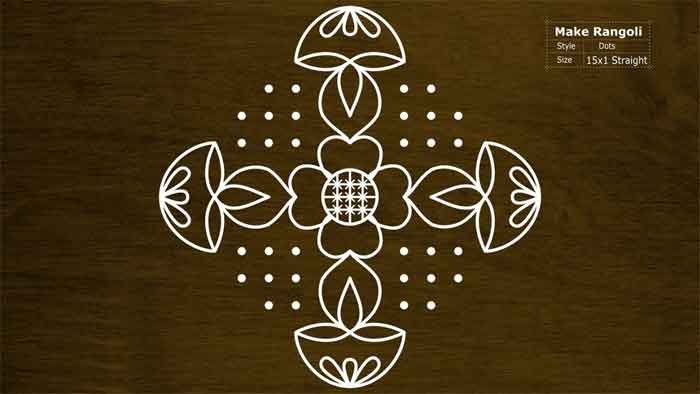 This design uses the easy parallel dot pattern. So now that you know how it's done, make sure to put it on your list for next year's celebration!
For more trendy, attractive, and simple diwali rangoli design visit here.
Beginners Dotted Rangoli:
With these step-by-step instructions, even someone with no prior experience can successfully complete this design.
This design is mainly found in Rajasthan, where people often use it as wall paintings. The geometric shape of the design symbolizes power and brings prosperity to the household.
Easy Rangoli Design with Dots:
This gorgeous Indian rangoli design is made up of colorful dots arranged in a parallel pattern.
The picture is first drawn on paper, and then the dots are filled in with beautiful colors to create the final design.
Dotted Floral Rangoli Design:
This beautiful spiral-shaped rangoli design is filled with stunning floral patterns.
Dots are dotted between and to the sides of the flowers, adding an extra layer of interest.
Try beautiful peacock rangoli designs as well to give your entrance a new look.
Hexagon-Shaped Rangoli Design:
The whole geometric pattern shows power and prosperity,
whereas the hexagon shape specifically denotes an everlasting loop that will keep negative energies away from the home.
Square-Shaped Dotted Rangoli Design:
Designing rangolis is a popular pastime nowadays, especially square-shaped designs with dots, as they are easy to create.
Dotted Curves and Lined Rangoli Design:
You start from the center and work your way outwards until you reach the edge to create a symmetrical circle.
These dots can be used to make flowers, triangles or other shapes by joining them together with one central point.
This would be an ideal decoration for New Year's Eve because it looks elegant in black and white, but beginners could also add color to this mandala for other occasions like birthdays or anniversaries.
Also have a look at the latest dhanteras rangoli designs that you can try this festive season as well.
Diya Rangoli with Dots:
Diwali is the perfect occasion to make this rangoli design with dots. The whole pattern is square, giving it a swastika look at first glance.
Making this rangoli during Diwali wipes out negativity and welcomes prosperity and happiness into your home.
Diwali Rangoli Design with Dots:
Every aspect of this design is based on geometry; therefore, it is easy for anyone to recreate.
The significance of this imagery is that it banishes negativity from the home and invites prosperity instead.
Dotted Kolam Star Design:
Kolam rangoli symbolizes gratitude to Sun, Moon, and stars present in our universe.
Even beginners can make this design quickly as all you need to do is connect different ends with lines.
If you are planning to make rangoli on dussehra then try these Dussehra rangoli designs listed here.
Tips to make Dotted Rangoli Designs at Home
As you know, Rangoli is an ancient Indian art form in which patterns are created on the ground using colored sand, rice, flour, or flower petals. The designs are usually very intricate and can be quite challenging to create.
Don't try to tackle a complex design until you've had some practice with simpler ones.
Use a light powder or flour so that the lines are visible but not too thick.
Use a small funnel to pour the powder into the bottle cap (or whatever container you're using to hold the powder).
Once you're finished, carefully brush away any excess powder.
If you want to add some color to your Rangoli design, you can use flower petals instead of powder. Creating Rangoli designs can be a fun and relaxing activity.
Significance of Dotted Rangoli Design
The dots are believed to represent the different milestones that we achieve in our lives. As we move from one dot to another, it is said to represent the progression of our life journey.
The dotted rangoli is also said to be a symbol of peace and unity. The different colors used in the design are said to represent the different cultures and religions that make up our society.
By coming together to create this design, it is said that we are able to celebrate our diversity and show that we are all united in our quest for peace and harmony.
If you are looking for a design that is both beautiful and has a deep meaning, then the dotted rangoli is the perfect choice for you.
Conclusion
If you're interested in trying your hand at creating a Rangoli design, start with a simple design and use light-colored powder or flour. With a little practice, you'll be creating beautiful designs in no time!