Modern Asian kitchen designs have become more popular in homes over the past several years. These designs represent beauty and utility. In this article, DecorChamp will go over some of the essential components of Asian kitchen designs and how you may use them in your own house.
Natural Resources
Bamboo, wood, and stone are common natural materials used in modern Asian kitchen designs. These materials can survive for a very long period since they are sturdy. Your kitchen will feel more organic and nature-inspired if you choose natural materials. 
Bringing the outside in is a fantastic way to make your kitchen feel more inviting. Also, It can be used in small kitchen designs. Since these materials are environmentally friendly and renewable, utilising them in your house will make you feel good.
Plain and uncomplicated
Simplicity is an essential component of modern Asian kitchen designs. As a result, the kitchen will have clear and simple. The kitchen is a terrific location to cook and socialize with friends and family thanks to this straightforward and basic design.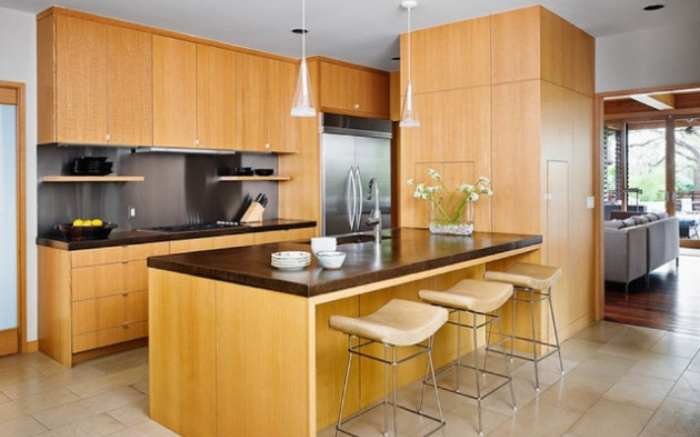 You won't be distracted when cooking if the design is this way, so you can pay attention to the food and the people around you.
A Vast Area
Open space is an essential component of contemporary Asian kitchen designs. This indicates that the kitchen is connected to other rooms rather than being isolated from the rest of the house. 
For individuals who enjoy entertaining guests or have big families, this helps to generate a feel of space and openness. Everyone can walk around easily in an open kitchen layout, and there is more room for cooking and socializing. 
This contributes to making the house feel more inviting. Here you can also add almirah here. There are many kitchen almirah designs available to choose. Just select the perfect match with your kitchen. 
Neutral hues
To create a relaxing atmosphere, modern Asian kitchen designs frequently utilise neutral colours like white and light grey. These colours provide a harmonious appearance while enhancing the natural elements used in the kitchen. 
You may develop a quiet atmosphere in your kitchen that encourages relaxation by utilising neutral colours. Also, these colours are adaptable and classic, guaranteeing that your kitchen will always be  modern. 
Hence, if you want a modern Asian kitchen design that is both useful and visually beautiful, think about mixing neutral colors into it. Here kitchen floor designs is also an important element to grab a proper asian design.
The use of technology
Modern Asian kitchen designs combine the newest technology in addition to traditional designs. This tells that a modern Asian kitchen will likely have cutting-edge equipment, smart home technology, and energy-efficient lighting.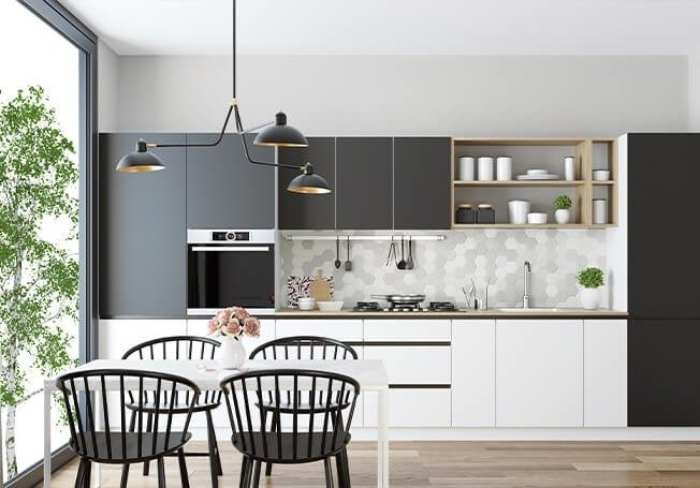 Apart from that, These innovations with modular kitchens are also very entertaining and use to improve the kitchen's general operation. Incorporating technology can also aid in lowering energy usage.
Lighting
In Modern Asian kitchen designs, lighting is crucial. The sun's natural light is frequently employed in kitchens to create an airy, cheerful atmosphere. 
In Asian kitchens, pendant lighting – a type of light that hangs from the ceiling—is definitely added. It has a lovely appearance and enhances kitchen lighting. To create a pleasant atmosphere in the kitchen, proper lighting is essential to add.
Along with Kitchen lighting, Use these hanging lights ideas for dining room. 
Classical touches
Even though modern Asian kitchen designs are frequently straightforward and have many decorations, they add a number of elements that are significant to Asian culture. These items might include traditional ceramics, artworks of Asian culture, or patterns unique to Asian nations. 
These small details add the kitchen's atmosphere a classical look and show the amount of importance that a resident is showing towards their heritage. Hence, it's important to have items that serve as a reminder of our heritage and customs, even in a modern kitchen.
Practical Design
While planning the kitchen, it's important to consider the patterns that allow us to cook freely. It is referred to as the "layout." It's also crucial for modern Asian kitchens to have a functional layout that makes it simple to get everything you need when cooking.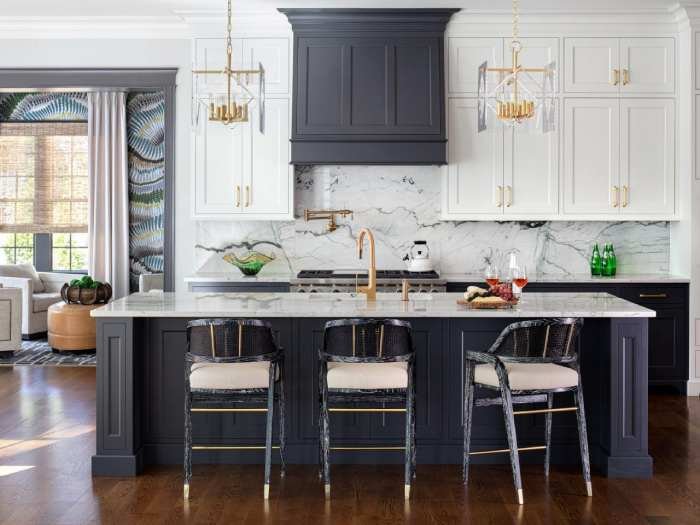 This implies that appliances like the cooker, sink, and refrigerator should be placed in sensible and accessible locations. An efficient arrangement makes cooking simpler and more pleasurable.
You may also like to read – Kitchen Interior design ideas
Here are a few essential things for your Kitchen Designs you need to keep in mind
Add

natural materials

like wood and stone for a warm, organic feel, and keep the overall design clean to create a calm atmosphere.

Create a few open areas

to create the impression that the kitchen is roomy and clean.

Add classic colors

like white or grey, and include cutting-edge technology for ease and effectiveness, such as smart appliances.

Use necklace lighting

or other forms of lighting to provide a good-looking calm and appealing atmosphere.

To give

character and cultural richness

, use elements like traditional art or traditional pottery.
Ensure that the arrangement is practical and allows for simple movement and access to all required things.
 Conclusion:
If you want to modernize your kitchen, think about adding some modern Asian design features to make it both lovely and practical. 
Furthermore, a peaceful and organized atmosphere is created by a straightforward and clean design. Another essential component of modern Asian design is to leave some open space since it makes the room feel bigger and free.
Adding the technology, such as sensors or smart appliances, may also improve the functionality and convenience of your kitchen. To create a welcoming environment, there must be enough light, which may be achieved with hanging lights or other forms of illumination.
Think about including traditional elements like culture art or traditional pottery to give your kitchen some personality and cultural character. 
A practical arrangement that makes it simple to walk about and get all the necessary goods is also essential. By putting these pieces together, you can create a kitchen that not only looks stunning but also captures the culture and beauty of contemporary Asian design. 
It is important to try which pair of designs are suitable for your kitchen by trial and error method, make sure that you change your design according to your comfort and according to the feedback received by the people who visited your kitchen.
By following these essential things you can create kitchen designs in your own house of your choice. 
Consider Reading:-