Peacock rangoli designs are popular among Hindus in India and Nepal. Peacock rangolis are believed to bring good luck and are often used to decorate homes during festivals like Diwali.
The most common method is to use colored powder or flour to create the outline of the peacock.
No matter what materials you use, creating a peacock rangoli is a creative and relaxing activity.
The finished product can be used to decorate your home or office, or given as a gift to friends and family.
Simple Peacock Rangoli Design
This peacock rangoli design is eye-catching and vibrant. The blue and yellow colors of the peacock pop against the white background,making it an excellent choice for anyone looking to add a bit of color to their décor.
There are also many other detailed rangoli patterns available, so be sure to browse around for one that fits your style best!
Peacock Rangoli Kolam
This is a peacock-themed rangoli design. This, on the first glimpse, has the ability to fascinate.
The bright colors of this rangoli artwork are bold and vibrant. Minor detailing is used in this design, which may require practice and patience to achieve such a great appearance.
This is a lovely kolam rangoli design. The red flower's border adds depth to the entire view of the rangoli.
Peacock Rangoli for Diwali
The bright and excessive design of this peacock rangoli is fantastic. This is ideal for any festive occasion.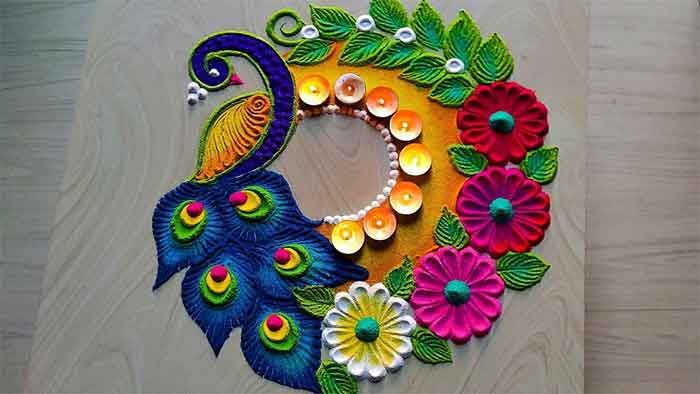 To receive great compliments, make a freehand peacock rangoli for any festival like Diwali, Dasara, or others. You can also refer to the latest rangoli designs for diwali here well.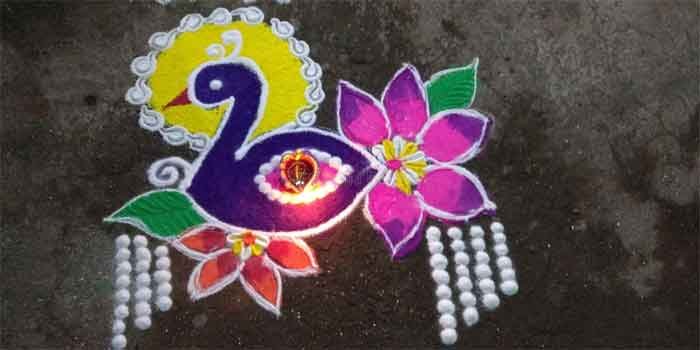 The white designs, on the other hand, give it a more serene appearance. With brilliant colors like this, it looks quite spectacular.
Attractive Peacock Rangolis
This is a unique design from the rest of them. This very nearly has all of the hues that we are familiar with.
The bright yellow background adds so much to this peacock's feathers.
The eye-catching aspect is the lovely feathers that are just a little bit deeper in the corners but which are really beautiful.
Try these beautiful peacock rangoli designs in Dussehra and make attractive dussehra rangoli at your home.
Colorful Rangoli Design
There are, however, other types of peacock rangoli. This is the most basic and attractive peacock rangoli you will find.
The colors in this design are bright, the border is beautiful, and the motion is good. These aren't difficult to create at all.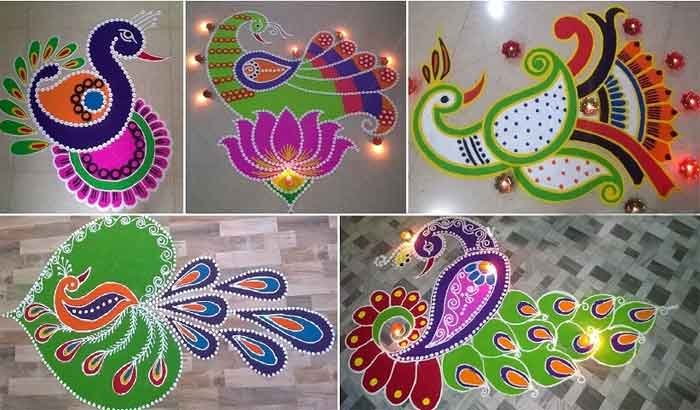 One of the finest rangoli designs of a peacock is also one of them.
Peacock with Drums
This peacock rangoli is special because it uses only natural colors found on the bird.
A key feature of this design is the addition of an ethnic drum in red and yellow- these two colors create a beautiful contrast.
If you're looking for an intricate yet appealing peacock rangoli design perfect for competition, this is ideal! You can also make bhai dooj rangoli in these beautiful peacock designs as well.
Two Peacocks Rangoli
What a brilliant hue of this peacock rangoli! This pattern is simply gorgeous and lovely. The hues in this rangoli are extremely brilliant and bold.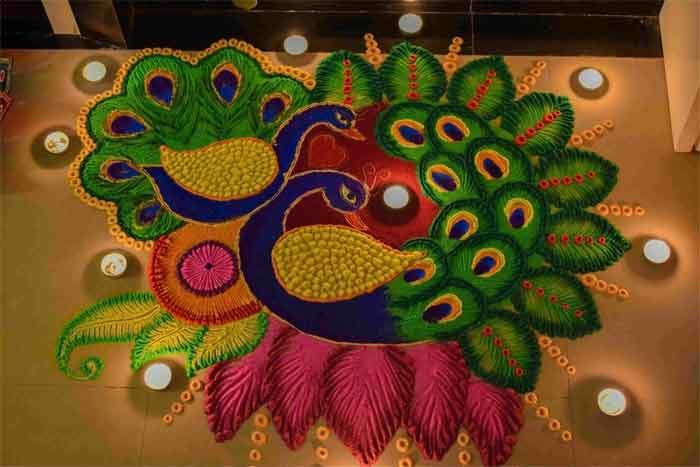 They're employed very intelligently to create an amazing impact. Peacocks are resting on pink lotus petals in this shot.
Pair Of Peacock Rangoli
It is one-of-a-kind thanks to the rich blue and brilliant pink hues. All the other tones have been carefully chosen to create an individual aesthetic for the design.
This style of peacock rangoli art will bring brightness to festivals such as Diwali, Vinayaka Chavithi, and Pongal.
Blue Peacock Rangoli
The color of this stunning peacock rangoli pattern is bright blue.
The body, the extremities of the feathers, and the background are all painted in royal blue.
If you believe that the other hues chosen here are too mundane, use your own judgment.
Big Peacock Rangoli
This Diwali decoration features a magnificent peacock rangoli design.
Flowers are placed in a tub and floating lighted Diyas surround two peacocks that have been constructed around it.
You may use this style of peacock rangoli for competitions.
Floral Peacock Rangoli
A flower petal design is intended to look natural. The rangoli's natural hues give it a very realistic appearance.
These flower petals' scent is soothing and refreshing, as well. Colors are frequently used in these rangolis to provide a backdrop to the petals.
Check these diwali decoration ideas as well this diwali.
Occasionally, only flowers and petals are used to create an aesthetic atmosphere around the rangoli.
Free Hand Peacock Rangoli
To make one of these, an artist first sketches out a design in chalk before filling it in with color.
Artists have the freedom to create all sorts of designs and shapes, either specific or totally random.
This type of freehand peacock rangoli allows artists to express themselves through an impressive display colors and designs.
Black and White Peacock Rangoli
A black marble slab or cardboard is used to make this sort of rangoli. The design of this rangoli is solely made out of white powder.
The rangoli appear to be more beautiful because they are painted on a black backdrop. These rangoli are simple to produce and may be created with little white powder.
The majority of rangoli designs use several colors to complement the peacock pattern. These patterns, when seen together, offer visual interest to the rangoli.
Such rangolis are well-liked by all ringoli fans owing to their simplicity and contrasting motifs.
Beaded Peacock Rangoli
Beads of various sizes and colors are used to create these rangolis. The colors in the design are there solely to provide a backdrop.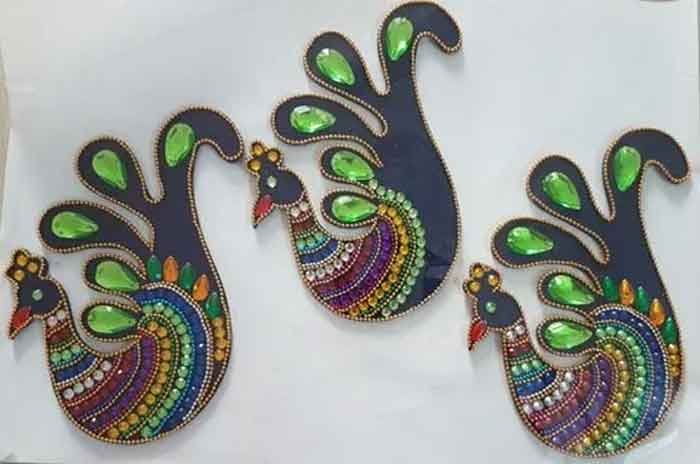 When the beads are subjected to different lighting conditions, they produce distinct hues and tints, making the rangoli more vibrant.
These beaded rangolis are beautiful and will certainly catch anyone's eye. To make the most of this art, ensure that you have proper lighting to show it off. Bead artists may also experiment with using beads of different sizes to get the perfect look for their rangoli.
Symmetrical Peacock Design
Drawing inspiration from peacock feathers, many rangolis feature these gorgeous birds.
They get their name from the symmetry of the design which consists mostly of dots and lines. Depending on the colors used, these rangolis can be either simple or quite elaborate.
Conclusion
The peacock is a very popular bird in India and is considered to be a national bird. Because of this, there are many designs dedicated to this beautiful creature.
Peacock rangolis come in all shapes and sizes, each with its own unique design. The most popular peacock rangolis are the freehand, black and white, symmetrical, beaded, and mural types.
With some practice, anyone can create a stunning peacock rangoli.