You can choose to have a stand that is simple and elegant or one that is more flashy and ornate.
If you are looking for a TV stand that will make a statement, then you may want to consider something that is made out of glass, wooden or metal.
When choosing a TV stand, it is important to choose a design that will complement the décor of your home.
It is also important to choose a TV stand that will fit the size of your television.
1. Open Shelving TV Stand Designs
The open shelving design is rapidly becoming the most popular, especially among consumers who desire a less obtrusive installation, space savings, and an open visual aspect.
Typically, a central frame supports many shelves and frequently includes a television mounting bracket.
Open shelving is easier to install, increasingly popular, and great for small spaces.
Have a look at wooden pooja mandir designs for home that matches with your tv stand as well.
2. Console TV Stand Design For Hall
In a hall, a console TV stand can be a great way to add storage and surface area without taking up too much space. Console TV stands typically have closed shelves and a rectangular structure, making them perfect for small spaces.
If you have a hall that needs a little sprucing up, a console TV stand may be just the thing you need. When shopping for a console TV stand, keep in mind the type of TV you have.
3. Simple TV Stand Design
The simple TV stand is a great choice for those who want a sleek, modern look without all of the bells and whistles.
This particular model is also available with an integrated audio system, making it the perfect choice for anyone looking for a complete entertainment center solution.
Also view modern indian style pooja room designs here.
The main stand includes two spacious shelves, perfect for holding your DVD player, cable box, or gaming system. The integrated audio system features two powerful speakers and a subwoofer, providing you with high-quality sound for your movies, music, and games.
4. Hutch TV Stand Designs Wooden Simple
The hutch is a classic piece of furniture with cabinets or shelving stacked on top of a horizontal counter area.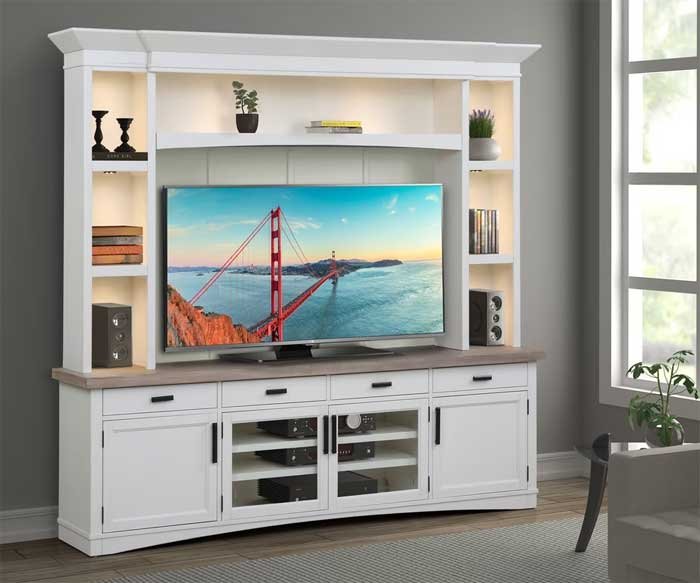 This design is a great way to make use of space and still have plenty of storage for other items. Make sure the wood chosen for making this cabinet is sheesham wood as sheesham is considered as the best wood for furniture.
5. Cabinet TV Stand Designs Furniture
Choosing the right cabinet TV stand for your space is a challenging task. Choose a cabinet TV stand according to your preferences and requirements: one more akin to the console models, with closed cabinets below an open surface on which to place the television;
or one designed as a piece of furniture with plenty of storage space, closed and open shelves, and even doors to keep your belongings dust-free. Also, have a look at modern wardrobe design here and match it with your tv stand.
6. Swivel TV Stand Designs Latest
The swivel TV stand's rotating foundation sets the entire structure on a rotating platform, allowing the stand to be angled in any direction for improved visibility. Some stands are made specifically for certain types of televisions, while others are more universal in their design.
No matter what your specific needs are, there is likely a swivel TV stand out there that will work for you.
If you are looking for a more modern look, there are many sleek and minimalist swivel TV stand designs available. These stands often have clean lines and simple shapes, making them a great choice for contemporary spaces.
7. Floating TV Stand Wall Design
Be it wall almirah design or wall mounted tv cabinet design, both are always trending. The floating design is a wall-mounted unit with an open floor plan and a clean, subtle appearance. Shelving and, in many cases, cord concealment are common features.
Televisions can be placed on the top or hung from the ceiling above the floating base using the stand.
8. Entertainment Center LED TV Stand Designs Wooden
With its uniquely towering magnitude, artful representation of the television and associated electronics, and sumptuous, detailed construction, the entertainment center is a classic piece of furniture that can make a living room stand out.
Also, try these wooden almirah designs for your living room or bedroom.
An entertainment center is a significant investment and an important part of your home décor, so it's critical to choose one that complements the style of your home and meets your specific needs.
When selecting an entertainment center, the most important factor is size. You need to make sure the unit you select will fit in the space you have available.
Once you've determined the right size, you can start thinking about style. Do you want a traditional wood entertainment center or a modern, glass-fronted unit? What kind of features do you need? Shelving? Drawers? Closed cabinets?
Once you've selected the perfect entertainment center for your home, there are still a few things to keep in mind.
Looking for the best modular kitchen images? Try these.
First, think about how you'll route the cords and cables from your electronic components. Many entertainment centers have cord management features built in, but you may need to add your cord covers or routing solutions if yours doesn't.
Second, be sure to measure the doorways in your home to make sure the unit will fit through them when it's time to move it into place. Nothing would be worse than investing in a beautiful piece of furniture only to find out it won't fit through your front door!
9. Wood TV Stand Design
Wood is the most traditional furniture material, and ornate features and rich surface tones are found on its most expensive versions.
10. Metal TV Stand Design
A TV stand made of metal will be more durable, lighter in weight, and have a potentially narrower profile than a wood TV stand.
Consider these POP Design for your hall to give it a unique look.
These versions are frequently formed into unusual configurations and have intricate designs and cuts.
11. Glass TV Stand
The extraordinary features of this unique collection transform any room into something special.
Glass TV stands manifest a boldly innovative look, opening up the visual area while still hiding the electronics in understated elegance. Usually paired with metal support pieces, glass TV stands are ideal for those who want a clutter-free environment.
Have a look at latest kitchen pop design ideas for your home here as well.
12. Contemporary TV Stand
The essence of the present is what distinguishes contemporary design. These are cutting-edge designs that couldn't have been created decades ago.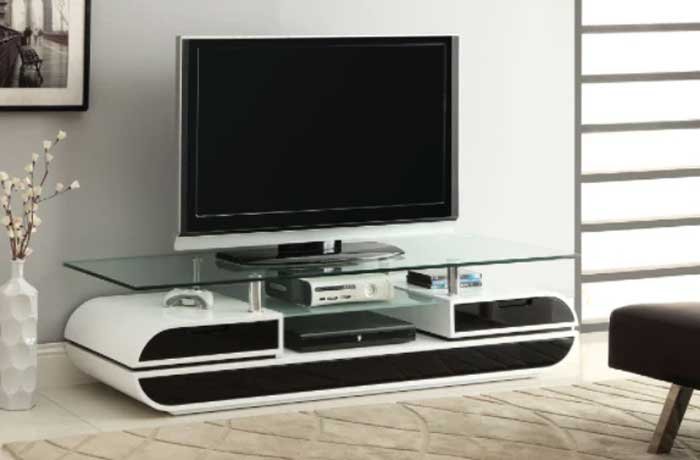 Contemporary TV stands in wood or metal, whether minimalist or elaborate, will provide a boldly innovative look in any home.
13. Traditional TV Stand
Traditional designs exude a classic feel with warm wood tones, dresser-style cabinets, and a solid, natural appearance. If you're looking for a television stand that will give your living room a warm and inviting feeling, then a traditional TV stand is the way to go.
Additionally, traditional stands often come with plenty of storage space, so you'll have plenty of room to store your DVDs, video games, and other media. And finally, traditional stands just look great in any home – they have a timeless appeal that will never go out of style.
Give your living room a completely new look with these living room POP design.
14. Modern TV Stand
Modern furniture is a style that was founded in the mid-twentieth century as a reaction to modernist architecture and design.
Modern furniture has an avant-garde, forward-thinking appearance as a style based on cutting-edge forms from the mid-twentieth century. This style emphasizes usefulness and form at the same time, with strong, often minimalist lines.
15. Rustic TV Stand
Rustic furniture is created to seem woodsy, vintage, and extremely at home in a mountain cabin.
These things frequently employ salvaged, natural, or other untreated woods for a worn appearance.
Consider reading: Plus minus POP design for gallery
Conclusion
There are many different types, styles, and designs of TV stands to choose from. The best way to find the perfect one for your home is to first decide what size you need, then what style would best suit your décor, and finally what features you need.