Diwali is a time for celebration, and one of the most popular ways to celebrate is by creating beautiful rangoli designs.
Rangoli are an integral part of Diwali celebrations in India and are created using a variety of materials including rice powder, flour, sand, and flower petals.
Creating a rangoli is thought to bring good luck and fortune, and is often seen as a way to welcome Lakshmi, the goddess of wealth and prosperity.
Rangolis can be simple or complex, small or large – there are no bounds when it comes to creativity!
Do you know why Rangoli is important for Diwali?Â
According to the Hindi religion, rangoli is put on a festival to make it auspicious. It is made especially on Diwali because it represents the homecoming of lord Rama after a triumphant battle against Ravana. So the patterns held importance as they represent happiness and peace.Â
Different names known as Rangoli in different parts of India, such as Kolam, Muggulu, Kolangal, Aplana, etc., is, and extreme care is given to the choice of colours and symmetry of designs on Deepavali. Mostly the designs of rangoli are passed on from one generation to the next.Â
And aavalli, which means a row of colours. A rangoli is designed at the entrance to greet guests during Diwali. People use coloured chalk, rice powder, and crushed limestone to make rangolis. There is no limit to the size of the rangoli.Â
When we think of rangoli, the first thing that comes to our mind is colours and designs. People usually freshly paint their houses during Diwali, so colours are the prominently noticeable thing on Diwali.Â
You may like Read – ÂThe Best DIY Diwali Decoration Ideas for Indoors & Outdoors
Even the African tribe of the Amazon jungle has something similar to a tradition they used to practice. They pray during the morning and then patiently draw a rangoli. The symmetry of rangoli also holds a lot of impotence. The design of the rangoli holds importance in channeling its energy. Â
Inspire the Artist in you with these Diwali Rangoli Designs
Diwali is synonymous with a lot of words- celebrations, festivities, merriment, crackers, shopping and ofcourse a beautiful Rangoli.
When the Diwali festival season sets in, people gear up to decorate their houses, get them whitewashed, and enlighten their homes with diyas and lights.
However, no Diwali decoration is complete without a Rangoli. Making a breathtaking Rangoli is an astounding art and a gift everyone wishes to have.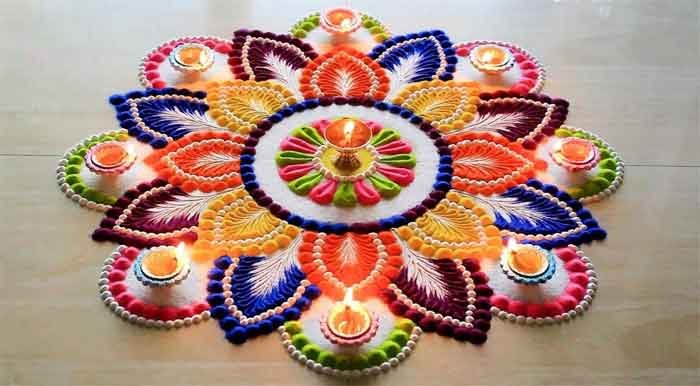 Take a look at these exquisite Rangoli designs that will surely inspire you and give you some ideas to go ahead and bring your home alive with the beautiful Rangoli colors and exotic designs that will leave everyone mesmerized.
Get your hands on the best diwali rangoli designs that will add the perfect artistic and ethereal touch your celebrations require.
A Diwali Puja is incomplete without paying reverence to the ever bountiful Shri Ganesha and you can pay your reverence by imitating a beautiful Ganesha Rangoli Design that will make your Diwali celebrations nothing short of perfect.
You don't need to be an artist to create something beautiful, let these amazing Rangoli design pictures inspire your dormant creative side and help you bring to life a mesmerizing and captivating Rangoli that befits the enchanting festival of Diwali.
Rangoli for Beginners
This design has two interlocking patterns with mango motifs, dots, and lines. Draw the motifs and floral patterns. Colour them from all sides. Finish the design using a chalk pattern. You can draw this design on any occasion besides Diwali.Â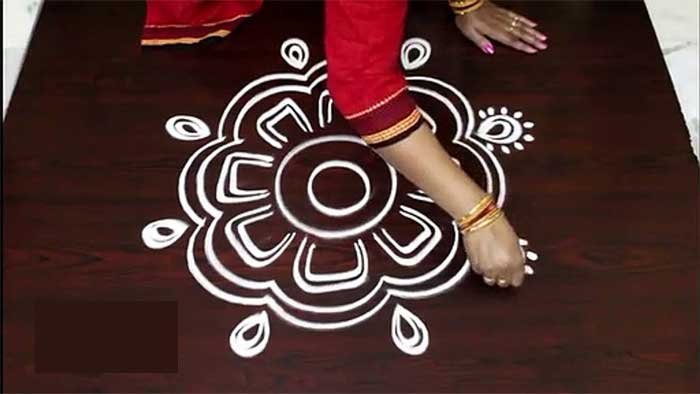 Four Square Rangoli
This is a modest yet appealing rangoli design. It is an artwork of beautiful designs which features a final design on a checkered four-square base. In this design, symmetry plays a major role. You can go for alternate color choices in this elegant design.Â
Diwali Rangoli Designs with Dots
When it comes to diwali decoration ideas, making rangoli for diwali with dots is the easiest way to make rangoli. Do have a look at the designs listed below which shows the rangoli designs made with dots.
These are attractive designs yet simple to make. Opt for any one of these designs for your home or office this Diwali.

Diwali Rangoli Designs with Flowers
Decorating your home or office this diwali with rangoli made from flowers is an awesome idea. Flowers bring positive energy in the home, office, or any place where these are used.
By making rangoli with flowers we welcome lord ganesha and maa lakshmi and give blessings this diwali. Have a look at some latest and trending diwali rangoli kolam designs made from fresh flowers.
This is not the end, one can mix the flowers with colors to make rangoli designs more attractive and colorful which can give a good theme to your rangoli. Adding diyas to your rangoli gives a live feel to your designs.
Diwali Rangoli with Colours
Decorating a home/office this diwali with colours is also considered as good. As colours bring position energy to our lives hence one should prefer making rangoli with colours.
There is no end when it comes to design your home or office this diwali with rangoli. Some uses only white colour and make awesome rangoli with black background, some uses colours and make attractive rangoli designs, some make rangoli with the mixture of all the things like colours, diyas, flowers, decorative materials etc to make unique designs. So, sky is the limit here.
Message Theme Rangoli Designs
One can also opt for rangoli designs based on the message theme. However, these rangolies are made more in schools, colleges and government offices etc instead of home and corporate.
Given below are some designs for rangoli based on message theme:
The best is, you just have an idea about the designs which you can make and put your own efforts and creativity to make awesome rangoli this Diwali.
Check some of the best, easy and simple dussehra rangoli designs here for this dasara.
Simple Rangoli Design
For Diwali, rangoli is a very popular decoration. This design in particular is quite simple, and the main focal point is a Diya.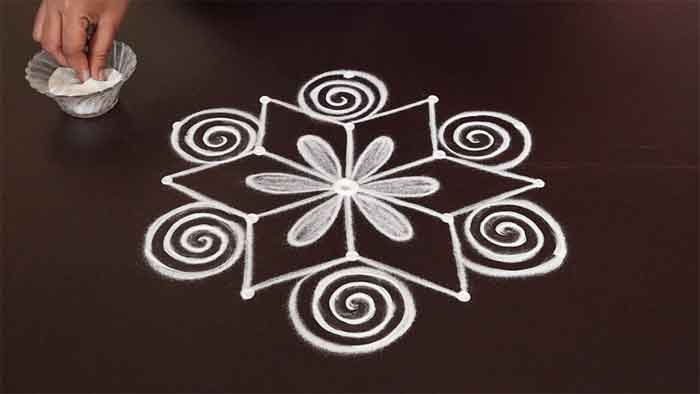 Start by drawing the diya, and then add flowers and leaves around it.
Fill in colors opposite of each other; for example, if you start with pink in the center, write "Happy Diwali" using yellow letters for contrast.
Doing this will make your project pop and appear more aesthetically pleasing overall.
This is a popular rangoli design that doesn't require much hand-turning ability since it does not require drawing freehand designs.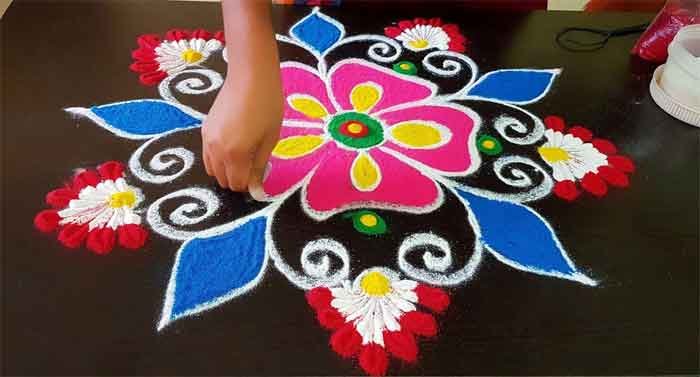 Begin with the Diya and plot the dots using color to represent the number and arrangement of flowers.
For flowers, use your fingertips to spread outwards. The leaves' pattern may be made using a stick.
Impress your visitors this Diwali by making a simple yet colorful rangoli for them.
Rangoli with Diya
This rangoli design is difficulty-free and still chic, ideal for beginners. A singular flower is drawn in the centre with looping petals and mango designs surrounding it.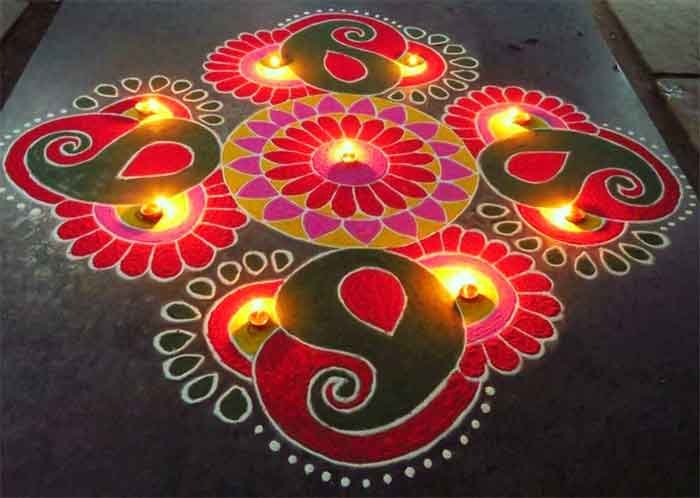 What makes this design especially lovely are the colors used–they stand out in stark contrast to one another.
Additionally, the outer leaves' shading along with the checkered pattern on the central flower give an elevated look to the rangoli overall.Â
This is a very simple design you can go for as it primarily features the decoration using diyas. Start with the diya and then draw leaves and flowers on the boundary. This rangoli design is quite trending as it uses fewer hand skills and looks beautiful.Â
Also Read –ÂTips to Decorate Office this Diwali
This design is perfect for any occasion or festival and can be customized to fit the event.
Floral Rangoli
The bright and vivid rangoli design includes flowers in a big way. Complete the empty gaps between the blooms with a checkered pattern.
Begin by filling in colors from within outwards.
The unusual flower forms, many contrasting hues in the flowers, and the diverse textures in between give this design a distinctive appeal.
It's great for any auspicious occasion, such as diwali, family events or weddings.
Elegant Rangoli Designs
In this freehand Rangoli design, conventional mango motifs are incorporated. To begin, a central circle is surrounded by eight pictures of mangoes.
By adding colors and additional details inside, this easy pattern becomes more impressive.
Diyas (small oil lamps) are also placed around for a brighter effect.
The Mandala Diwali Rangoli
If you enjoy Mandala art, this design is a must-have! Using chalk powder, the easy yet beautiful design may be created for diwali.
The enormous bloom with 10 petals is drawn around the epicenter using circles placed at equal distances apart. A variety of geometric patterns are woven throughout each of them, as seen here.
White is used to create a mesh-like pattern inside each petal before adding lamps in the corners for added dazzle.
Rainbow Rangoli
This beautiful and trendy design is perfect for anyone looking to add a touch of festive symmetry to their home.
Diwali Muggulu designs are becoming increasingly popular, as they are quite easy to recreate. From there, begin drawing colorful petals around the perimeter of the circle, intertwining them with one another as you go along.
Finally fill in any empty space with white chalk powder to make all colors appear more vibrant!
Symmetry and colors unite in this radiant design of rangoli. Draw a base circle in the center and draw colorful interlaced patterns on all sides. Let the pigmented powders pop out and create the magic!
Colorful Floral Rangoli
One such unique design for your prayer room may be seen here. The Mandara art style has a spiritual vibe thanks to the internal patterns formed in each round.
This pattern is completed by brilliant flowers at the end, which also hold your treasured lamps.
Design Rangoli for Diwali
The art of Sanskar Bharati Rangoli is well-known throughout Maharashtra. This particular style of artwork uses the fingertips, usually three or five of your hand, to make beautiful, artistic patterns.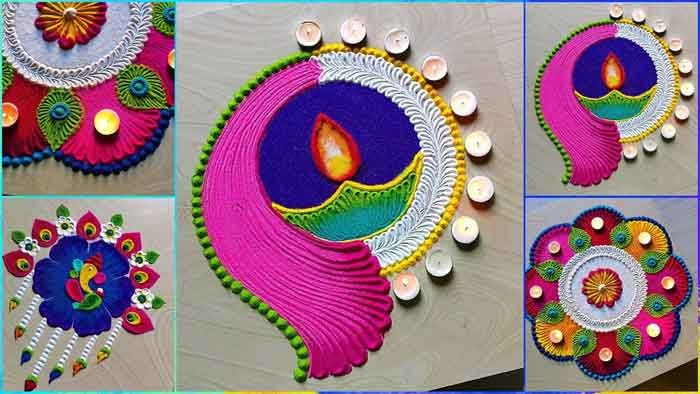 A basic drawing is drawn on the ground first, after which color powders are evenly sprinkled over it. As a result of finger or tool usage, 3D effects are generated as seen in the image above.
Abstract Rangoli
Florals are always trendy, and this particular lamp is an enduring classic.
The lotus flower expands its petals outward, making for a colorful twist on the traditional lamps.
You can place it in the center or corners of your room as you please!
Corner Rangoli Design
It combines ancient chalk powder designs with cutting-edge floral motifs. The lamps within the design have placeholder holders.
This rangoli is nothing but a semicircle and is also an excellent design for a round-shaped hall or room when you wish to highlight a particular area. It features white chalk along with floral designs. Add flowers to make it look brighter and more charming.Â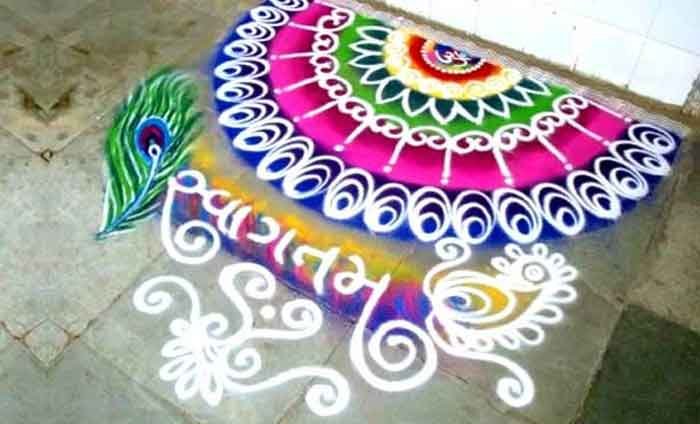 Tips and Tricks for Diwali Rangoli Designs:
Before you begin, take a close look at the area where you want to make your Rangoli. U

For exteriors, choose a big pattern with circular forms for broader and more effective coverage.

Fill it with colors and use white powder to trace the borders.

You may also make beautiful patterns using clever gadgets like cones, molds, CDs, bangles, or other do-it-yourself materials. They are only effective for smaller designs, though.

If you care about being eco-friendly, use Flower petals as an alternative to harmful artificial colours.

Always start your pattern from the inside out to avoid accidentally stepping on your design.

To define the boundaries, use creepers, flowers, or basic lines.
Conclusion
Whether you opt for a traditional design or something more modern, be sure to have fun with it and make it your own! With a little bit of creativity, you can create a masterpiece that will be the talk of the town!