People's approach to front elevation design has changed over the past few years, nowadays designing elevations can be seen with a surge towards contemporary trends. No one wants to replicate the design from other houses; everyone tries to take a different route which gave birth to fresh front elevation design ideas in India.
The awareness and confidence toward bold elevation designs have become more global. Besides, you can see the reflection of the personality of the house owner in the Indian style elevation designs. If you are planning on elevation study, then design the elevations for your dream home after reading this blog.
"Did you know" that the value of your home is determined by the space's elevation designs? Yes! The finished house measurements correspond precisely with the architectural plans' length and thickness, as they are usually drawn to scale. With these elevation designs' assistance, you will acquire knowledge about how your property will appear from particular angles.
Before meeting the architect, be sure you know what to anticipate from your lovely house with any of the home front elevation ideas outlined in this article.
This post provides you with elevation ideas from various perspectives, allowing you to visualize the house's appearance.
Understand what carpet area means and the difference between carpet area and built up area here before getting construction work started for your home.
How to Plan Elevation Designs?
People include trendy aesthetics because they want their house to look outstand; however, real estate agents use elevation design for maximizing the revenue potential. Truth be told, you can't compromise on the objective of curb appeal when it comes to front elevation design.
The first rule of elevation study is to consider the massing, scale, proportion and materiality of the project.
Secondly, you should keep the fact in mind that the design is stable, strong and capable to withstand the adverse effects of natural agencies.
Always try to keep it simple, because simple designs last for generations.
There should be a stepwise approach to draw the house elevations, so don't just copy the design you see in a magazine, rather, seek expert assistance to assess the baseline, wall heights, outlines, and rooflines.
ACP sheets is a good choice when you want to go with the latest elevation for your house. Have a look at acp sheet design here and choose the one which is best fitted for your house.
Design Trends of Front Elevation in India
Designing the front elevation means the house has a proportion between aesthetics and styling. These days, you can see houses with heavy Indian elements, and some exhibit new-age art comprised of steel and glass. In short, a good blend of elements has emerged in the Indian style elevation design. The most popular design trends are listed below, take inspiration from here for your next project:
Here is the beginners guide to coarse aggregate you should consider reading before getting construction work started.
Contemporary and Modern Front Designs:
In the form of contemporary elevation, both designers and architects agree upon the trend of asymmetrical hierarchy. This designing approach gives a fresh and welcoming look, and with the use of steel and glass installations, the asymmetrical designs are fitting into the minds of Indian house owners.
More and more residential floors are designed with this approach and demanded widely because they feature breathtaking views.
Entrance with steel gate design is now trending these days so you can opt for it as well.
Ethnic House Front Designs:
There are lots of houses and custom apartments designed with the 'heavy on Indian elements' look. The approach toward being traditional can be seen with pillars, curves, arches and elevations that are designed to look like steamboats.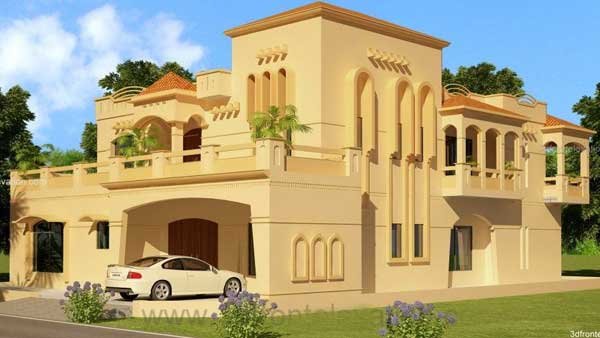 A sense of intimacy in these elevation designs is given by utilizing the traditional color combination.
Cookie Cutter Elevation Designs:
If you are not aware of aesthetics and afraid to invite the design inspirations from French cottage chic, Bohemian and Scandinavian styles then you can incorporate the trendy alternatives of cookie-cutter elevation and designs.
House owners who want to be on the safe side can design their facades and main entrance by following the format of cookie-cutter approach.
Choose the perfect main iron gate colour combination for your home to give it a royal touch.
Multi-Level Elevation Design:
These days, penthouses and multifamily apartments in India are designed with selective patterns that are strategically planned to make full advantage of the views and location. These designs are usually inspired by contemporary trends and feature straight lines and increased application of glass.
Besides, the clever use of paint lines helps the multi-level design to increase the curb appeal of any house.
It is always better to have the sort of composition in mind during the beginning, however, what you are trying to achieve from the elevation can only be achieved by massing and proportioning the design ideas.
Single Floor Elevation Designs
The ground floor, windows, and main gate design are all visible from this residence's front elevation, which provides a fantastic view of your home from the street up to the main entry.
The front perspective does not show sidewalls unless they are built or projected from your home. 
Double Floor House Elevation Designs
A two-story home's outside appearance is quite similar to that of a simple house, with the exception of an extra floor. This is yet another illustration of a front elevation that incorporates all of the projecting elements from this double-floor structure in a unique and effective way.
On the first floor, there's a little parking space that acts as a balcony with attractive wall patterns.
Three Floor Elevation Designs
These residences are built by individuals who aren't as interested in apartment living but do want to incorporate certain features.
This building elevation design provides a clear image of a three-story building from a front perspective.
Have a look at the modern steel railing design here and choose the one that add a unique look to your front elevation.
3D House Elevation Design
If you wish to raise the line features of your drawing, 3d elevation is an excellent choice. The connection between the building model and 3D elevations is obvious.
Because improving the details reflected in design plans is possible at any time, you may always change them as needed.
Here are the latest Indian house colour combination outside the home that you can choose to give your exterior look an elegant feel.
House Compound Wall Elevation
A compound wall is a must-have for every house, not only because it protects your structure and gives beauty to the observer's view. A single flat surface wraps the space entirely. It is beautiful and appealing.
The terrace's entrance and the front aspect are also easily visible.
Bungalow Elevation
This home's stunning elevation features a flat roof and an out-thrust chimney-like construction. All of the designs may be viewed in their raw form, allowing you to know what you're getting beforehand.
The structures have distinctive shapes that appear to be carved out of the blocks.
Duplex House Elevation
This is a straightforward house elevation front design that is becoming increasingly popular. The neutral grey color and the minimalist style of this structure suit perfectly, tying everything together nicely.
A simple parking space in front of the home may be modified to meet your specific needs.
Independent House Elevation
In the suburbs, modernist homes are becoming increasingly popular. However, the term "suburbs" does not imply that you can't go all out in terms of design and architectural representation with your home. It's also a design that works well for those who want a stylish appearance without creating a fuss.
Ultra-Modern House Elevation
The choice to install a glass roof might be one of the most important ones you make as it will completely transform your house's appearance. Although this design is ultra-modern, it is raised even further by using beautiful lighting.
This elevation combines style with natural elements and elegantly binds all of them together. Another thing to notice is the woof in the frontal area addition.
Have a look here at the modern 3 bedroom house plans that you can choose from for your new 3 bedroom or 3bhk house. For 3 bedroom house plan kerala style, refer to this.
Apartment Elevation Design
With all of the benefits it provides, apartment living is spreading rapidly in both urban and rural areas. This is one of the greatest elevation plans and designs available to show you how your apartment will appear.
Some apartment buildings contain commercial retail locations on the ground floor, heightening the area even more. Every floor has a similar design but looks stunning.
Villa Elevation Design
For many people, having a villa is the ultimate dream, and it takes a substantial amount of money to realize this ambition. Having a good elevation plan in place will assist you in making a decision.
This lovely home elevation incorporates both the appearance of your home in front and side on views. Due to the fact that you can see your parking space, patio, and garden area with no effort, this is a great design to consider.
For a low cost 2 bedroom house plans indian style keep visiting DecorChamp.com as we keep uploading new and trending house plan design on regular basis.
Contemporary House Elevation Designs
This is one of the most creative and cutting-edge elevation designs for integrating modern and contemporary aesthetics into your home's appearance.
Even though there is only a modern single floor house design for residential usage, the terrace is the icing on the cake. You get two sides and a front view of the building, which give you an idea of how it will look when completed.
Wooden Front Elevation
This is another great house elevation design for those who want to use wood on the outside of their homes. This two-story home features a flat roof with Sheesham wood doors and décor.
A glass railing is an added benefit. Each floor may be made using different materials according to your personal taste.
Small Sized House Elevation Designs
Many people want to own a home, regardless of the size. You don't have to go in blind when developing a tiny house these days because we have modern technology at our disposal.
This lovely view of a little property may serve as an excellent illustration of the attractiveness of a home with its architectural features and elegant finish.
Office Front Elevation Design
Because it emphasizes a classy and attractive atmosphere rather than a homely one, an office design's elevation differs significantly from that of a house. The rustic-elegant combination not only encourages you to get to work with enthusiasm. In such areas, there is generally a parking spot reserved for the workers.
Consider Reading: 20×50 House Plan and 30 40 house plan
Conclusion
Front elevations are as essential to a home as the foundation itself. They give you an insight into how your home will appear when completed and also play an important role in making first impressions on guests and other visitors.
It would be best if you considered all the options carefully before making your final decision as this will be a long-term investment. The most essential aspect is that you are pleased with the outcomes.