Aluminium Composite Panels or ACPs are the user-friendly construction material designed with two aluminium coils that are fastened together with a non-aluminium core to make it ultra-durable, lightweight and compact in features. The thickness of the ACP varies depending upon the application for which it is manufactured and designed. You will find ACP Sheets in a variety of textures, shades, sizes and designs to meet the industry's purposes and needs.
The modern Aluminium Composite Panels are metallic and non-metallic, and you will find them in a variety of patterns and finishes like marble, wood, brushed panels, mirror finished and more. This sandwich panel is the new age material that is widely used to give a sophisticated and finished look to any exteriors, interiors, and signage. From solid colours to galaxy glitters and natural wood to the stone theme, there are different design options. Architects and designers love to work with ACP sheets as it gives them optimal flexibility to work with as compared to other materials.
Modern Aluminium Composite Panel Designs
Aluminium Composite Panels are available in various colour schemes and designs, from corporate designs to galaxy glitter finishes and natural wood theme. So, if you prioritize designs, the Modern Aluminium Composite Panel Designs would surpass your expectations. ACP sheets lend themselves excellently well to exteriors and interiors alike, thereby giving the architects and designers with the freedom to experiment with its designs and decors. The unique designs of Aluminium Composite Panels can adapt to the theme and shape of the structure. So, you can enjoy the flexibility in designing the facades, walls, frames, roofs to your expectations and specifications.

The dual skin designs are quite popular these days amongst the builders. It is widely used today in commercial and residential projects. In this design, the effect of ACPs is tinged by the intelligent use of glass. This design can also enhance the aesthetics of the structure while limiting the noise levels and maintaining the temperature.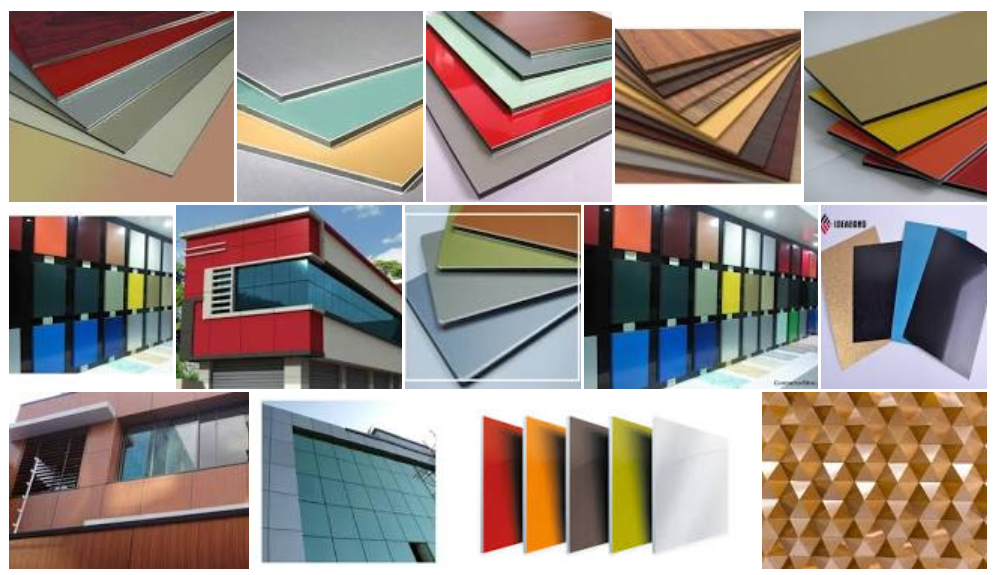 The Aluminium Composite Panels are available in several colour schemes, finishes and designs with over 40 different shades to convert your dream design into reality. You may either use a solid tone for designing a specific part of the building or use more colour schemes and designs to achieve the ultimate effects. From matte to rustic and natural wood to stone, there are different options in finishes, including:
Wood & Marble Designs
Sand ACP Series
HPL ACP Series
Coral ACP
Cambria ACP
Imperium ACP
Aluminium Composite Panel Manufacturers in India
There are many ACP Manufacturers, and the number is increasing rapidly. Consider the below-mentioned Aluminium Composite Panel Manufacturers in India if you are planning to buy the best quality ACP sheets.
Virgo ACP – Virgo ACP is the Delhi based Indian ACP manufacturer and distributor of aluminium rolled products. The product of this manufacturer is high in quality and creativity in design. All their products demonstrate durability, finery, flexibility and rigidity. The ACP sheets of this brand give a classic, funky and vintage look.
Alex Panels – Based in Dehradun, Alex Panels is ISO 9001 & OHSAS 18001 certified company. The company uses Kynar 500 resins for the exterior panels, which ensures higher durability and anti-fungal properties. All their products are of higher quality and comprise versatility.
Aludecor – Aludecor Lamination Private Limited is the Kolkata based ACP Manufacturer in India that has been serving its clients since 2004. All their product line-up includes "Made in India" quality, and it is known for its innovative design and beauty.
Alstrong – Alstrong is the Delhi based company that specializes in manufacturing quality ACP sheets. It has a PAN India presence and serves its clients with its logistic services. They are known for using Japanese and Korean technology for designing the ACP sheets.
ACP Installation Guide
ACP Sheets are widely used for internal surface coating and designing and as an external cladding material for buildings. It is suggested to use advanced installation methods to enjoy its benefits for years. Below is the ACP Installation Guide that you need to follow for professional fitting and installation of ACP sheets.
Wet Sealant Joint – This is the common method for the installation of ACP sheets. It has tray kind of panels and sealing joints. The sheets are fixed on the substructure, and suitable sealing materials are used to seal the joints.
Hanging Methods – Hanging method is another suitable method for installation. The panels are fastened firmly by hanging them on the sub-frame. It is a simple and easy method for installation.
Dry Gasket Joint – This is the installation method where gaskets are used in place of sealants. The ACP surface with sealants is prone to dirt and staining. On the other hand, a gasket is quite durable and can be used efficiently to install the ACP sheets.
Narrow Open Joint – The timber or stone pattern sheets are installed using the narrow open joint technique. This method is quite effective because of the narrow joints that enhance the aesthetics of the panel.
ACP Sheet Price Range
Aluminium Composite Panels are used for multiple applications, and there is no shortage of choices. But, when you will check for the ACP Sheet Price Range online, you will see that there are lots of variants. The price range starts from Rs. 50 per sq. Ft, and it can extend up to Rs. 150 INR per sq. Ft. The price range varies depending upon the brand and thickness of the sheet.
[table id=4 /]
There are many factors based on which the price range of ACP sheets is decided. The price of the sheets varies depending on the brand, where local brand sheets cost you less than the globally popular brands in India. The price also varies depending upon the thickness, design and patterns of the sheet. The designer ACP sheets for exteriors would cost you around Rs. 60 per sq. Ft, and it can increase up to Rs. 180 per sq. Ft. You must choose sheets as per your need and budget.
Usages of ACP Sheet Panels
Earlier, it was believed that Usages of ACP Sheet Panels are only limited to external building cladding. But, today, you will see its applications in exteriors and interiors equally. For interiors, it is used for panelling, false ceiling, decorating the bathrooms, kitchens, balcony and doors. It is also used in commercial buildings as signboards and signage, to conceal the beams and columns and also to hide the machines and tools.
It also has external usages, and you will commonly see its usages on a building's external facades. It gives the structure ultimate insulation as well as protection against environmental factors. Some of the common places where ACP sheets are widely used include:
Hotels and restaurants
Sports complexes and centres
Public health service building
Infrastructure and residential complexes
Industry and businesses
Where to Buy Aluminium Composite Panels?
Well, there are many manufacturers and dealers of Aluminium Composite Panels in India. But still many people are confused about Where to Buy Aluminium Composite Panels? There are two ways to buy the ACP sheets – online and from the manufacturer directly.
Buying the ACP Sheets online has its advantages. You get the opportunity to browse across multiple options and dealers. You can also compare the rates and prices of different retailers and suppliers, and with a thorough comparison, you can grab the economical deals to save money. However, it doesn't mean that buying ACP sheets from the manufacturer has disadvantages. You can even benefit from buying ACPs from the manufacturer directly. The manufacturer can offer you multiple choices, designs, and finishes, and you may also request custom design sheets when buying it from the manufacturer.
Benefits of Having ACP Sheet at Home and Office
The greater adaptability and ease of using ACP sheets give it a plethora of benefits over other materials. Some of the added Benefits of Having ACP Sheet at Home and Office includes:
It has a great strength to weight ratio
The panels are a lightweight, durable, durable and rigid material
Depending upon the project needs, the ACP sheets can be cut in different sizes, thereby offering higher adaptability.
The quality ACP sheets come with PVDF coating, and it ensures optimal anti-corrosion and anti-chalking ability. This coating also protects the sheet from staining and colour fading.
Some of the manufacturers have designed advanced Aluminium Composite Panels that come with PVDF coating and advanced AFT Technology that makes it weather and fire-resistant
It offers sound and thermal insulation, and it is simple to install and maintain
The materials are recyclable and eco-friendly
Conclusion!
The Aluminium Composite Panels are dominating the facade industry today with unique characteristics of creative liberty. It also serves as a designer's delight that can add a stylish and modern touch to any structure. ACP sheets are not only eco-friendly and affordable but intriguing material that is here to revolutionize the interior and exterior designs.