Balcony is a space which is must have in all houses. Stylish railing gives an attractive look and represents your home on the behalf of style and design.
Gone are the days when we used to build railing made of concrete. There are lots of options available for your railing designs. But you should not ignore the vastu shastra for balconies before you go for balcony construction.
Here you can have a look at the types of balcony railings available in the Indian market. These are normally seen as balcony railings. You can adopt any design based on your budget.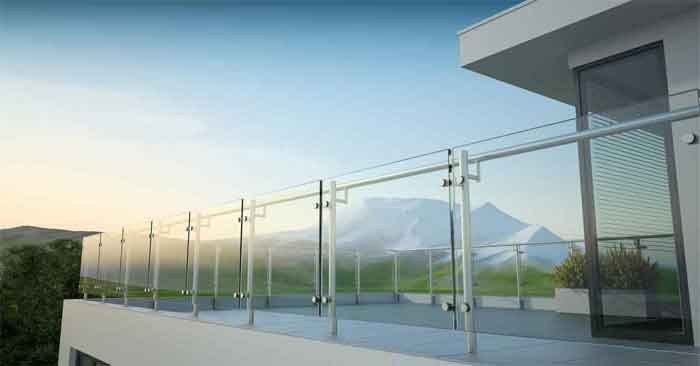 There are many different types of balcony railings available on the market today. If you are looking for a modern balcony railing design, there are several options to choose from. It's something that can't be put into words, standing on the balcony at dawn with a cup of coffee in your hands and seeing the outside world.
Many individuals like to go to the park and experience the ambiance. This is why people desire a decent, open-air balcony that is well designed. As a result, today's balcony has become an essential component of any mansion that demands ample space and has to be beautiful.
There are several contemporary balcony railing designs to select from while designing your own home.
Glass Balcony Railing
Glass balcony railings are getting more popularity now a day with aluminum or stainless steel borders for support. Glass railings are mainly used in villas or houses having big front. These looks like:
Aluminum Balcony Railing
Aluminum balcony railings are also a very popular type of railings design. This type of railing can be used in a small, mid or big front houses and villas. One can also use aluminum railings with glass railing.
Try these name plate designs for main gate which are matching well with your indian balcony railing designs to give your home a perfect looks.
Cast Iron Balcony Railing
Cast-iron balcony railing designs are the mostly used railings in India. There are lots of designs to select from for your house front balcony railing. Railings made from pipes are very famous nowadays. Have a look at a few designs here.
For modern iron gate design try these gates listed which are made of iron and can be a perfect combination for your iron house front balcony designs.
Wooden Balcony Railing
Wooden balcony railings and wooden main gates are rarely selected for indian house front due to water and termite problems. Instead, these are used for indoor railings or locations which are rainproof.
Stainless Steel Balcony Railings
The popularity of modern steel railing design for balcony and steel gate designs has become very huge among railing and gate types. People are adopting railings made of steel very rapidly as these are rustproof and glow all the time and are maintenance-free. These also fit all types of house front sizes of houses.
Here you can know about types of steel bars for construction.
Metal Railings
Metal fences constructed of these materials are both modern and inventive in their own right. Aluminum and other metals, as well as extra additives, are generally used to give it a gleaming look and color.
Stacked Stone Balcony Railings
This is a style of modern stone railing that was formerly common. This design of decoration returned after several years, replacing contemporary architecture in many homes. You can create any artistic designs or paint the railings in whatever color you choose.
Also read about the main iron gate colour combination ideas for your house and see what best you can make for you home.
Wooden Railings for Balconies
They've been reworked into a collection of historical buildings. However, you may combine it with other elements to give your balcony a distinctive and attention-grabbing appearance while keeping the bohemian style.
Sheesham wood is preferred for balcony railings most as these are hard and strong among other wood.
Concrete Balcony Railings
The cement balcony railing is one of the most maintenance-free types of balcony railings. To make the railings appear reflecting, keep the outside paint white.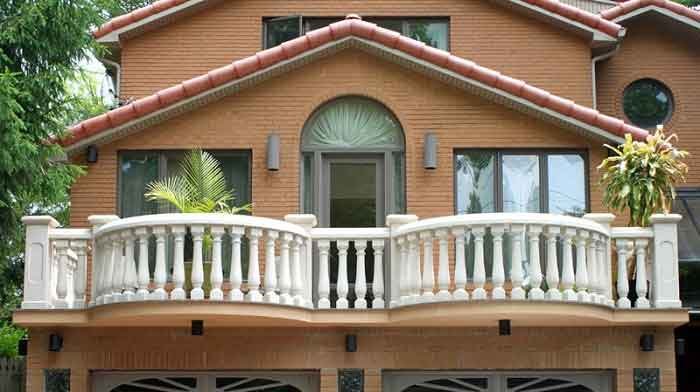 Stylish Aluminum and Glass Stair Railings
We've seen how glass balcony railing designs are implemented on balconies in movies and among the mansions of billionaires.
Crystal railings are the ideal option for you if you don't want to have a barrier between you and the scenery.
Grill-Style Railings for Balconies
Balcony railing with grill designs has been a popular choice of decorative railing for a long time. It's very simple to put together, and it's also quite cost-effective.
There are several different shapes and sizes in this category, so you'll have lots of options.
Railing with a White Architecture
We notice a lot of beautiful contemporary balcony railing designs every day, yet we appreciate the ancient architectural patterns in certain locations.
Black Steel Balcony Railings
It's quite lovely and has been seen on several balconies. These railings are made of black steel and work well with a range of tones. Your guests will be impressed with this beautiful balcony railing design.
Beautiful Flowers Draped Across the Balcony Rails
Florals in a variety of colors may be used to decorate the metal balcony railing patterns. As a result of these flowers, gorgeous insects will alight on your door.
Wooden Plank-Based Railings
Hardwood planks are commonly used as balcony rails in homes. In the world of contemporary balcony railing ideas, wooden plank fences have a unique type of attractiveness.
Consider using a bright hue to contrast against your fence if it's dark or greyish.
Balcony Arranged in a Tiny Circle Railing
You may add a more artistic aspect to the design by using a half-circle fence on a brick railing. If you don't have access to a full balcony, these half-circle railings may be the perfect alternative.
Black Glass Balcony Railings
If you enjoy maintaining your seclusion while still having a great view, black crystal balcony railing designs are ideal. To offer a glimpse of the outdoors, you might add plants to your balcony.
Decorations for Balcony Railings made of PVC
PVC balcony railings are frequently utilized as ornaments because of their appealing form. The hardwood balcony flooring would look fantastic with the dark PVC fences.
Consider reading about indian style pooja room designs here for your house.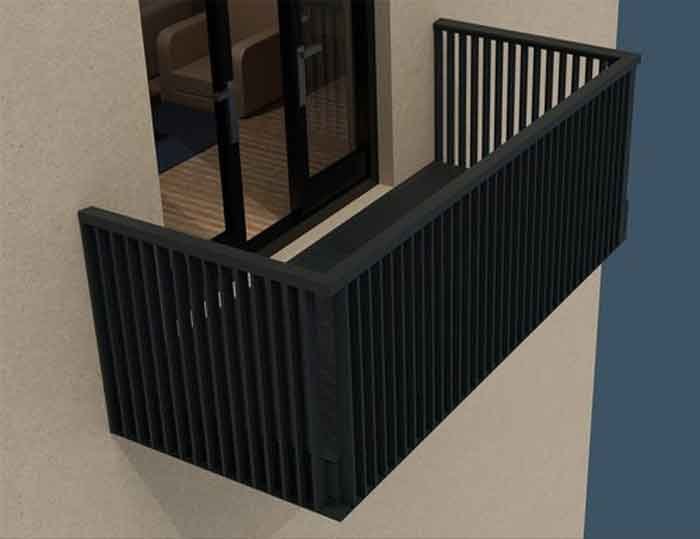 To create a stronger contrast, use the color of the masonry on the walls.
Railings with Artistic Work
This balcony railing design pattern may be utilized as a platform for displaying innovative and artistic items. You may also use it to present contemporary artworks that you enjoy or that represent your home's style.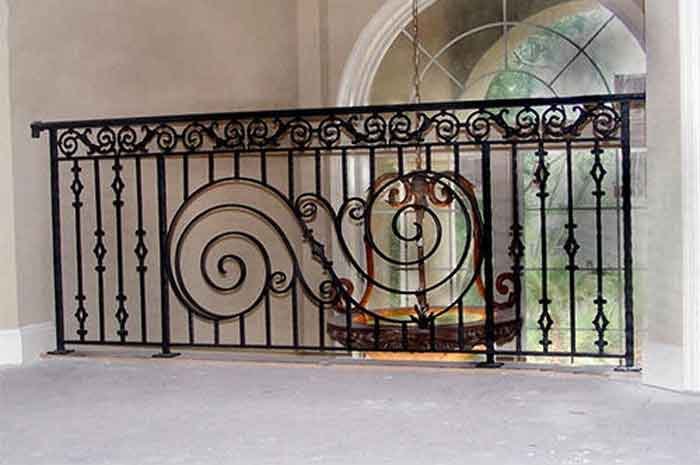 Gold with a Black Combination
This unusual and beautiful combination has been used to represent the type of excellence that individuals aspire for. The black and gold railings would look fabulous against a dark wooden flooring surface or with a wood-paneled wall.
Consider Reading indian house colour combination outside.
White Glass Balcony Railings
If you're aiming for something chic, white crystal balcony railing designs may be the best choice. They add an aura of splendor to any location they grace, especially when light shines through them just right.
In addition, the reflection will make your glass railings appear larger than they are.
Things To Consider While Building Balcony Railing Designs
Balcony railing designs are an important part of any building's overall aesthetic appeal, but they can also be functional as well.
The height of the railing

: You will need to ensure that the railing is high enough to provide adequate safety for your balcony.

The width of the railing

: The width of the balcony railing should be appropriate for the size of your balcony.

The material of the railing

: The material of the balcony railing will need to be able to withstand the elements (e.g., wind, rain, sun, etc.).

The style of the railing

: The style of the balcony railing should complement the overall style of your home or building.

The cost of the railing

: Balcony railings can be made from a variety of materials, so the cost will vary depending on the material you choose.
Consider reading: two colour combination for bedroom walls here if you plan to repaint your bedroom with the latest trend.
Conclusion
There are several designs for balcony railings that you can choose from, including modern railing ideas as well as classic and traditional styles. When selecting a design for your balcony railing, it is important to consider factors such as the height of the railing, the width of the railing, the material used for constructing the railing, and more.