Floors have always been an important part of the designing of the interior of your house.
Don't you think floors give a different look to the design of your small place? Let's talk about how would a red oxidized floor look.
What is a Red Oxide Floor?
Red Oxide flooring is a type of flooring, and one of the best flooring option in india where oxides are used as a medium for colouring the floor. These are available in many colours but you know that the most popular colour in oxide flooring is red which is also known as kaaviyidal.
It is said that red oxide flooring was introduced in India by the Italian and Portuguese traders and is most popular in the southern parts of India.
It is a trend that started in Kerala but now is found almost in all parts of India, especially in the houses which were built years ago.
Have a look at latest marble flooring design here for your home.
Century is a go there oxide was found in India which can be made with the help of cement mud or even line and these oxides don't even contain chemicals Mercury or lead.
Also, remember the presence of toxic materials is not good for your home and environment so this can also be the reason you should prefer red oxide flooring because the absence of toxic materials like chemicals Mercury and lead is good for your home.
This oxide flooring as said are available in different colours. Like green blue black yellow etc but red is the most popular colour in this oxide flooring. There is a pallet of almost 25 different shades in colour red which can be obtained by the mixture of different shades.
The tradition of red oxide flooring was a tradition long the go but now this method is coming back again because this red oxide flooring has been recognised as a sustainable and eco-friendly option, unlike the commercially used marble and granite which include chemicals.
Consider reading about kota stone flooring here as well.
Advantages of Red Oxide Flooring
Several benefits of red oxide flooring a mention below:
If you want a seamless look red oxide flooring powder is the key for you it has a fantastic finish which makes your floor look simple elegant sober and sleek.

Other floor options are also there but red oxide flooring is the most pocket-friendly option of all.

It can be a replacement for your designer carpets as it is much under your budget.

Unlike the other floorings of the night or marble the red oxide floors improve day by day and it gets better as time passes by.

If your planning to build your home in an area which is located in a warm and tropical place then red oxide flooring is just perfect for you because it is considerably cooler in summer and you like marble flooring or wooden flooring.

You might have noticed granite and marble floors feel hard if barefoot but red oxide flooring does not feel hard on your feet.

It's a steer typical to think that red oxide flooring only suits the open areas of the house but it's not that. Red oxide flooring is such a beautiful thing that it beautiful in you are living room, bed room, kitchen, dining, terrace and even the balcony areas.

For Vinyl flooring designs, visit here.
Disadvantages of Red Oxide Flooring
Let's discuss some of the disadvantages of red oxide flooring as well here:
As said earlier red oxide flooring was a fashion in the old times, especially in the southern part of India and that's the reason people nowadays don't prefer red oxide floors over marble organised flows as it is not very common.

Where the granite and marble flows take lesser time to be late on the floors of the House on the same place red oxide floors take a longer time span as it takes time to settle down and also requires a lot of skilled people who are experienced in this.

Remember the quality of the oxide flooring should be good. Or else day by day the flooring will look patchy and the colour and the shine would fade away.
Looking for modern bathroom floor tiles designs? Here you go.
Where can red oxidise floors be used?
As it is mentioned the boss red oxidise flooring is not specific for any area of your house it looks beautiful in all the places may it be kitchen, bedroom,living room ,drawing room,dining, balcony area ,etc. It is a non-slippery flooring and so it is suitable in all the areas of your house.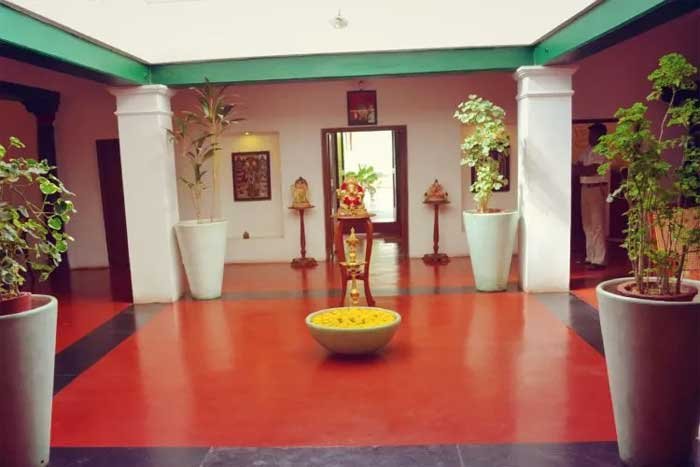 Also remember the dead oxide flooring gives you good grip. It looks elegant and can be maintained very easily. As it is two common in the southern parts of the area so this can be the best choice for your home if it is located in a warm or tropical zone.
Consider Reading:
Cost for the Red Oxide Flooring
Red oxide flooring are really pocket friendly, unlike the floors of marble or granite. Marble and granite are not a bad option but as their expensive people try compromising with the quality .
As per records, the red oxide flooring costs rupees 80 to 90 INR per square foot.
Red Oxide Coatings
Liquid Coating

: The liquid floor coating of red oxides consists of a liquid which is then mixed with cement and can be applied on any surface. As we already know red oxide flooring is free from chemicals and hence the liquid coating is also free from toxins and hazards which is ideal for social spaces and other areas. The red oxide coating can be suitable in many areas it can be sprayed on concrete floors, wooden floors, tile floors or any other surface.

Liquid coating of the red oxide floors is much preferable because the liquid is less liable of staining, unlike the powder coating. Also, it can easily cover is there are any marks and is easy to clean.

If you got a question about how to clean the red oxide flooring it's really simple you just need to water the floor and you have a crystal clear floor, bringing!!!!

Powder Coating

: The powder coating of a red oxide flow consists of a powder which is coated on the area required and then it is followed by a transparent layer to make it long-lasting. This powder can be used immediately and when applied in order with the protective layer then the flooring lasts much longer.
Metal Effect

: As it is a speciality of red oxide flooring that it can be used on any surface similarly this metal effect paint of the red oxide floor can be used on any surface and then a powder is applied for the dry coating to protect it. It's a difficult process to use the dry powder as it requires a lot of pigment reasons and special binders. This coating is very necessary after the paint as it creates and attractive look and also gets it a long-lasting finish which helps the floor to sustain longer.
Conclusion
As I would be set linked the red oxide floors and need expertise and skilled people its not that easy to be layed. If you are someone who wants the perfect look for your home and also can higher people who are better in the experience of laying floors then you can go for the red oxide flooring.
They are many different styles to apply red oxide floors in your home. We can also use different kinds of red oxide tiles which can be used in different areas of your home like balconies, bathrooms, bedrooms, kitchens,etc.
Red oxide flooring is one of the ancient designs of designing the surface of your home and it will never go out of style but yes since marble and granite floors have taken over people rarely ask about red oxide flooring.
If you are a person who is looking for something different out of the box and wants to make their home look like something rare then you should definitely go for the red oxide flooring.
We hope this blog as help you understand how red oxide flooring is good or bad for you and if still have any doubts you can comment below and we will get in touch with you soon.