When it comes to painting the interiors of a building, contractors usually choose the best quality paint which can offer a smoother finish to the walls and ceilings.
The most popular choice in wall painting today is Plastic Emulsion Paint which is nothing but water-based wall paint. This is the type of paint that is based on acrylic and it is known to offer a smoother and matt finish to the ceilings and walls of a building.
Plastic paint is a type of construction paint with a long history of use. This paint has been utilized in the past, present, and future for painting walls and ceilings.
This sort of paint dates back to antiquity and was previously used for wall painting as well as ceiling painting, which has made it accessible to everyone.
People in India prefer plastic paint for their homes as these come in various varieties and options.
Let's discuss plastic paint more in detail before getting plastic paint painted in your home below:
What do you mean by Plastic Paint?
Paint made from polyethylene is a water-based paint that is odorless and blends readily with water. 
Because the color of the wall differs from that of the ceiling, experts usually recommend this color for ceilings, however, there is no restriction on using it on walls or other surfaces due to the color differences between them.
Plastic paint, on the other hand, is used to coat a variety of surfaces at an inexpensive price except for distemper paint. Plastic paint has a number of benefits, including its cost-effectiveness.
In addition, this feature distinguishes plastic paint from other types of paint. This sort of paint comes in a variety of hues in the marketplace.
Why should you Use Plastic Paint for walls?
Polymer-containing paint is a form of paint that is made with synthetic resins and polymers. It's a long-lasting type of paint that won't chip, flake, or peel away easily. Plastic paint is also mold and mildew-resistant.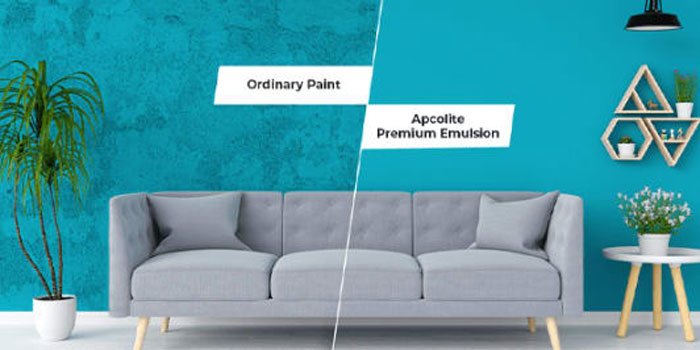 The paint may be applied using a brush, roller, or sprayer. Once the paint is dry, you can immediately start using the room again.
Another reason to use plastic paint is that it is very versatile. Plastic paint is also available in a variety of colors, so you can choose the perfect color for your walls. Consider reading about enamel paint as well here.
If you are looking for durable, easy-to-use, and versatile paint, damp proof paint then plastic paint is the perfect option for you. It will give your walls a beautiful finish that will last for years to come.
Features of Plastic Paint
Paint can be found at a reasonable price in most stores. Everyone may select from all of the accessible ranges according to their budget and bring new color into their house.

Plastic paints are resistant to scratches and scuffs.

Furthermore, because of the substantial amounts of plastic in the paint, any water contact will have no effect on its texture.
Plastic Paint Benefits
It is feasible to wash the wall using water if it isn't wiped with a towel.

You can apply plastic paint in locations where ventilation may be an issue.

Plastic paints are used most when it comes to texture paint as the finishing in plastic paint is good.

Many colors are accessible, making this paint reasonably priced for most people. As a result, each person may choose the color they want and apply it to their home as their budget allows.

Plastic paints dry more quickly and uniformly than traditional oil paints. They are paints that dry rapidly and evenly in a few hours after application.

Plastic paint drying time is usually between 2 and 4 hours. Oil paint, on the other hand, takes at least 24 hours to dry. If you need to finish painting a room quickly, water-based and plastic-based paints are frequently employed since they are faster drying alternatives.

The bright colors of plastic absorb the heat and balance the temperature in the room. If you're painting a space that receives direct sunlight, light-colored plastic paint could be an excellent alternative.
Note: Wall stickers are very popular nowadays and people prefer full wall stickers for bedroom, living room and even kitchen as well.
Plastic Paint Drawbacks
While we previously stated the advantages of this paint's fast-drying, if it's used in hot and humid climates, its drying rate will be slower. In this situation, you may apply two or more coats of color to get the same end result as applying just one coat.

They do not have the gleam of oil or acrylic paints, and they are not as matte as oils or alkyds.
Can you Apply Plastic Paint over Oil Paint?
Plastic paint is extremely simple to apply to a non-painted surface, but if you want to use water-based paint on oil paint, difficulties will arise since the adhesion of water-based paints to oil paintings is poor.
However, this does not imply that it's impossible; all you have to do is lightly sand the previously oiled area with sandpaper or reduce the "oiliness" of the previous oil painting so that the plastic color is more sticky.
Also have a look at kitchen colour combination to give your kitchen a new look.
For this type of paint, apply it in two layers over the oil paint using a good paint roller or brush. You don't have to wait long between steps since the plastic paint dries quickly; however, wait at least an hour before painting each layer until the previous one is completely dry.
Which Color of Plastic Paint is best for you?
You may select any of the colors according to the ones listed. However, keep in mind that not only does the quality of the color you create matter, but also how you apply it.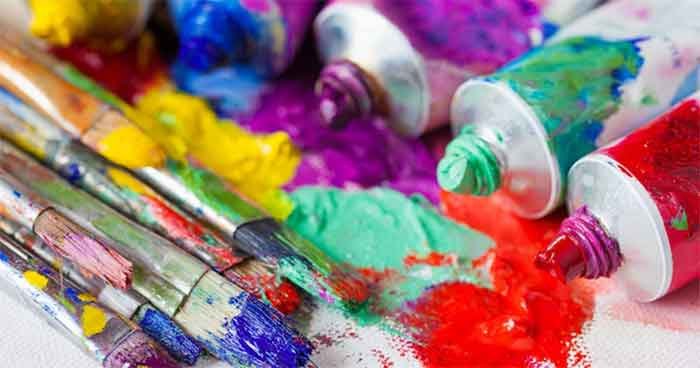 So if you use the incorrect tools or a poor method to paint the wall, it might not turn out as expected.
Plastic paint color price list 
| | | |
| --- | --- | --- |
| Plastic Paint | 10 Litres Price | 20 Litres Price |
| White paint- Rs 6 per litre | Rs 60 per 10 litres | Rs 120 per 20 litres |
| Black paint- Rs 8 per litre | Rs 80 per 10 litres | Rs 160 per 20 litres |
| Blue paint- Rs 12 per litre | Rs 120 per 10 litres | Rs 240 per 20 litres |
The Asian plastic paint price of 20 liters will differ from the value of Dulux paints 20 liters.
Consider Reading: Modern exterior texture paint designs
Plastic Emulsion Paint
Plastic Emulsion Paints have many benefits attached to it and it is completely washable and requires very minimal maintenance like the premium quality emulsions.
It is also highly durable and hence making it the best choice for application on ceilings and
walls of a building. But to apply the paint perfectly it is necessary that you follow certain
standards.
Below are some helpful tips for its application:
What Are The Raw Materials For Plastic Emulsion Paint Application?
Well, prior to applying the paint on the walls of your building, it is necessary that you learn about the raw materials that are suitable for Plastic Emulsion Paints.
Cement primer is the most crucial material that you have to use on the walls prior to its application. Ensure that a coat of cement primer is applied on the walls which would work as the base coat for the paint.
Besides, you also need to use putty for uneven surfaces and holes in the walls. Putty will fill the holes and make the surfaces even for smoother application of the paint.
Also read Indian house colour combination outside
So, after cement premier ensure that putty is applied on the walls to make the surface ready and smoother for paintwork.
Preparation Of Walls For Plastic Emulsion Paint Application
Prior to applying the Plastic Emulsion Paints on the new walls, it is necessary that the surface is cleaned thoroughly to remove the mortar droppings, dust, and splashes of cement slurry.
After that, the users are required to apply a primer coat on the surface of the walls where the paintwork is to be done. After the application of the premier, the surface must be left for at least two days for even drying, and thereafter the surface must be rubbed with sandpaper to achieve a smoother surface. Any uneven surfaces on walls must be leveled using a mixture of putty.
The paintwork on old walls needs more preparation work. Prior to applying the paint the old paint from walls must be removed carefully by rubbing it with sandpaper. Everything from grease spots to smoke spots, dust and lose paints must be washed off carefully.
Consider reading wall colour combination for hall with texture
If needed you must wash the surface with soap and water and if the old surface is blistered it must be removed with reliable and efficient paint remover.
Old walls usually have lots of patches which must be filled with the putty mixture to make the surface even and smoother.
After the preparation of the old walls, the Plastic Emulsion Paints need to be applied. Here is two colour combination for bedroom walls for your reference with images.
Application Of Plastic Emulsion Paint
It is extremely important that you first decide Plastic Emulsion colours from the Shade Card of Paint. The paint is required to be applied in the usual manner using spray, brush or roller. It will start drying as the water content in the paint evaporates.
Here is the asian paints colour combination with code.
As the water content starts evaporating the film will become harder and it is time for the application of the second coat.
Thinning of the paint is done using water and not turpentine and thinning is only needed for undercoat which needs to be applied only on the absorbent surface.
The finishing coat is applied to make the surface smoother with a matt finish.
Pros & Cons Of Plastic Emulsion Paint!
Plastic Emulsion Paints are extremely durable and it offers a smoother matte finish to the walls. This is an exceptional option for internal walls and ceilings as it comes with excellent adhesive agents.
Moreover, the paint is washable and very durable, while demands very minimal maintenance. It is easy to apply and it can be applied with the usual methods using rollers, sprays, and brushes.
Above all the Plastic Emulsion Paint Price might be a bit expensive up front, but the benefits that it offers outweigh all the costs involved.
Also read about radium paint here.
It is not a good option for iron surface wood surfaces and external walls.
Conclusion
We hope this article on the benefits and drawbacks of plastic paint was helpful. This kind of paint has many advantages, such as its low price, resistance to scratches and humidity, and a wide variety of colors to select from.
However, it also has some disadvantages, the main one being that it doesn't have the same shine as oil or acrylic paints. It's up to you to decide whether the pros or cons are more important when making your decision.
Also Read: