When you want to give your home a fresh and new look, distemper paint is the best way to go. This type of paint can be applied to walls and ceilings to give them an entirely new look.
Distemper paint colour is a long-standing painting technique that can still be traced back to the early days of modern civilization. The disadvantage of other colours paints vs. distemper paint is that they don't endure, whereas distemper defies all expectations and has a lengthy shelf-life.
As a result, it is quite a popular paint colours and has been utilized to paint the walls of homes, offices, and even public places for ages.
What Does Distemper Paint Contain?
Distemper paint contains water, clay, chalk, and a binder such as casein or animal glue. It is a very old type of paint that was used in the days before modern synthetic paints were developed. Distemper paint is still used today in some applications where a natural look is desired, such as for painting walls in historic buildings.
Check asian paints colour book here to find the perfect paint colour that you can choose for your bedroom, living room, kitchen, and all of your walls.
Uses Of Distemper Paint
Distemper paint comes in a variety of colors and may be used with a brush, roller, or sprayer. It dries quickly and is long-lasting. Cleaning up distemper paint that has gotten on the clothing or other materials is also simple.
Distemper paint, unlike other paints, isn't as long-lasting; it may need to be redone more frequently than other paints.
Choose any of the modern texture paint designs with photo listed here if you plant to go with texture paint and looking for trendy and moder texture designs.
Types Of Distemper Paint
The three types of distemper paint are: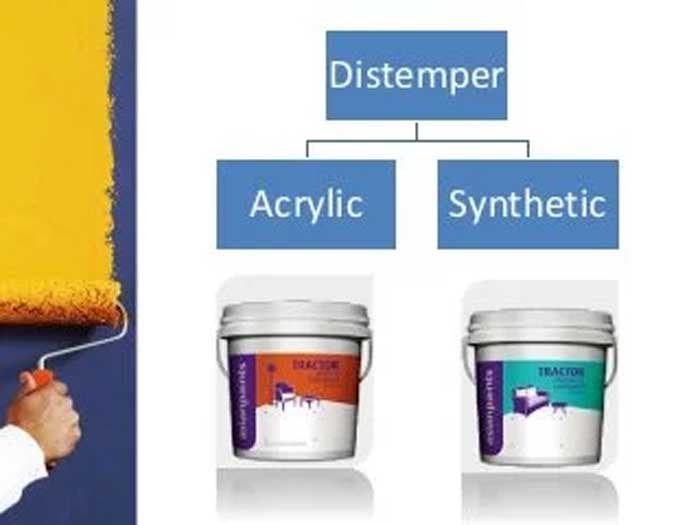 Primer Distemper

: As the name suggests, primer distemper is used as a primer coat before applying the topcoat. It provides good adhesion to the surface and gives a smooth finish.

Finish Distemper

: Finish distemper is used as the final coat and provides a smooth, matte finish.

Textured Distemper

: Textured distemper is used to create textured effects on walls and ceilings. It can be used to create stipple, splatter, drag, or swirl effects.
Distemper paint is a water-based paint made from animal hair, natural resins, and chalk. It is usually white or off-white and has a matte finish.
Distemper paint is often used on plaster walls and ceilings because it is breathable and allows the plaster to "breathe." However, distemper paint can also be used on wood, metal, and masonry surfaces.
Pick any of the two colour combination for bedroom walls here that you can get painted in your bedroom with distemper paint colour to give it a perfect look.
Benefits of Using Distemper Paint
It is made from a mixture of water, chalk or limestone, and animal or vegetable glue. Distemper paint was traditionally used to paint the interiors of homes as it was believed to be more durable than other types of paint.
It is a very economical type of paint.

It dries quickly and does not require any primer or undercoat.

Distemper paint is very breathable, which means it helps to reduce dampness and condensation.

It is also an eco-friendly option as it does not contain any volatile organic compounds (VOCs).

Distemper paint is available in a wide range of colors and can be easily mixed to create custom colors.
If you are looking for an affordable and easy-to-use type of paint, then distemper paint is a great option. It has many benefits that make it a good choice for both interior and exterior painting projects.
Application Process Of Distemper Paint
Step 1 – Surface Preparation
Step – 2 Application Procedures
Step 3 – Cleaning Up
Is Distemper Paint the Same as Emulsion Paint?
Distemper paint is a type of paint made from water, clay, chalk, and pigment. It has a matt finish and is very absorbent, making it ideal for use on walls and ceilings.
Emulsion paint has a more glossy finish than the distemper and is less absorbent. Emulsion paint is most commonly used on walls and ceilings, but can also be used on wood and metal surfaces.
Distemper paint is more absorbent colour and has a more chalky appearance, white emulsion paint is less absorbent and has a more glossy appearance.
Important Links:
Conclusion
Distemper paint is a good choice for painting projects that require an affordable and easy-to-use type of paint. It is important to note that distemper paint is not suitable for surfaces that are exposed to direct sunlight or high temperatures.
If you are looking for an eco-friendly and affordable type of paint, then distemper paint is a good option.
Have a look at indian house colour combination outside home for unique and latest designs.