Home improvement is an essential thing to be done for any home. Usually, homeowners would have a lot of options relating to improvements in furniture, decorations, kitchen appliances, etc.
With such an amazing selection, the houses can be made better and extremely comfortable. Other than the various items for interiors and fixtures, the exterior items are also essential such as roof materials, outdoor lights, and wall cladding.
Wall cladding is an exterior finishing treatment of a wall designed to protect the wall from the elements, as well as improve its appearance.
Wall cladding always gives a modern touch to the walls, and in turn, the look of the home is augmented.
No matter which part of your home, the wall cladding adds grace to it. Especially in places like a living room, bedroom, bathroom, and lawn area, it helps by giving an amazing look.
With such a design, the texture of the wall is improved and adds to a wonderful appearance.
What is Wall Cladding?
Wall cladding is an effective way to safeguard a building against harsh weather conditions and other potential threats.
Cladding is mainly utilized as a safeguard against water damage and enabling water leaks that would be dangerous for people who walk around inside the structure.
The choice of materials used for cladding often depends on the job or project. For example, natural materials like wood, stone, and brick can be used, as well as man-made products such as metal, plastic, or imitation stone.
Check house front wall cement design if you want to keep it simple and don't want to show off.
Types of Wall Claddings
Vinyl Cladding – This is one of the best ways through which you can give good protection to your home. It is equivalent to using wood, and an important thing to consider is that it is affordable.
Fiber Cement Cladding – This adds to the good looks and strength. It gives an impact of wood and installation is also affordable.
Stone Cladding – This provides a natural and fresh look. It can easily be used in different rooms, and it is also long-lasting. This is however slightly expensive and installing it is also a little difficult.
Laminate Cladding – This type of cladding is better than the usage of ceramic tiles. It is extremely strong in nature and is also cheap when compared to the various other cladding options.
To give a unique look to the premises view the latest compound wall design pattern here and choose the one that matches your exterior wall cladding.
Apart from this, different types of cladding can be used such as aluminum, brick, steel, and many more. Let's discuss these in detail.
Stone Cladding
It's a beautiful piece that combines natural elements such as granite, sandstone, and slate to create an organic appearance and can be a low-cost normal house front elevation designs as well.
It has a historical feel to it. It's ideal for use in your living room, indoor gardens, or bathrooms.
The numerous colors and textures give you a lot of options.

This tile does not retain water well, making it an ideal choice for bathrooms and indoor gardens.

The wall's natural appearance is a great contrast to the other walls in your home, making it an ideal choice for the living room.

The wall is dark, so stains are easily concealed inside it.

Consider viewing modern parapet wall design here as well for your exterior walls.
Vinyl Exterior and Interior Wall Cladding
Vinyl wall cladding is another type of wall cladding. It can be used for interior and exterior walls as well. It gives similar look as vinyl flooring designs.
Have a look below at in-depth details on vinyl wall cladding:
Polyvinyl chloride (PVC) cladding adds further durability to the comforter.

If you want to make your home look nicer from the outside, then this is a great option.

Galvanization protects it from rust and other damage caused by the elements.

Not everyone can afford top-of-the-line products, so this budget-friendly option is perfect for those looking to save.

You can utilize linen to get your perfect, one-of-a-kind look because it is so versatile. It comes in a multitude of colors, textures, and designs for you to choose from so that you can mix and match until you find your ideal combination for front elevation design.

The design of the bed is exceptional, with a unique leg support system for better comfort. It also has its own locking mechanism and nailing on the walls.

The box cut keeps the space between the walls and the vinyl cladding open, allowing it to serve as insulation as well.

Unlike wood cladding, there is no risk of warping or bending with aluminum composite paneling.

It only takes a few minutes of your time each month to keep it in working order. Cleaning chemicals are not required, as they are expensive.
Brick Cladding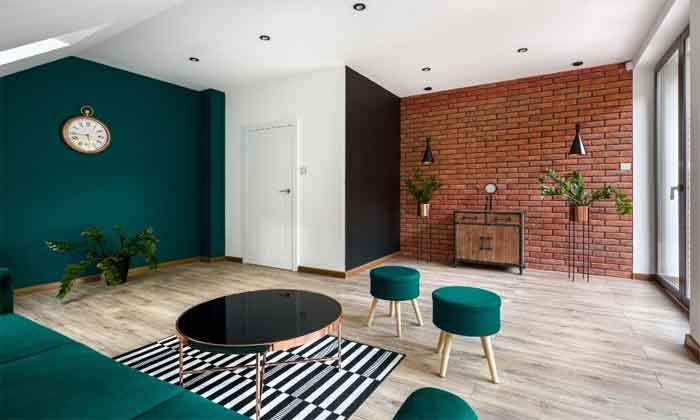 If you apply brick cladding in a systematic manner, it can provide a beautiful finish.

Installing this product is difficult and costly because special bricks with a particular finish must be cut and fit onto the wall.

It's available in a rainbow of colors, textures, and finishes. Sizes can also be varied.

It is very cleanable. Bricks have exceptional fire resistance, so brick cladding is also resistant to fire.

It acts as an insulating barrier and provides protection from both intense heat and cold weather.
Check the front elevation designs for small houses here that can fit on a low budget.
Fibre Cement Cladding
This material is highly durable, as it does not succumb to bacteria or rotting.

After installation, it does not shrink, curl, or fracture in extreme weather conditions. It's also waterproof and flame resistant.

The maintenance required for this product is negligible. Additionally, installation is quite easy; it can be fitted into an aluminum frame.
Wooden Cladding
Glue-laminated hardwood is the most popular type of laminate because it offers a natural look, can be installed in several layers, and gives a three-dimensional finish. The wood from cedar and redwood trees is utilized for this purpose.

After stone, it's a high-rated cladding choice. It's significantly stronger than vinyl or aluminum cladding and is one of the best choices for elevation tiles design.

However, its installation and maintenance costs are relatively high. Routine care and check-ups should be done to prevent rotting and warping.

We coat the surface with a stain or pigment to weatherproof it, or we can simply paint over the wood.

Its unique beauty catches the eye, and it looks more natural than competing products. It is also quite durable if properly taken care of.

The wood paneling is extremely versatile and can be trimmed to any size you need. There are also different patterns and colors of wood paneling available so you can select the perfect one for your home.

This material is environmentally friendly as it comes from nature.

It is far better at retaining heat than steel and concrete, which is why it can assist in energy conservation.
Have a look at the ground floor elevation for your single-story home here.
Aluminum Wall Cladding
There are several types and colors to choose from.

It requires very little upkeep, and it is also suitable for indoor use.

Aluminum cladding is so flexible that it can be easily bent into any shape, even an arch.

Check the latest front acp design for shop here.
Steel Wall Cladding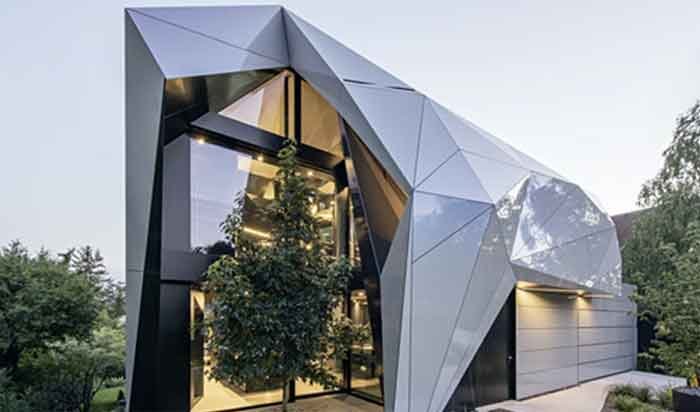 Steel, like other metals, contains about 1% carbon and 0.15 percent chromium for corrosion resistance. To get corrosion resistance, steel is treated with 10%.

As the chromium is exposed to air, it reacts with oxygen in the atmosphere and forms oxides of chromium, which form a passive layer over the surface and further corrosion is prevented.
Check elevation designs for 2 floors building here.
As a result, it is also weatherproof. Its moisture absorption capability is lower, so it prevents dampness in the home.

Insects are not known to attack steel cladding, making it a worry-free option. Additionally, steel cladding is low-maintenance.

However, this siding is susceptible to dents and makes a loud noise when raindrops hit its surface.
Glass Cladding
The finish gives the walls a lovely glossy sheen, whether they're the outside or interior walls. The panels of glass should be secured with great care to ensure that a perfect fit may be achieved.

The walls of your home will appear more distinct because of the reflective glass. The glass is set in a thin aluminum frame.

This translucent material transmits up to 80% of the light, making it visually appealing. It can be molded into a variety of forms, which gives it versatility in usage.

However, glare can be a big problem when using glass cladding. A lot of glare is produced because light reflects off the surface of the glass.

Glass can provide a security risk since it allows light to pass through while reflecting it, resulting in a greenhouse effect. Transparency may put your security at risk.

Sudden pressures greatly increase the likelihood of glass breakage.

If you live in an earthquake-prone area, it is best to avoid using glass cladding as earthquake-resistant glass is very costly.
Check the latest and modern gate pillar design that matches your exterior cladding.
Wall Cladding Designs
The usual textures come from various materials like fabrics and tiles. These days, contemporary 3D wall cladding designs are also used.
The budget-friendly options could be the usage of implied textures that are created with the help of repeating patterns or with the help of delicate color variations.
Interior Wall Claddings
For the interiors, the light-colored wall cladding would always suit the best. It is suggested to choose a smooth surface for the cladding as it will give a pleasant look.
Exterior Wall Cladding
For the exteriors, the dark-colored wall claddings need to be chosen. The material should be such that it should get adjusted to the external environment. Hence, it is suggested to go for such a material that proves to be extremely durable in terms of quality.
When you choose to go for wall cladding, it is always suggested to choose such designers (check out top 10 interior designers in Mumbai if you are based in Mumbai) who have enormous experience in this field.
They make sure to choose the right one that suits your home and looks elegant on the wall. They always make it look lively, and this will help in enhancing the look of your home.
They should be creative in their approach and should be able to give such ideas that will help in making your home look the best always.
Contact interior designers in gurgaon for cladding work in gurgaon here.
Conclusion
If you're looking to add some character and personality to your home, wood or metal cladding is an excellent way to do so.
Accent walls are a great way to incorporate cladding into your home- they'll be sure to stand out from the rest of your house.
An alternative would be to use brick on one accent wall in your great room or living area.
Have a look at best cement in india here.