The external walls are the first thing to be noticed by the goers. Its colors attract their eyes and make a lasting impression. Also, these colors reflect the owner's choice of colours and make the home welcoming. 
Therefore you must choose the right colour combination for your outside and inside walls to make all the points mentioned above happen. In this blog, we will take you through the knowledge of these colour combinations so that you know which variety to go for the next time you're using your outside walls. 
Color combinations for Outside: your own colourful Indian Home
Here are some Indian house color combinations outside that you can use for your exteriors. 
Cream and Brown colour combination 
It combines the ideal and the subtle for an exterior wall. Dark brown blends perfectly with the cream and thus makes an excellent external paint setup.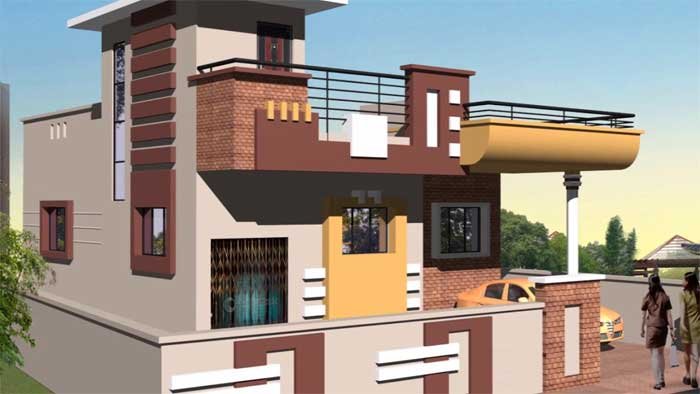 Brown is a simple colour that signifies stability and support and complements the cream colour. It depends on the style of your abode. These warm and neutral hues feel comforting and grounding. 
The white and blue colour combination 
You can imagine how well blue goes with white and creates an exotic look. This is the best Indian house colour combination outside.
Indigo or blue or a soothing colour, and it inspires serenity. It also reduces stress and is the best combination for bungalows and cottage-style houses in India. 
Yellow and brown colour combination 
Oh, you can never go wrong with this colour combination as it is a subtle and appealing combination for Indian homes outside walls.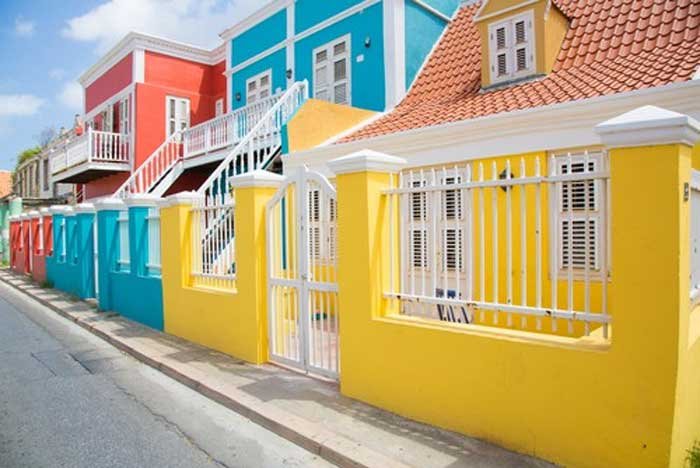 Brown can be employed to paint the roof and window frames. The door front porch blended well with the yellow walls. This is perfect for a cottage-style home surrounded by a small garden. 
 Red and cream colour combination 
You can paint the tiles red and also the large wooden windows. You can paint the pillars cream and match them to the walls. These colour combinations have been seen in south India on the outside walls. 
Also Read Best Colour Combination for your Kitchen Walls. Modular & Simple
If the exposed brick walls are combined with the yellow colour, this forms an exceptional combination for the Outside. 
You can also go for the same colour combination in industrial and Scandinavian house styles. You can employ the different shades of red to grab attention and beautify our house. 
Colour combinations for Halls: Colorfully welcome the Guests
Now that you have decided on the exterior colour combination, it is equally essential to focus on the color combination of the hall indie, especially in India, where we consider the guests as gods. 
A hall is where you share laughter, celebrations, tears, stories, and thrillers. So it is essential to have a color combination that matches well with your personality. Here, we have discussed some of the Indian hall color combinations. 
The Tangy Orange combination

 
If you love the orange shade like us, this is the shade for you. Orange is a bubbly and charming color that is sure to steal gazes. It also evokes a sense of warmth, forming a warm color. It is also known to represent spirituality and compassion. So why would you avoid going for this power-packed color? 
A pretty pastel color combination

 
Pastel colours are subtle, like not. One of them is green. It represents peace, tranquillity, and growth. Think of a room appointed with pastel green or mint color. It can go so well with white walls. Green also increases vitality and security. So feel safe to go for this combination for your dining hall. 
Red is also a personal and tremendously exciting choice for a hall as it gives a boost of motivation. In two colour combinations, red is the dominant, and beige is the neutral shade.
If you are dramatic and passionate, you can paint your walls red. It is also the hallmark of strength and courage. So go beyond bright and opt for this colour combination now!
The perfectly purple combination

 
Purple cannot be ignored in the Vastu for color combinations for home. Purple is a magical color representing imagination, mystery, royalty, and much more. It is also a luxury and can lift your spirits in no time. It also is a symbol of creativity, wisdom, and compassion. 
Add more to your home with wall stickers
We have listed some attractive options for wall stickers for homes. 
Heaven Decors PVC Vinyl

Tree and Flowers Wall Sticker

: Get it on Amazon for just 258.

Decals Design Black Antiques

Street Lamp with Butterflies Wall Sticker

: Get it on Amazon for just 178.

Wolpin Polyvinyl Chloride Wallpaper

: Get it on Amazon for just 189. Choose from the available two colors- gold and grey. 

James Royals Multi Color

3D Colorful Crystal Butterfly Wall Stickers

with art Decal Satin Paper Butterflies Home Decor Removable sticker: Get this adhesive sticker on Amazon for just 145. 

Wall1ders

31 Hexagon and 10 Butterflied Silver mirror stickers

for a wall: Get it on Amazon for just 245. It comes in black, blue, brown, golden, red, and other hues. 
Conclusion 
To beautify it, we have listed out the entire wall-related decor you can see in your home. These combinations are worth trying, and we have also listed the qualities of each variety you can try. These combinations can represent your personality and make a sweet space for your home. You can also add wall stickers to your house to enhance their look and beauty. We have listed out wall stickers that you can purchase online for INR 500.