The bedroom is where one goes to relax and recharge, so it's important that it's decorated in a way that's unique to the individual who sleeps there. 
Bedrooms for men should be designed with the occupant's strength, elegance, and comfort in mind. A man's bedroom should be a place of relaxation and renewal, where he can focus on himself and his needs. 
The purpose of this blog is to help you create a bedroom that is both elegant and particularly manly by delving into the essence of male bedrooms, exploring design concepts, and providing inspirations.
Defining Masculine Bedrooms
A masculine bedroom has a style that is both strong and sophisticated, reflecting the man sleeping there.
The colour scheme is typically comprised of dark, earthy hues like charcoal, navy blue, olive green, and deep brown.
This makes the space feel welcoming and homely, perfect for unwinding after a long day.
Also read about– Girl Bedroom Ideas and Designs
Essentials for Men's Bedrooms
The bed is the centrepiece of any man's bedroom and should make a bold statement. Choose a broad, durable bed frame with few design details.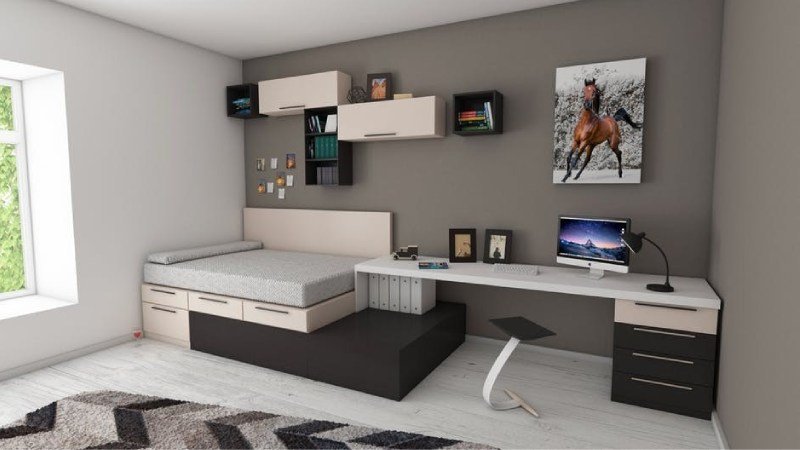 Bed frames made of dark wood or metal convey power and toughness, while upholstered headboards in leather or textured textiles provide a touch of refinement.
Colour Scheme for a Masculine Bedroom Go for darker, moodier hues that are yet quite neutral. 
The base colour scheme consists of neutrals like grey, charcoal, navy blue, and brown, while softer tones and more vivid hues can be used as accents.
Adding a variety of rich textures to a bedroom is a great way to give it a more masculine vibe. Include luxurious fabrics like velvet, fake fur, and flannel in your beds, throws, and cushions.
Adding different textures to a room makes it look more interesting and sophisticated.The minimalist aesthetic is commonly used in the design of a man's bedroom. 
A sense of tranquilly and refinement is achieved by the use of clean lines, uncluttered surfaces, and a concentration on utility. Use only the bare minimum of furniture and avoid filling the space with needless trinkets.
Furniture made of dark wood and decorative elements made of metal create a mood that is both tough and macho. 
Dressers, nightstands, and desks in rich wood tones are all good options to consider include. Lamps and picture frames made of metal give a room a sense of modernism and edginess.
In a male bedroom, statement lighting may serve both practical and aesthetic purposes. Choose eye-catching lights like metal pendants, chrome table lamps, or contemporary wall sconces to make a statement.
Light levels can be regulated with the installation of dimmers.
Personalise the room with artwork and accessories that speak to a man's sense of style and hobbies. 
The perfect wall art for a man's bedroom may be anything from black and white photographs to abstract paintings or old maps. Exhibit collections or interests with the help of well-placed shelves.
You should also know about The Best Ceiling Lights for Bedroom Ambience.
Ideas for a Masculine Bed Room 
Exposed brick walls, concrete floors, and metal elements characterise the modern industrial style. For a chic and contemporary industrial aesthetic, add leather furniture and a monochrome colour palette.
Make a comfy refuge by using plaid bedding, natural fabrics, and pieces made from reclaimed wood. Create a cosy and welcoming atmosphere by layering rugs and using warm lighting.
Appealing urban lofts often have a variety of industrial materials including exposed brick, concrete, and metal. Neutralise the space by adding splashes of colour in the form of artwork and decorative items.
Elegant Timelessness A traditional men's bedroom decor will never go out of style. Select a tufted leather headboard, furniture made of dark wood, and opulently crafted linens for your bedroom.
Clean lines, iconic furniture, and vintage accents are hallmarks of the mid-century modern aesthetic, which you may re-create by decorating in this manner. 
Add a feeling of melancholy with some abstract art or antique posters.
You may also like to read– Yellow and Grey Bedroom Ideas
Balance The style of a man's bedroom shouldn't come at the expense of comfort, and vice versa. For a relaxing night's sleep, it's important to have a high-quality mattress and bedding.
Make your bed more inviting by layering on the sheets and blankets. Try out a variety of patterns and textures to liven up the room and give it a sense of depth.
Put Your Stamp On It Incorporate details that are special to you and that speak to the things you care about into the design of the room. 
A room's unique atmosphere may be bolstered by the addition of personal touches such as artwork, mementos, or trip souvenirs.
Include Storage Options: It's important to have a man's bedroom well-organized. Built-in shelving, under-bed storage, and storage ottomans are just a few of the space-saving ideas you may use.
Remember that lighting plays a major role in creating the desired atmosphere. Lighting is important for both reading and working, so be sure to include both task lighting and ambient lighting.
Here is Dynamic Boy's Bedroom Painting Ideas.
Conclusion
When you decorate a bedroom for a man, you get to show off your own sense of style and taste. You may make a place that is strong and sophisticated while yet being cosy and inviting by using a vibrant colour palette, luxurious fabrics, and streamlined furniture. 
Whether you're going for a sleek and sophisticated style or a more rugged and urban feel, adding in some personal touches can make the area seem more like your own. 
It is possible to design a male bedroom that is both stylish and relaxing by focusing on the room's lighting, storage, and other functional aspects. 
Get started on your road to creating the perfect manly bedroom by letting your imagination run wild.
Consider reading-