Staircases are an important element of house design. Apart from having an impact on the entire home's appearance, it also serves the function of linking two stories.
As a result, finding the perfect stair railing material is critical. The steel railing design for home stairs has a very high class and rich look to it that can make your home look amazing.
While selecting the proper stainless steel railing design for your home, keep a few things in mind – including environment, budget, traffic, and upkeep.
Stainless steel railing ideas include Carbon Steel, Stainless Steel, and Toughened Glass.
Carbon Steel
Carbon stainless steel is a cost-effective, long-lasting, and versatile material. It's ideal for indoor use. Carbon stainless modern steel railing design for steps, on the other hand, necessitates the use of a protective layer of paint or another substance to keep it from corroding.
304 Stainless Steel
Stainless steel is common rust- and corrosion-resistant material. In an environment that contains chlorine or salt, 304 stainless steel is more susceptible to corrosion than carbon steel.
316 Stainless Steel
The high corrosion resistance of 316 stainless steel makes it a popular choice for outdoor architecture and landscaping. It requires practically no upkeep and can be utilized in extreme weather conditions with ease.
Browse DecorChamp.com at the balcony railing design page if you are looking for steel balcony railing designs for your home front.
Types of Staircase Steel Railing Designs
Steel and Glass Combination
Some of the most common railing materials are glass and steel, which may be used to create a stylish and sophisticated atmosphere.
Steel glass staircase railings are the most used and modern railing types. This design can be used in both indoor and outdoor settings.
Olympus Stair Steel Railing
The Olympus horizontal bar railing design is a contemporary, sleek option for your stairwell. It has a clean look without sacrificing openness or lightness, and it complements the house décor well.
Wood with Steel Railing Design
Adding wood elements like balusters and handles to a steel staircase is an excellent choice. This combination is perfect for those who want the durability of steel but with a more traditional look.
Check some useful and important staircase vastu tips while making a staircase at your home and follow these guides to make your home staircase vastu compliant.
Steel Railing with LED Lights
To improve the appearance of your steel staircases for home, use vivid colors and sizes of LED lights to make the staircase stand out.
Decorative Stairs Steel Railing
There are a few ways to add decorative flair to your steel stair railing design without going overboard. You can use unique materials, colors, and shapes to give the staircase some personality.
Geometric Steel Railing Design
This type of steel stair railing design can be achieved by using different metals, colors, and textures to create a one-of-a-kind look.
Try these main iron gate colour combination for your home while getting your home painted to give it a modern and unique look.
Wrought Iron Steel Railing Design
Wrought iron is a classic material that has been used in railings for centuries. If you're seeking a stylish and long-lasting steel stair railing design, this is an excellent choice.
Have a look at modern iron gate design here to match your staircase railing with your modern iron gate designs.
Cable Stair Steel Railing Design
Cable railings are an attractive alternative for both indoor and outdoor staircases. They come in a sleek, modern design that may be modified to complement your house's decor.
Rainier Cable Railing
If you want a modern steel railing for stairs that isn't too complicated, a rainier cable railing is the way to go.
They provide a sleek continuous line and require minimal upkeep. Another benefit is durability.
Have a look at the types of steel bars you can use while getting construction work done.
Steel Railing Design with Glacier Panels
The glacier panel railing system is the ideal choice for your steel stairway if you want a sleek look and a clear perspective.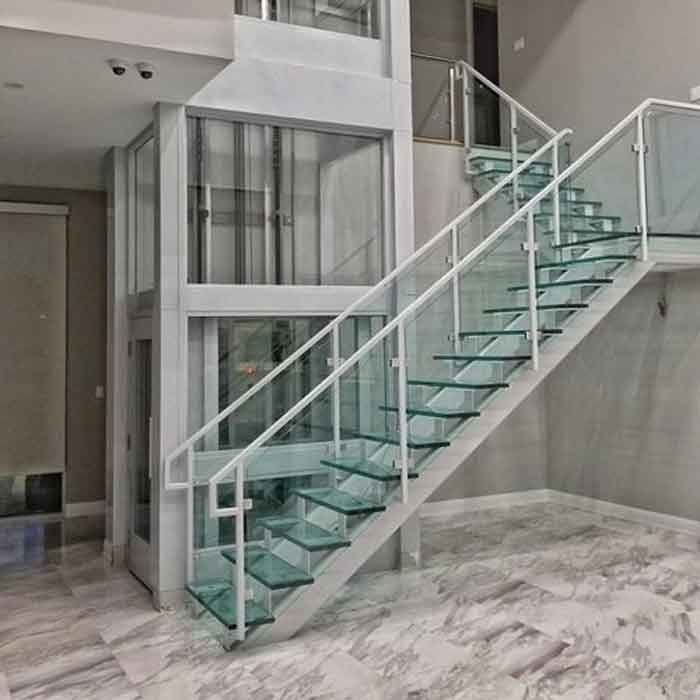 It looks fantastic in confined spaces because it gives the impression of increased space.
Water-Jet Cut Steel Infills
Adding decorative elements, like water-jet cut steel, to your infill panels might improve their appearance. This steel staircase design for the home provides a vintage and elegant look.
Mesh Infill Steel Stair Railing
The steel composite staircase's open framework allows for easy expansion and contraction. It delivers a high level of comfort as well as insulation and ventilation, and it may be painted to match any design to give a distinguished appearance with little upkeep.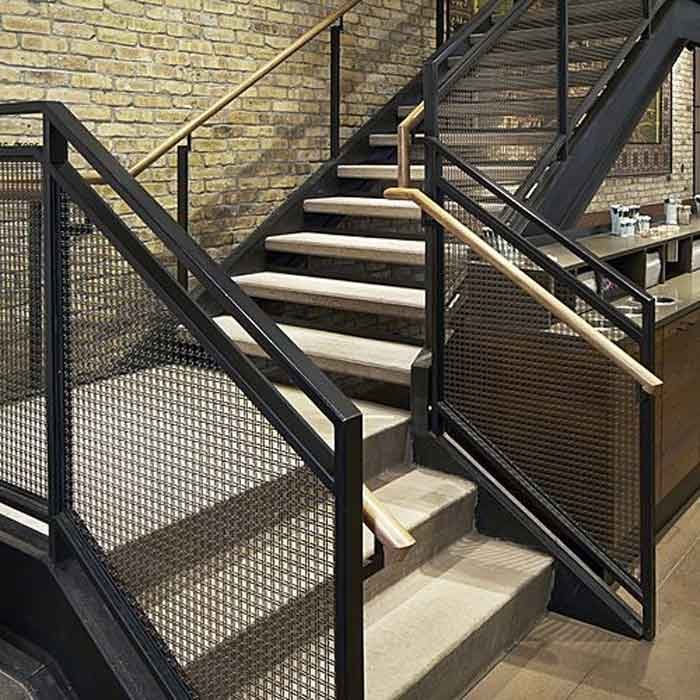 This home steel staircases, on the other hand, might be expensive and break if not installed carefully during construction.
For exterior design of your home try these acp sheet design as these are trendy and attractive too.
Colorful Steel Stair Railing Design
Make your stairs more colorful to make them appear more interesting. If you value the environment, go for sustainable materials that are anti-corrosive. Steel is a green material that may be readily recycled.
Use components that are corrosion resistant and composed of 40-60% recycled content. Balusters may be added to your railing system for aesthetic purposes as well as safety.
Snake Pattern Steel Stair Railing
The snake pattern steel stair railing is a design that's as unique as it is eye-catching. This home steel staircase design is achieved by creating a continuous rail with no breaks or joints.
The result is a sleek and modern look that's perfect for any home.
Have a look at these appealing steel door designs for your main entrance here as well.
Vintage Steel Stair Railing
If you're looking for a modern steel stair railing design that's both unique and stylish, consider a vintage-inspired look.
This type of staircase railing is perfect for homes with more traditional décor.
Tips To Care For Your Steel Stair Railings
Regularly check for rust and corrosion and address it immediately.
Use mild soap and water to remove any dirt or grime build-up.
Apply a coat of wax or sealant to protect the railing from the elements.

Inspect your staircase regularly to make sure all the components are secure and in good condition.
Conclusion
Steel stair railing designs can be both functional and stylish. Some of the benefits of using steel for stair railings include durability, low maintenance, and a variety of design options. Steel railings are also typically very strong and sturdy, making them a good choice for both indoor and outdoor staircases.
Whether you want a sleek and modern look or something more traditional, there's a design that will suit your needs. Stair railings made of composite materials are both stylish and low-maintenance, making them ideal for every home.