It's hard to even imagine our life without colours. Colours make our life beautiful and it gives us pleasure. Besides making our life colourful, colours play an important role in attracting energy around our homes as well.
If you go by Vastu, each colour depicts the five elements of nature. Those are the fire, water, air, earth, and space. Colours that you choose to make your home lively effect differently.

If you are still on your way to beautify your house with beautiful colours then be selective about it. After all, it is about your home. Colours are not only necessary to enhance the look of our house, but also to bring peace and prosperity. It heals our mind and soul.
Changing the wall colours of our house is not possible regularly. So, you have to decide about the colour beforehand. The wall colours release different kinds of aura. Auras which help in maintaining peace in our livelihood. It is important to take advice from the experts before selecting the colours.
Here, we will talk about the 8 different colours and its effects which will help you to decide. Many might not have even thought about the importance of colours yet, but it is important. In order to bring prosperity and tranquillity in life, one must think twice before choosing a colour.
Try these hall colour combination which are designed after keeping the vastu guidelines by vastu experts.
Things to Know Before Choosing the Right Colour:
According to Vastu colours depicts five important elements- fire, water, earth, air, and space. Therefore, while choosing the colours you should also keep in mind the impact of these colours in specific areas. You should think about the energy you want the colour to bring in a particular room.
Some colours will bring luck while others will bring tranquility and peace, some even help in bringing success and achievements.
Go through all the colours and effects and if you have already chosen a few colours then let's get to know them better.
Blue – The Colour of Peace and Tranquillity
According to Vastu blue colour is said to be the element of space. This colour brings serenity, peace, tranquillity, and harmony. Each shade of blue effect differently.
If you choose dark blue, then it will bring calmness because dark blue is the colour of seawater, it also brings tranquillity and wisdom. If you choose light blue, then this is the colour of spirituality and peace. If you want a colour which depicts growth and youthful vibe then you can go for the Blue-green colour.
Now you must be wondering which room's wall should be painted with blue colour. Except for the living room, you can paint any room's wall colour with the blue colour. You can choose the student's room, children's room, pooja room, and even the bedroom.
If you don't want to paint the wall colour then you can choose some accessories to decorate the room, just make sure it is in blue colour or has a hint of it.
Violet- The Colour of Spirituality
The violet colour stands for authority, dignity, spirituality, and simplicity. It brings luck and positivity. Violet is perfect for any room.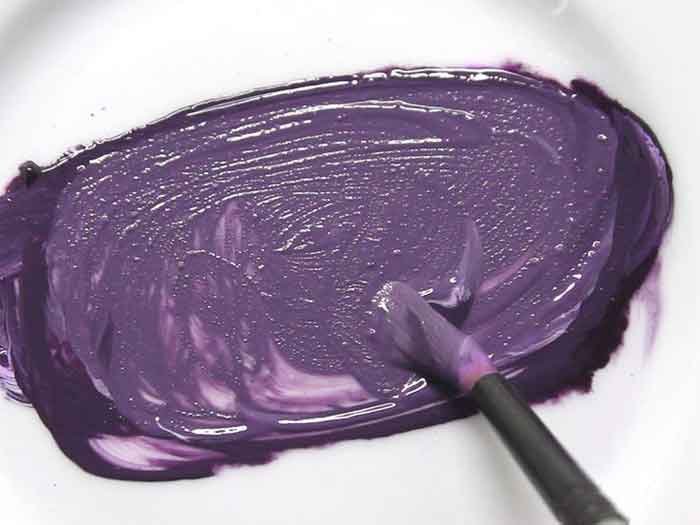 Let there be positivity in your house. Paint the wall colour with violet or choose to add some accessories which are violet in colour.
Red- The Colour of Power
Red is the colour of power, fame, and success. It has the element of fire in it. You might feel tempted to use the red colour in your bedroom, however, if you are a light sleeper, then you should avoid using this colour.
Also, red is a strong colour and emits a strong aura, so be careful while painting an entire wall with it. Try using some accessories with a red colour.
Orange- The Cheerful Colour
Orange colour is the colour of happiness, it brings prosperity and keeps the environment lively. Use this colour in your living room or in the kitchen.
It will bring positivity. Orange again is the colour of fire; hence, it is better to use it in the kitchen walls.
Yellow- The Colour of Wealth
The yellow colour is the colour of earth. It brings power and wealth. It is also the colour of knowledge and wisdom. You can choose this colour for your child's study room or even his bedroom. Let there be the flow of wisdom and knowledge in your child's room.
White- The Colour of Peace
White is the colour of peace and there is no doubt in it. Whenever we see white, we think of peace, purity, cleanliness, and serenity. However, be careful while painting an entire wall with white colour.
It is important to maintain the balance. While painting the wall colours with white, paint a wall with a contrasting colour which will balance the negative effect of the white colour as well.
Grey- The Colour of Harmony
When you see disputes in personal bonding then you should choose grey. Grey brings harmony, peace, and also helps in maintaining stability in your home. You can choose any room to paint the wall with grey colour.
Try these two colour combination for bedroom walls to make your bedroom vastu compliant.
Green- The Colour of Good Luck.
Green colour brings good luck. It is the colour of hope, development, and security. You can paint any room with grey colour.
If not the wall colour, then go for grey colour furniture. When you want to maintain a balance in terms of peace and tranquillity, then all you need to do is choose a grey colour.
Follow these simple Vastu colour tips and change the aura of your home. If you are thinking of home improvement then all you need to look after is the colours for your peaceful home.