Warmly welcome to our special blog, where we delve into the enchantment of interior design! In this post, we'll look at how to use yellow and gray in your bedroom design.
We can create an appealing and aesthetically attractive atmosphere that expresses your character by combining the exuberance of yellow with the modest elegance of gray.
Join us on a creative adventure as we provide new and distinctive yellow and gray bedroom ideas to convert your private haven into a tranquil oasis.
The Warmth of Yellow 
Yellow is a color that exudes warmth, happiness, and inventiveness, making it an excellent choice for bringing vitality into your bedroom. Let's look at some quirky ways to include yellow in your sleeping sanctuary:
Sun-Kissed Walls: To create a pleasant and happy atmosphere, paint the bedroom walls a gentle, sunflower yellow. This vivid backdrop will immediately boost your mood and create a friendly environment.
Statement Pieces of Furniture: To infuse a burst of vitality into the space, choose a bright yellow piece of furniture, such as an accent chair or a sleek dresser. Allow this artwork to be the center point, with more neutral gray surrounds.
Bold Bedding: To create a big statement, use bedding with yellow layouts or a solid yellow duvet cover. Floral themes, geometric shapes, and elaborate patterns may all lend a sense of beauty to your bedroom.
Sunshine Accents: Use carefully chosen items to complement the yellow motif. To bring the sense of sunlight indoors, decorate your shelves with yellow picture frames, hang vivid artwork, or add fresh yellow flowers in a vase.
The Timeless Elegance of Gray 
Gray lends a feeling of serenity and elegance to any area due to its adaptability and sophistication. Here are a few unconventional ways to integrate gray into your yellow-themed bedroom:
Gray Wallpaper: For depth and visual intrigue, use textured gray wallpaper with subtle patterns. Consider damask, herringbone, or chevron patterns to add a touch of grandeur to your bedroom.
Statement Pieces in Grey: As a focal point, select a unique gray piece of furniture. A tufted gray headboard, a mid-century contemporary gray armchair, or a sleek gray nightstand may all easily add to the room's overall elegance.
You may also like to read: Vastu for bedroom furniture
Layered Neutrals: To create a layered and relaxing appearance, layer several shades of gray through bedding, drapes, and carpets. To produce a sophisticated and monochromatic look, combine light gray, charcoal, and silver tones.
Metallic touches: Add metallic gray touches to your decor with hardware such as drawer knobs or light fixtures. This slight sheen provides a glamorous touch to the whole design.
Uniting Yellow and Gray in Harmony
Now that we've looked at the individual beauties of yellow and gray, let's look at how to combine them to create a compelling and harmonious bedroom:
Soft Yellow and Subtle Gray: As a basis, choose a soft yellow color palette and enhance it with light, unobtrusive gray accents. Allow the yellow to shine by means of fabrics, accessories, and artwork by using gray for the walls and furnishings.
Contrast in Texture: Incorporate diverse textures to add visual appeal. Combination of a velvety yellow area rug with a sleek gray leather recliner, or silky yellow satin bedding and a gray velvet upholstered headboard. The juxtaposition of textures gives the room depth and volume.
Accent Wall Drama: Make a dramatic statement by painting one wall a bright yellow and the rest walls a neutral gray. This focal point captures attention immediately and provides a dynamic aspect to the environment.
Colorful Patterns: Use patterns and prints to combine yellow and gray. To add a dynamic and active atmosphere to your sanctuary, use yellow and gray striped drapes or a flowery yellow and gray wallpaper.
Arty expression: Incorporate yellow and gray into your artwork and wall décor. Display black-and-white images with yellow highlights in attractive frames against a gray background. This creative technique infuses your bedroom with individuality and charm.
May you also know about: Modern wardrobe design
White pieces to Balance: Use white pieces to balance the yellow and gray color scheme. Crisp white bedding, silky white curtains, or white furniture items offer a sense of freshness and a visual break from the vivid yellow and relaxing gray.
Yellow and Gray Themes
In a modern industrial bedroom design, combine the sleekness of gray with the exuberance of yellow.
Choose gray concrete or exposed brick walls and accent with yellow metallic fittings, industrial-style lighting, and minimalist yellow artwork. This theme offers a sleek and edgy environment.
Scandinavian Simplicity: Incorporate yellow and gray in a clean and open bedroom environment to embrace the simple beauty of Scandinavian design.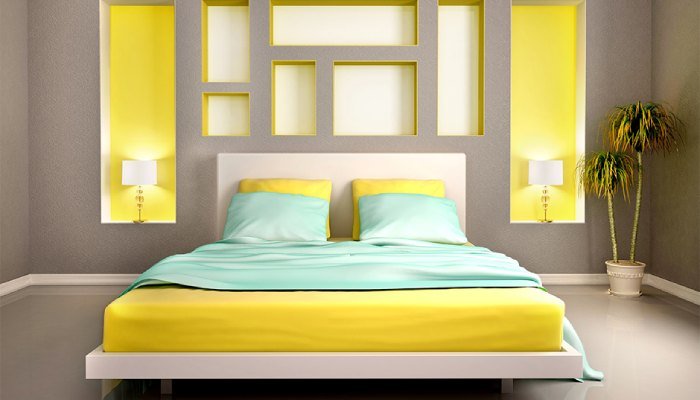 Keep the walls and furnishings white or light gray, then add flashes of yellow with textiles like throw blankets, cushions, or a cozy yellow rug. Natural wood details provide warmth and welcoming ambience to the minimalism.
Nature-inspired hideaway: Infuse yellow and gray with nature-inspired materials to create a serene hideaway. Paint the walls a gentle gray to simulate the relaxing tones of an overcast sky, then infuse yellow using botanical prints, leaf-patterned drapes, or fresh flowers.
To complete the organic and peaceful environment, add natural textures such as rattan or woven baskets.
Vintage Allure: A vintage-inspired yellow and gray bedroom transports you to another era. Consider gray flowery wallpaper with yellow highlights, or a yellow tufted headboard with gray damask drapes.
Vintage-inspired furniture, which might include an antique vanity or a worn gray dresser, offer a sense of timeless beauty to the space.
Lighting and Accessories 
Lighting and accessories are vital in enhancing the yellow and gray mood in your bedroom. Take a look at the following elements:
Lighting effects: To create a cozy and inviting ambiance, choose warm-toned lighting fixtures. To enhance the color scheme, choose pendant lights or bedside lamps with yellow or gray lampshades. Dimmer switches may also be used to regulate level of illumination and mood.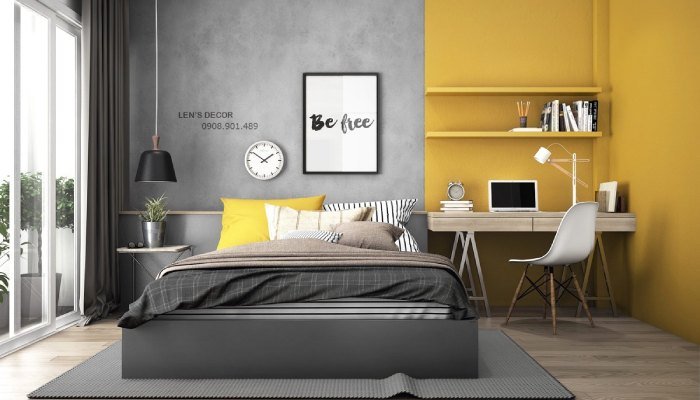 Mirrors: Place mirrors strategically throughout the space to reflect light and provide depth. To add elegance and highlight the yellow and gray colours, choose mirrors with elegant gray frames or sunburst motifs.
Metallic Accents: To give a sense of elegance, use metallic accents such as brass or gold. For a beautiful and unified design, install a statement mirror with a gold frame or set metallic yellow and gray ornamental containers on your bedside table.
Here you also consider about these: 3 Bedroom house plan kerala
Textiles: Experiment with various textures and patterns in yellow and gray fabrics. To create layers of visual interest, mix and match throw cushions, blankets, and drapes in various colours and patterns. Incorporate patterned rugs or floor cushions in yellow and gray for enhanced comfort and design.
You may create a visually appealing and harmonious area by using these creative yellow and gray bedroom ideas. Whether you like a modern, antique, or nature-inspired theme, the combination of yellow and gray provides limitless opportunities for expressing your personality and creating a tranquil refuge.
To bring your concept to life, pay close attention to lighting, decorations, and design nuances. Embrace the fascinating mix of yellow and gray to create a refuge of beauty, tranquillity, and unique expression in your bedroom.
Consider reading: