Open kitchen design is the most popular idea of modern apartments that is going with the trend. It has been extremely fashionable for a couple of years. Open kitchen designs in India are used mostly in apartments having very less space.
The partition of the kitchen by a wall takes much space, making the flat smaller. The open kitchen design gives the illusion of a spacious home.
This type of design also adds elegance to your home, turning it aesthetically pleasing. It makes multitasking easier. You can cook and at the same time entertain your guests by talking to them or keep an eye on your little one who is playing in your living room.
You can also cook while watching your favourite show on the television in your living room. An open kitchen design also fills your cooking space with light and sufficient air. 
Open Kitchen Partition Ideas with Wood
You may like the concept of open modular kitchen design for its elegance but at the same time, you may need privacy while cooking.
Your kitchen may be clustered while you cook or you may have some uncleaned dishes that you have used while cooking.
You can hide those unclean utensils in the wooden divider area. The wooden partition will act as a barrier to certain kitchen accessories which you prefer to keep out of sight from your guests in the living space.
Have a look at modern g shape kitchen designs here.
Such types of open kitchen partition ideas will relieve you from too much maintenance of your open cooking space.
Open Kitchen Model with Breakfast Counter
This cooking space implements a Scandinavian style which does not fade away with time. The open kitchen design has an evergreen look with its breakfast counter near the hob and kitchen chimney.
The breakfast counter adds to the extra beauty and charm of the cooking space. The chairs are high enough to make people sit comfortably to reach the table height. 
Try these modular kitchen colour combinations for your open kitchen to give it a unique look.
Modern Open Kitchen with Minimal Design
The theme chosen for the cooking space is white colour to give it a minimalist effect. White colour makes the space bright and clear with sufficient light for its white background.
This modern open kitchen is cluster free and clean, which attracts its beauty. The sleek hob in the backdrop of a white cabinet looks charming, giving a minimal design to the modern open kitchen.
To contrast with the white colour, red brick designed wallpaper is used on a side, which gives an aesthetic touch to the open kitchen décor. A potted indoor plant makes it even more attractive and eye-catching, while also filling the room with more oxygen.
For unique and trendy u shaped stylish modular kitchen design always visit DecorChamp.com to get an ideas with recent photos.
Kitchen items are kept in a well-organized manner. You can choose this type of modern open kitchen which gives a neat look in minimal design and maximizes the cooking space.
Budget-friendly Idea on Open Kitchen
Open shelves are the best ideas for a budget-friendly open small modular kitchen. Such shelves also have a sleek look. You can showcase your decorative and beautiful cookery pieces on the open shelves for catching your guest's attention.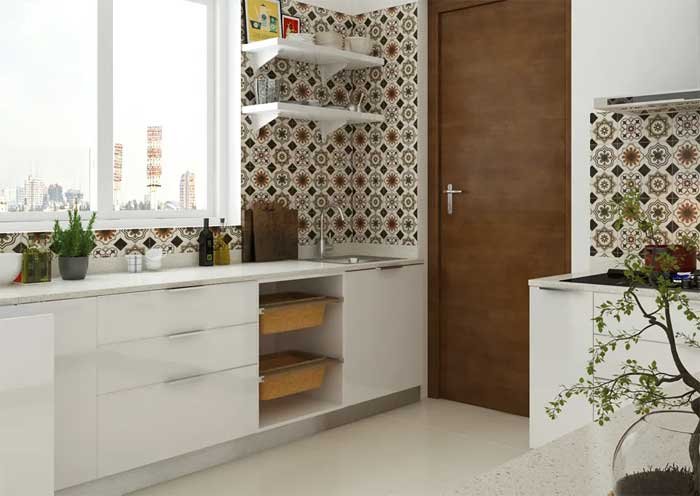 It also makes a feeling of airiness due to its open spaced shelves. However, to prevent mess, you have to keep your cookware neatly on them always.
Indoor plants are a great idea to keep in your cooking space for a more mesmerizing look, which also come within a very less budget.
The big glass window at the front gives you a beautiful view of the city with its tall buildings. You can cook, and at the same time enjoy the beautiful sight outside through the window.
Open Kitchen Design with Light in India
The open kitchen of our home has a very clear view from the living and dining room. The people of India make it highly decorative for eye-catching.
The decorative light is an important element to make your open kitchen mesmerizing. The lights such as pendant lights, spotlights and profile lights not only give a sleek appearance but also make your cooking area brighter and clearer.
Choose the perfect modern kitchen sink design from the listed designs for your open kitchen designs.
Dining Cum Open Kitchen Idea
Dining cum open kitchen is a great idea for utilizing the space in your cooking place. It also gives a trendy look to your kitchen décor.
It is very convenient for you to serve the meal at the dining table from a minimum distance while doing some other work like cleaning your cooking room. Most of the big modern open kitchen has this type of style.
Open-concept Kitchen Entrance with a Sliding Glass Door Design
If you like an open-concept kitchen but want to have it closed or half opened, according to your requirement, you can go for this type of open-concept kitchen entrance design.
A sliding door in glass gives a sleek look to your modern open kitchen design. This type of open concept kitchen prevents your living room from turning too smoky and smelly due to cooking.
When you cook, the smoke, oil and smell of the dish moves to the living space, making it uncomfortable for your guests and other family members. The oil and smoke also spoil the paint and the surface of other living room décor.
This design of open concept kitchen entrance with a sliding door enables you to close the slide door while cooking and open it on other times when you want fresh air to come in and want to make it spacious. The transparent glass will always fill your open kitchen with sufficient light.  
L-shaped Indian Open Kitchen Design
Most of the Indian middle-class families prefer L – shaped modular kitchen design for their elegance which suits all types of home décor.
L shaped modular kitchen designs are popular as both small and large cooking space. This L shaped kitchen is simple yet stylish with a beautiful combination of grey and white palettes which have a timeless beauty. These contrasting colours suit well with both light as well as dark shade spaces.
Conclusion
These are some of the best open kitchen designs in India. Open kitchen design has various advantages and it looks classy in modern apartments.
The architects are mostly planning open kitchen design in their plans for its several advantages. In big crowded cities, where space is very little in the flats, such design will make your home look more spacious and less cluttered. Open kitchen models will give you the opportunity to showcase beautiful and luxurious cookery items and another kitchen décor to your guests. So, choose the design which best suits your modern apartment.
Sleek Open Kitchen Image Gallery 
You can also choose some more open kitchen designs from this photo gallery. The source of these images is taken from the internet which has a variety of styles and designs with outstanding colour combinations, suitable for modern Indian apartments.
Open Kitchen Image Option – 1
Open Kitchen Image Option – 2
Open Kitchen Image Option – 3
Open Kitchen Image Option – 4
Open Kitchen Image Option – 5
Open Kitchen Image Option – 6
Open Kitchen Image Option – 7