About Modern Double Bed Designs
The bedroom is a space where you need peace after a long, tough, and hard day. So it is more than necessary for you to have a comfortable bed in your bedroom. What is the harm if your bedroom provides you extra benefits along with comfort? Modern bedrooms should have modern designs. 
There has been a sea change in bedroom designs over the last few years. They have seen luxury and style while providing comfort and ease. They have price ranges according to the features and look.
Double bed designs may be available in a variety, for example, iron, stainless steel, etc. Modern double bed design comprises these materials. One of the prominent features of modern double bed designs is that the beds come with a storage box. So let us peek into some of the most beautiful double bed designs. 
When it comes to sleeping, you need the best bed with the required space. The market nowadays has different types of double bed designs and styles. You can customize or buy a readymade one as you like. 
Things to Keep in Mind Before Buying a Double Bed
There are some things to take care of before you buy a bed. You should explore well before choosing one. Before buying, lie down and check if you feel comfortable. It is extremely important to select a bed according to your bedroom size and bedroom wall colors also matter for perfect decoration. 
These are some things that will help you purchase the best bed. You can have company while buying a bed for your room as you will be open to an informed decision. 
Best Bedroom Double Bed Designs 
Let us look into some of the best bedroom double bed designs.
Your kids are sure to enjoy this bed. This one has a safe climb up. There is eleven space for storing the toys, books, games, etc.
This one is quite modern as it has a box for storing linens and blankets. It is one of the double bed designs. It has rectangular boxes for storage purposes. So this is sure to give your bedroom an elegant look. 
Stainless Steel Double Bed Design
This bed has its structure formed entirely of stainless steel. Its design is quite simple and gives a sharp look to the bed. It has four legs ad a headrest.
So if you are someone who does not love too much of the show, this is one of the best bedroom double bed design options for you. 
Furniture Double Bed Design
This one is sure to create a classy look. It has a modern design and is the latest double bed design in 2022. It comes from the furniture with panels and a matte finish. You can combine colors to give a final look to it.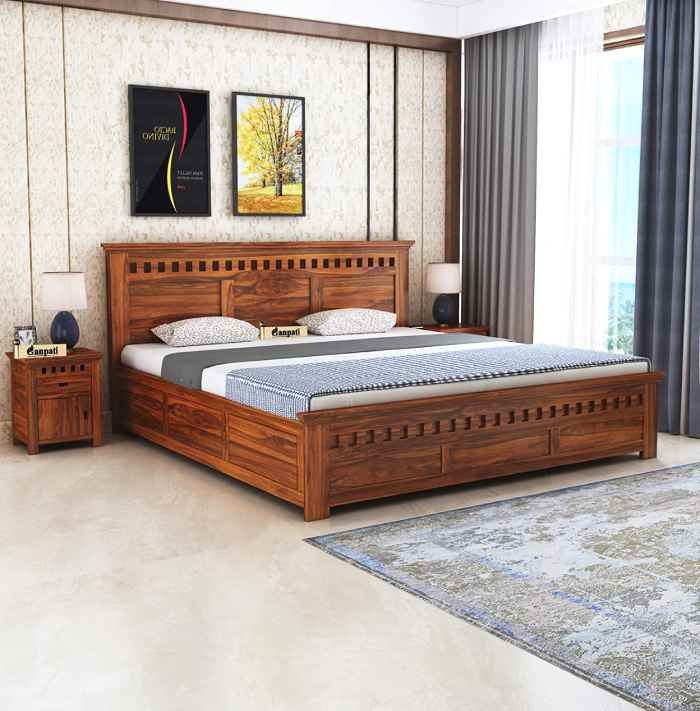 Its bed-box has a black-brown finish with rectangular pieces and a headrest. For smooth movement, there are stands below the bed. 
This one-bedroom double bed design has a rustic look with a satin finish. It gives a raw and beautiful look to your bedroom. This is primarily made of iron. Its footrest has rods that form the shape of rectangles. It comes with a unique designer headrest. After getting the perfect fitting pillows and mattress, you will best enjoy the comfort.
These are some of the designs that you can have a look at. Now, let us see some double bed designs latest in 2022. These are being extensively used to replace the traditional beds. To make it clearer, double bed design photos are provided. It looks great with different bedroom pop designs.  
This bed has a simple yet modern design. It is attractive as well as useful. Why is it so? It is because it provides massive storage. So is not it comfortable with functionality? The specialty is that there are storage boxes on either side where you can keep things of use.
It has a dark wood finish and sharp edges. It is easy to open and close the storage space at your convenience. 
Plywood Double Bed Design
Plywood bed is for those who believe that style is simple. The handcrafted features set it apart from other beds. The only limitation here is the absence of a headrest or footrest. It needs the perfect mattress and pillow to fit. It gives comfort and is white.
Side Table Double Bed Design
Again a modern double bed design, this is comfortable as it comes with a long head-side. It has two side tables to place the lamps or other things like books or spectacles. It has a wooden finish and is highly durable. There are many types of woods used in the modern furniture to make it more decorative and durable.
It adds das of class to your bedroom. It is a simple bedroom double bed design but looks stylish. It has a simplistic design of squares and bordered edges. Look for the fitting mattress and a pillowcase of optimal size to go with it. It comes with drawers so storage would not be a problem.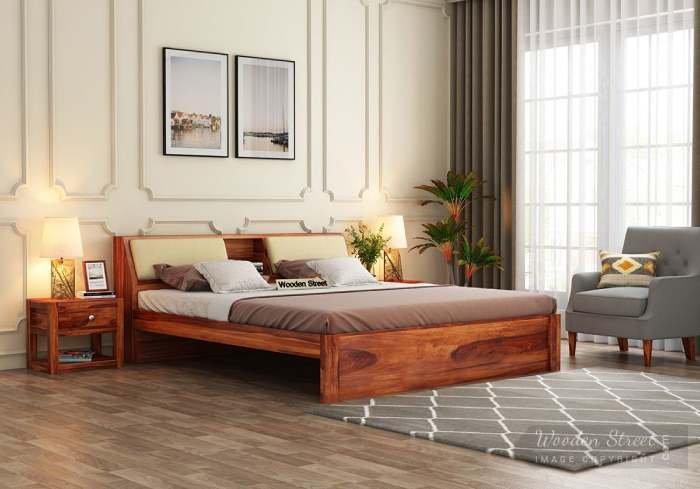 This double bed palang design is one of the most durable as its construction is of Sheesham wood. It has a good headrest with it. It also has a traditional look. This double bed palang design may not have a storage facility, but you can always customize it.
There are also options of side space that you add as per your choice in this double bed palang design. 
Conclusion
To sum up, we can say that bedrooms are a comfortable space and you should have the best kind of designs for your room. It should meet all your needs and relax you while sleeping. Above is a list of some designs, along with double bed design photos that you can choose from. From kids to adults, these designs fit the needs of every age group. Make sure you have the fitting pillowcase and mattress to comfort your sleep. It is also important to check the bed thoroughly before buying it.