Like the other parts and spaces of the house, the kitchen needs equal importance in terms of designing. While designing or renovating a house, people often easily overlook the design aspects involved in a kitchen.
But, a kitchen should be given equal importance and decorated or designed to match the overall interior of the house. 
A designed kitchen dictates your mood while you are cooking. It also helps to keep your mind refreshed because of the overall ambience and mood your whole house will provide. 
A kitchen is not just a "kitchen" to "cook food in". In modern houses, a kitchen is an extension of the living room or the dining room. Kitchen's have evolved in utility and design to involve breakfast bars, drinks bars and/or island tables. 
Unlike the traditional kitchen styles which were only used for cooking, the modern kitchen features a space which is used for much more purposes than cooking.
While the different types of wall designs and the furniture contribute to the kitchen design, kitchen shelves are another important element that equally drive the mood and design of the kitchen. A shelf adds life to a kitchen design, and it can make or break the kitchen. 
Thus, it is very important to pay equal attention and invest accordingly in quality shelves. Some shelves are designed to give a contemporary look, while others give a rustic look.
Some others may give you a minimal design look, nevertheless not affecting its functioning. 
You may like to Read – Dining Room Ideas For Cozy and Small Spaces
Given below are some shelf designs to make your kitchen more upscale:
Floating Wall Kitchen Shelves
Floating wall shelves give the kitchen a very modern and sleek look. The shelf material can be made of wood, plywood, blockboard, or glass.
It is best to stick with white, black, neutral or earth tones, as any other colours will draw too much unwanted attention and will become dull over time.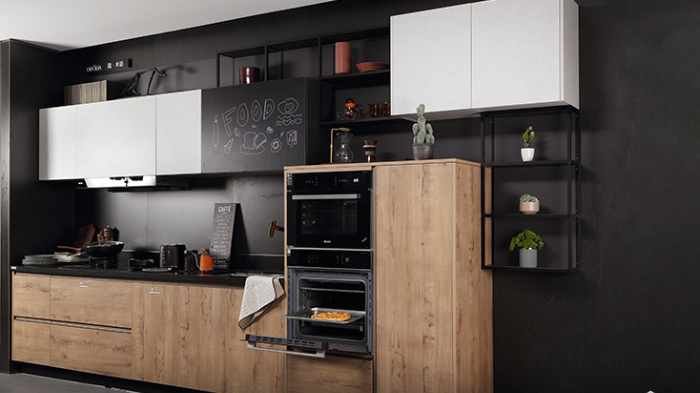 It can either be fitted symmetrically or asymmetrically, depending on your overall house design. It is also a good idea to keep ample space between consecutive shelves in order to keep their usage flexible. 
Suppose you have to add a large container, having ample space between your shelves will give you that flexibility with your space to customize your arrangement. You should also know about these Kitchen Almirah Designs And tips to choose the right one.
Streamline Modular Kitchen Organization
This organization style uses a metal frame to make a storage box shelf. Instead of scattering your shelves, you can group them together in different geometric patterns in the same place, beside each other.
Firstly, decide which things will go on what shape, adjust the dimensions accordingly and you will have yourself a contemporary style shelf design for your kitchen. This design goes with modern, semi-modern, contemporary, bohemian, and a minimalistic setting. 
Being a minimalistic pattern itself, it is best to choose a black metal rim. If you want to give your space that extra gloss, you can use either a silver or a gold coloured metal rim. 
Natural Wood Kitchen Shelves
Natural wood shelf designs are chunky blocks of unfurnished and polished wooden blocks. This design will go best with a traditional or a bohemian setting. 
It will add an edge of ornamentation to the whole setting. You can arrange and get them fitted in a fashionable order, or keep it random. The unfinished look will give a raw edge, while the polishing will give it a complete and stylish look. 
Metal Kitchen Shelves
Metal shelves are another popular and timeless kitchen shelf design. The metal rack can be any colour of your choosing. If you are getting this, make sure to add one or two small plants as it will give it a very contemporary look.
Here are some U Shaped Stylish Modular Kitchen Designs Which you should consider before constructing a modern kitchen. 
Cupboard Shaped Kitchen Shelf
A cupboard shaped shelf is another classic and traditional design that remains timeless. You can go with the classic wooden cupboard.
The cupboard panels should consist of cut out glass squares and metal handles/knobs for an aesthetic finish.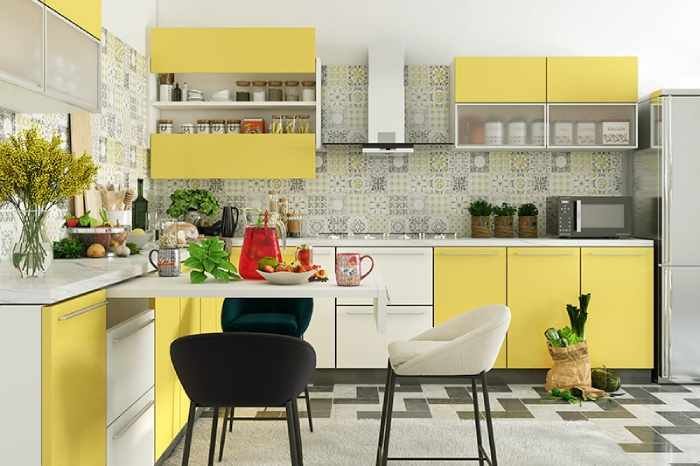 If the colour theme of your home is dark, keep the cupboard black colour, if it is light themed, keep the colour white. You can also go with any other colour of your liking, but keeping in mind that the colour should be a dominant element in your space. 
Pantry Style Shelf Kitchen
A pantry styled shelf is another classic design that never gets old. Take your guests to the streets of Italy with your age-old pantry style shelves. This design goes best with a bohemian and rustic decor. 
Simply keep the wood colour light, like a yellow ochre shade, and decorate it with either real or fake plants to give that tint of colour to your space.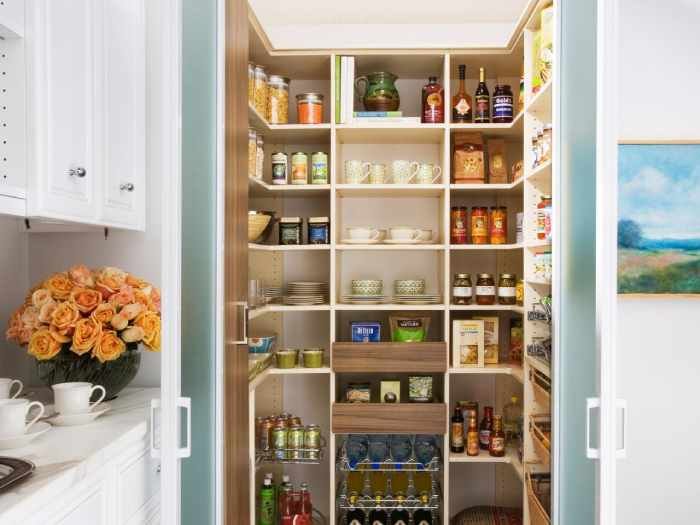 To decorate the shelf further, you can get some storage jars, mason jars or any other aesthetic storage containers. 
This will allow you to distinguish your ingredients and items and will add a rustic look into your space. If you want to go extra, you can line up the shelf boards with jute mats. 
Marble Styled Kitchen Shelving Unit 
This is a modern shelving unit style. It has a sleek and elegant design, which will provide a minimalistic ornamentation to your contemporary space. You can choose a marble color of your liking. 
Put ornamental knobs or handles in the cabinet doors for an elegant edge. You can put glass panels for the best décor combination.
Decorate the shelves with minimal plants or other showpieces, one or two pieces, to upscale your kitchen immediately.
Also Read – 10 Storage Ideas for Small Kitchens.
Amoeba Kitchen Shelf
The unique name of this kitchen shelf idea comes from the shape of amoeba! Because amoebas do not have any distinct shape. The idea of this shelf design is to have oblong shaped shelves fitted onto the wall to form a coherent shelving unit. 
This is only possible with wood, and will only look good with wooden material. Our suggestion is to select a toned-down wooden color for the best look. Put horizontal boards inside the shaped shelves to store your items.
Another additional feature would be to attach hooks at the base of the design to hang ladles and pans for a timeless beautiful look.