A property's value depends highly on your house's wall designs. The finished home is a result of the architectural plans and textures. Let us find out these front wall designs to help you develop a beautiful front wall for yourself.          
These designs also have an impact on the elevation of the house. You can find it a complex process because you have to make certain choices about the material, features, colors, etc. The exterior creates an impression on others, so we need the best one for our home.     
The pandemic has taught us to always keep our family members close to us. It is important to have a good fortification since many homes are transforming into palaces. A good boundary wall acts not only as a twofer but also keeps the strays at bay. 
So in this blog, we will learn about some of these designs. Boundary wall designs have been given importance since the ancient days. But now you have unique features such as the latest amenities and designs.    
Parapet walls have been a major thing in the construction arena. In the ancient past, it was used to protect the palace from invaders and was considered a symbol of strength. Nowadays, it is used for ornamental purposes or houses.
This article will bless your eyes with some beautiful designs.
House Front Wall Design for a single Floor
The front election is one of the best designs for front walls in the home. It gives you a perfect view of your home from the entry side, including the main gate, windows, entrance, and more. The front sight does not reveal the sidewalls unless you build it strategically. 3D elevations beautify it regardless. 
House Front Wall Design for a simple design
Everyone wants to own a home, even a simple one. You can employ modern techniques and architecture to it. This style helps to give a beautiful and elegant finish. 
House front wall design for two floors
A double story looks exactly like a single story plus one extra story. You can add beautiful exhibits to the front doors. You can also squeeze in a parking lot along with a cute little balcony that looks both fashionable and appealing. 
House front wall design for three floors
If you reside in a large family, you may go for the three-story building. This house design has three colours and is simple and striking.
The Classic wooden cottage theme
Most people go for the patrol covering of the house using wooden frames, but it is still interesting to cover the entire front wall with wooden frames. You can pick up a wooden cottage or a villa in the woods. So try to use this front wall cement design for your home also.
The concrete and Metallic finish
If you want to set up something as fancy as a railing design, you can combine it with metallic fencing. So it protects your house from invaders and provides a good sight to outsiders. You can mix it with stones, exposed bricks, and more.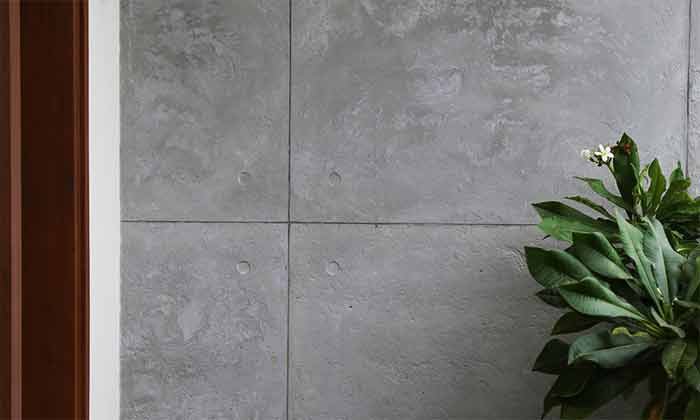 Independent House Elevation
Independent are liked and preferred by most people in the suburbs these days. So you carefully design the architecture of the house. It is suitable for people who want to keep it simple yet stylish.
Contemporary elevation Design
By using this design, you can employ the modern with the contemporary. This is hands down one of the latest and best elevation designs for front walls. You can add a terrace to the above. The front and side looks of your bedrooms look beautiful with this design.
This focuses on different boundary walls based on construction and appearance.
These walls will help you veil yourself from the road. Even dust and pollution can be avoided. It also serves its primary purpose of providing security. It prevents trespassers from entering your arena, and no one can enter your personal space.
Construction of these walls begins from below 2 ft below ground level. It is one of the most trustworthy wall designs.
Every passer-by observes the home boundary as the first thing. Cladding walls use cladding materials such as vitreous walls or marbles. It gives a beautiful and aesthetic appeal. It is better to use it in the case of bungalows. You will find it commonly in cities like Delhi, Bangalore, Kolkata, and more.
A compound wall is necessary to protect your building. It also provides a good view of the front wall for the goers. A single flat section covers the entire section, and the space looks neat and beautiful. You can adjust the height of the wall according to your likes and needs. The entrance and front of the wall are visible.
There are different types of parapet walls, such as embattled, crenellation, plain, paneled, perforated, stepped, slope, bridge parapet, and many such.
Parapet walls have many functions, such as saving the building from collapsing in the event of the wind vortex, stopping debris and dust from entering the roof, and providing a continuous supply of air and thermal flow.
Conclusion
To sum up, some of the wall designs have been mentioned above, along with their aesthetics and functions. You can study them well and then choose the one that looks best. It is also based on the type of house wall design that you are going for. Parapet walls, boundary walls, and front walls have been discussed above. The front and side looks of your bedrooms look beautiful with this design.