If you want to give your home an exotic touch then staircases are certainly not meant to be ignored. They are an integral part of your home and serve many purposes. Apart from providing you with the function of changing floors, they can add beauty tips to decor your home if chosen wisely.
They can be chosen on many accounts like the amount of space you have, the material in which you are comfortable, the frequency of usage, and many other factors as well.
We have provided you with some of the ideas regarding staircases so when you choose your staircases go through them to give your home a subtle and classy and grand look.
A staircase is one of the first things you see when you enter a home, so it's no wonder that homeowners put a lot of thought into their staircase design. A well-designed staircase can make a big impact on the look and feel of your home, and it can also be a practical addition that makes your life easier.
If you're planning to design or renovate a staircase in your home, there are a few things to keep in mind. We'll give you some inspiration for staircase designs that will make your home look amazing.
But do not forget to make a staircase as per vastu because Vastu plays a vital role in the home when it comes to the staircase.
Wood and Metal Staircase
To give your home a contemporary look you can go for the combination of wood and metal staircases.
Here, wooden slabs are used as stair treads and wooden slabs are connected to the sturdy metal frame. It gives your home a sumptuous look.
Wooden Staircase with Planters
A wooden staircase is a great way to add some extra charm to your home. But why stop there? With a few simple additions, you can turn it into a beautiful and practical space. Plus, it can help brighten up your home and add a touch of nature.
Wooden stairs are combined with modern steel railing design to make it a perfect staircase look for any home.
Not all plants will do well in pots, so it's important to choose ones that will thrive in the conditions you can provide.
Pick the right size pots. Too small and your plants will get lost, too big and they'll be overwhelming. Choose pots that are proportional to the size of your plants and the space you have available.
Make sure the pots have drainage holes. This is important for ensuring your plants don't get waterlogged.
Place the pots carefully. This step is important for making sure your arrangement looks balanced and cohesive.
Add some finishing touches. Once your plants are in place, finish off the look with some mulch or stone chips. This will help keep the soil in place and prevent your pots from drying out too quickly. With a little bit of planning, adding planters to your wooden staircase can be a great way to improve the look and function of your home.
Spiral Staircases
Spiral staircases have been used for a long time. They certainly give a vintage look to your home and can be combined with iron railing design or steel railings. Spiral staircases come in many designs and are made of different metals.
They have a high durability. You can go wood or marble stair with a railing option of metal essentially. These staircases take smaller space as compared to other staircases. They can be put up in a home after construction too.
Building a staircase can be a daunting task, but with our easy-to-follow instructions and designs, it will be a breeze! The first design is a classic spiral staircase. This elegant stair design is perfect for small spaces as it doesn't require much floor space.
It's also great for homes with high ceilings as the spiral effect creates an illusion of height. Spiral staircases are also very popular in contemporary homes and a perfect match with all types of railing design as they add a touch of drama and sophistication.
The second spiral staircase design is perfect for those who want a more modern look. This sleek and stylish stair features a cantilevered tread which gives it a floating effect. It's also perfect for homes with limited space as it doesn't protrude into the room.
Floating Staircase Designs
Floating staircases is the pit stop if you want a modern look to your home. They look very captivating. They are the staircases that have treads with no risers.
They are commonly used these days. You can go for different material; they are available in wood, granite or any weld-able material like brass and aluminium. These staircases give a special feel to your home and coziness factor to your home.
You can opt for granite for making the treads as they give a strong and durable look to your staircase. Generally, wood is also used in floating staircase designs.
Modern Marble Staircase
If you are looking for a modern and stylish staircase, then a marble staircase may be the perfect option for you.
Marble staircases can add a touch of luxury to any home and can make a real statement. Marble is a strong and durable material that can last for many years, so it is an ideal choice for a staircase.
Honed marble has a matte finish and is less slippery than polished marble. It is also more affordable. Polished marble has a shiny finish and can be very slippery, so it is important to choose this type of staircase if you have young children or elderly people in your home.
Secondly, you need to decide on the size of the staircase. Marble staircases come in a range of sizes, so it is important to choose one that will fit in your home.
Consider viewing all latest steel gate design here for your home.
Staircase with a Brick Wall
If you're after something classic and timeless, then a brick wall staircase could be the answer.
Brick walls have been used in homes for centuries and they offer several benefits when it comes to stairs.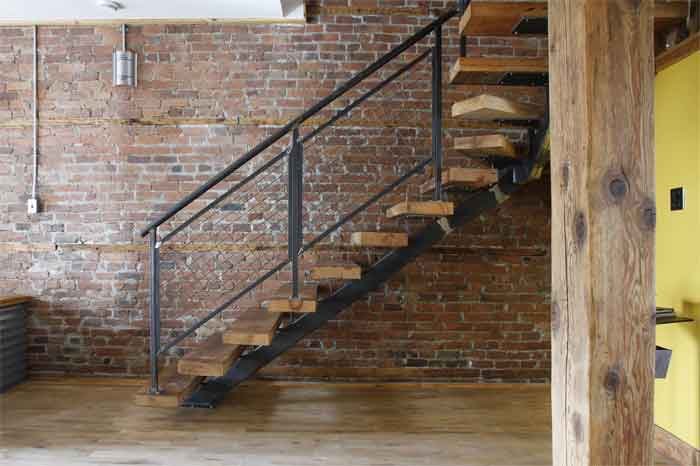 They're durable, and low maintenance and they add a real sense of solidity to a space.
Have a look at the complete guide on curing brick wall here.
Grand Entrance Double Staircase
Grand entrances are undoubtedly the eye-catchers. They have a smooth transition between levels and look appealing. Decorative modeling is applied to the staircases. Generally, they divide into parts and give your home a royal look.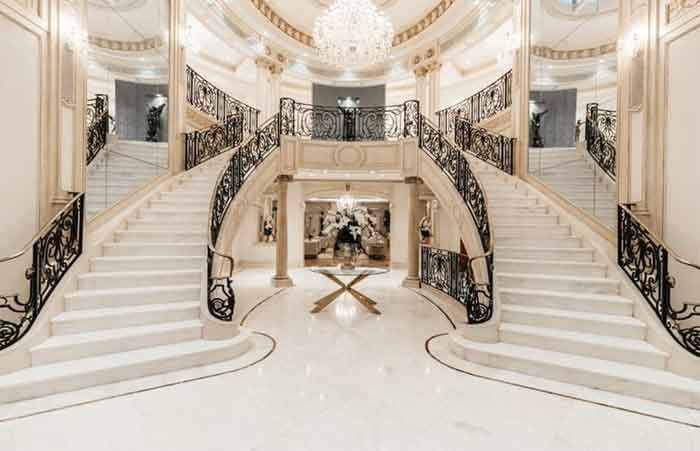 They are also widely used in hotels and other places. The material used can differ on your choice. Mostly metal with detailed designs is used in making them. They require more space and have more wide treads.
Space Savers Staircase Design
In a fast paced life, we all search for ideas that require less space. The commonly used space savers are ladder style staircase and spiral staircase.
You can go for alternating steps in a staircase. You can for metal as well as wood material for the staircase. They are often supported to the wall and you can utilize the space beneath them.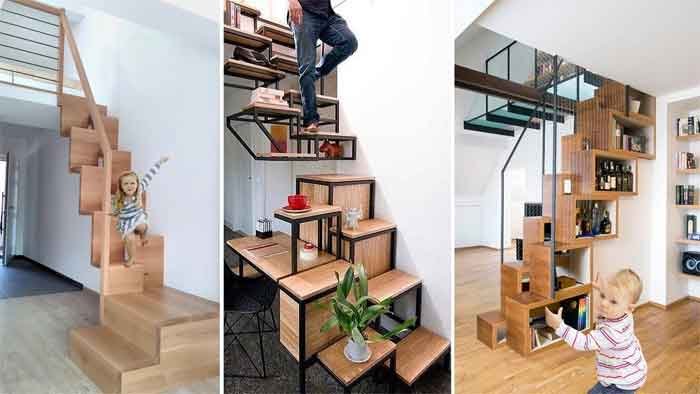 These types of staircases also allow more light to come compared to those of traditional ones.
Check modern stairs railing designs in steel here.
Ladder Staircase Design
The ladder staircases are generally for compact homes, offices and shops. These are fordable stairs made of metallic body.
They are generally for reaching lesser heights like reaching the book shelve etc. it is not advisable to use these staircases for longer heights. You can modify them according to your use and according to your taste in decor.
Storage Staircases
These types of staircases are used when you are in the need of more storage space. They make your home more organized. The underneath are below the stars is generally used to make drawers and shelves.
In other way you can use each riser as drawers in these staircases. With time, they are in high demand.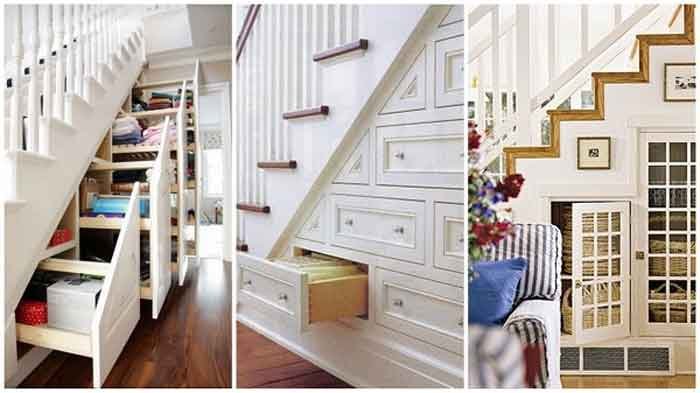 So, these were some of the staircases that you should go for while choosing the type of staircases. Choose them wisely as they are an essential part of your home's architecture as well as for decor purposes.
Now a days, people also prefer to match their staircase designs with name plate designs for main gate if they have staircase just after entering the house.
Simple Staircase with Storage Space
This staircase has been designed with storage space in mind. The risers have been made slightly larger so that there is enough room to store items underneath them. This is perfect for those who are looking for a way to declutter their home without having to sacrifice style or functionality.
The treads are made from durable wood that can withstand heavy foot traffic, and the risers are made from sturdy metal that will support the weight of whatever you choose to store underneath them. This staircase is sure to provide you with years of use and enjoyment.
Modern Staircase with LED
If you're looking for a modern staircase with a unique design, the LED light staircases are the perfect option. With their sleek lines and contemporary style, the LED staircases are sure to make a statement in your home.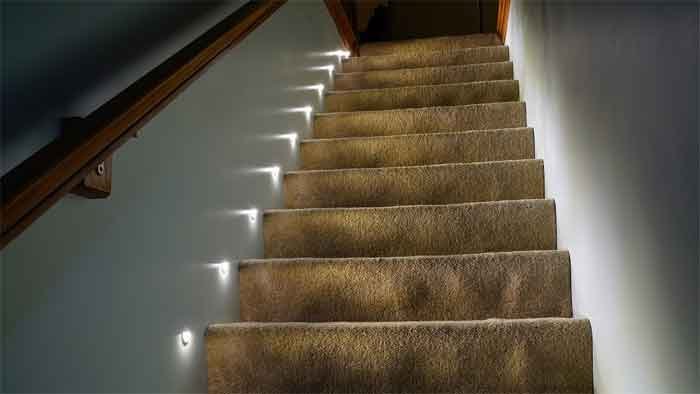 And, with a wide range of sizes and finishes available, you're sure to find the perfect staircase for your space.
Thanks to their energy-efficient LEDs, the staircases can help you save on your energy bills, too.
So, if you're looking for a stylish and modern staircase that's also eco-friendly, our LED staircases are a perfect choice.
Note: have a look at the modern main gate design here listed with photos for your dream home.
Residential Staircase Granite Design
The new trend in residential staircase design is the use of granite. This natural stone adds a touch of luxury to any home, and it is also very durable. If you are considering adding a granite staircase to your home, there are a few things you should keep in mind.
First, granite is a heavy material, so you will need to make sure that your staircase is structurally sound before you install it. Second, granite is a porous material, so it can be stained if it comes into contact with water or other liquids.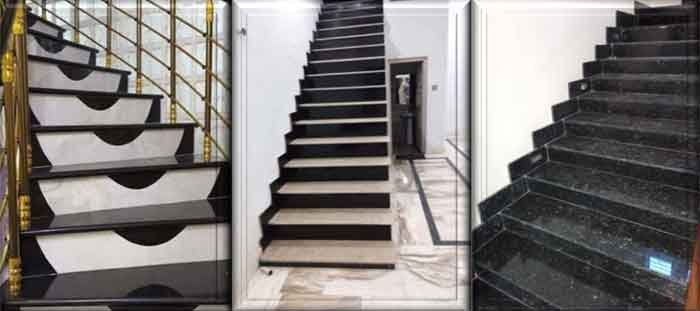 Treads are the flat pieces of stone that make up the top surface of each step. Another option is to use granite risers. Risers are the vertical panels that make up the back of each step.
They can be made from a variety of materials, but granite is a popular choice because it is durable. To give it a perfact match, people also choose front gate main gate granite pillar design with the same granite used in the staircase designs.
Conclusion
When it comes to choosing the perfect staircase for your home, there are a few things you should keep in mind.
First, consider the material you want to use. Brick, wood, metal, and granite are all popular choices.
Second, think about the style of staircase you want. Staircases can range in price from a few hundred dollars to several thousand, so you'll need to decide how much you're willing to spend.
Consider Reading: Best cement in india for construction here.