Every home has the right to look its best. Nobody wishes to live in a dull home which is why painting your walls with the perfect colors will give it an instant luxurious transformation. Having the ideal-colored walls will be certain to uplift your mood and its vibrancy will speak for your own personality. Simultaneously, the real estate value of your house will be boosted. 
Therefore, with much thought and planning, you could give your home a style makeover with the best two-color combination ideas. 
Why Should You Focus on Choosing the Perfect Color Combinations?
Considering that you plan on revamping or building your home from scratch, you will come across the decision of choosing paint colors for your walls. 
Although for many this might seem to be an easy or insignificant decision to make, people do not realize the importance of choosing the right colors. Your home speaks for your confidence, showcasing a part of your personality, which is why choosing an inappropriate color could probably leave you regretful. 
Under different circumstances, a certain color can be perceived differently. This depends on the natural, incandescent, or fluorescent lighting at home. 
No wonder interior designers harp on choosing color combinations that appear well at all times of the day, and in any lighting. On making the right color choices, your home will have a smooth and flowing transition, from one room to another. 
Any unsuitable color, texture, or design can easily make your home feel lifeless. Contrarily, choosing the perfect color combinations gives your home an energetic outlook as certain colors are responsible for having a direct effect on one's mood. 
Types of Colors
Primary hues include yellow, red, and blue; secondary hues include green, purple, and orange; and tertiary hues are those primary and secondary combined. Similarly, there are cool and warm-toned colors. From its name, cool colors are responsible for calming the brain and enhancing productivity levels. Cool colors include blue, purple, grey, etc.
How to choose the best two-color combination for your home?
Choosing the best two-color combination depends on several factors such as:
Being aware of the room space and sizing.

Comprehending the psychology of colors. 

Understanding the room layout and design. 
Why Is the Two-Color Combination Ideal?
Most rooms in any place follow the two-color combination as this is the perfect interior design scheme to maintain subtlety and balance. With two colors, you can decorate your home however you want. Whether you want to maintain minimal aesthetics in your room or be bold, sticking to just a single color seems completely unnecessary and boring. Your walls can look fabulous in more than one color! 
Also, Read This Confidential Advices on Interior Designing from Experts
Two-color combinations in any room bring out their artistic essence to enhance the entire room's feel as they turn out to complement every accessory present. If you are under the impression that the two colors need to be from the same palette, then, you are mistaken. 
You can paint colors that are in contrast to each other. Although they might be contrasting, you should know that they might actually bring out a unique and desirable look. But, of course, this also depends on the right ratio assignment. 
All in all, properly making use of a two-color combination palette can give your home a simplistic, elegant, and poignant effect.  
The Bedroom
The bedroom is the most essential space that everyone relies upon. After all, it is the space where rest and personal time are achieved. 
No wonder interior designers not just put in a lot of thought while creating the perfect bedroom layout but also help people choose the correct colors. 
These two-color combination ideas are certain to make you feel at home. 
Lavender represents grace and purity, qualities that fulfill a bedroom. Lavender when combined with off-white gives off a royal and elegant look that is assured to bring you words of praise. 
Light brown indicates stability as per the color psychology that helps in maintaining a relaxed mind. Complementing it with white will give your bedroom the natural and calming look that you might probably look for.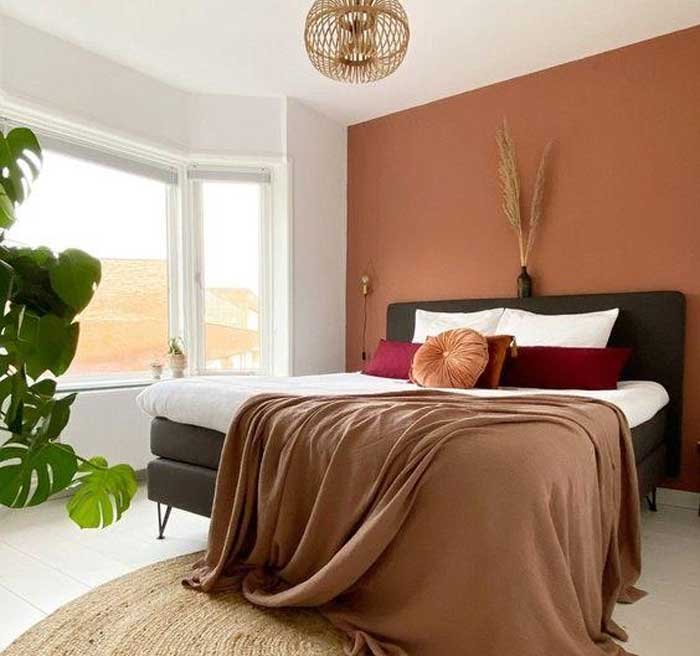 You may also like to read – Royal texture paint designs for bedroom
The Living Room
The living room is a space where families get together after a long day of hard work, just to relax and enjoy a fun time. 
This is a multipurpose room perfect to catch up and enjoy with all your family members, friends, and guests. So, imagine how distracting it would be if the walls of your living room do not match your vibe. 
Your living room can be livened up with these two-color combination ideas. 
Although magenta and cream are considered antipode shades, when combined together they look extremely fresh and embracing. 
White ivory with navy blue
Navy blue is a completely contrasting color to white which is why it is the perfect two-colored combination for your living room. While navy blue stands for royalty, white brings out freshness and simplicity. You can also use living room wall stickers to decorate.
The Dining Room
As the dining room is where you can either go all out, or maintain subtlety, color combinations are endless. But, of course, you would want something that matches your personality and style. These two-color combination ideas are excellent choices that you can make for your dining room. 
Creamy beige with white is known to pull out the natural relaxing feel along with the hint of sophistication. These two-color combinations can be considered not just classic combinations but also modern. 
Burgundy with light brown
Burgundy is a great color to captivate one's eye in a good way. Complemented with light brown, your dining room will give out a magnificent welcoming vibe.
Also Read – Dining Room Ideas For Cozy and Small Spaces
Conclusion
Two-colored walls provide the best sort of elegance and aesthetic intrigue to any home. Although comfort is what should lead to your right decision, you must also consider the space size, room layout, and direction of light when choosing the best two-color combination for your home.