Brown, which is linked with solidity and the ground, may be used as a neutral backdrop for a variety of other hues. Brown is a crucial neutral because it provides a wide stage against which other colours may be showcased. 
In this in-depth article, I'll explain how to pair brown with other colours so that they compliment each other and look great together.
Let's embark on an adventure to discover the world of complementary hues to brown, from the classic beauty of brown and white to the surprising combinations that ignite creativity.
Brown: A Neutral Foundation
Brown, which has its origins in the earth, is comforting and reassuring. Brown is a naturally cosy colour, whether it's the colour of luscious soil, the grain of wood, or the warm tones of chocolate.
Because of its neutrality, it may be used as the cornerstone of a colour palette that is uniquely you.
Also read about –Bedroom with These Wall Painting Designs
Shades That Complement Brown
The Traditional Match of Elegance
The classic and elegant combination of brown and white is made possible by the stark contrast between their two colours.
Whether it's a white outfit with brown accessories or white highlights against dark brown walls, the combination looks fresh and clean.
Beige and cream are in soft harmony.
The neutrality and harmony of beige and cream tones echoes the earthiness of brown. Whether used in decor or on the runway, these hues are sure to put people at ease.
Here is Elegance of Wall Rack Designs.
Blue Is a Calming Mix
Blue, from the palest of blues to the darkest of blues (navy), is a calming contrast to brown. This complementary combination is perfect for establishing environments that are soothing and welcoming.
Green: A Friendship with Nature 
Like leaves and soil, green and brown are complementary colours. They complement one another beautifully, creating an outside atmosphere right in your own home.
Whether it's greenery on a brown background or green fabrics on brown furniture, these colours work well together to bring you closer to nature.
You should also know – Charm of Dining Room Wallpaper
Rust and orange: comfort and vigour
Brown and warm-toned oranges or rusts exude an inviting vibe. These colours are great for generating warm and welcoming ambiances because of the life and vitality they provide to any area.
Yellow: Joy and warmth
The use of yellow in combination with earthy tones brightens and uplifts. Brown looks great with every shade of yellow, from mellow butter tones to vivid mustard hues.
You may also like to read about – Modern Office Wall Design
Red, the Most Eye-Catching of Colors
The striking contrast between the brown and the red conveys authority and depth. This combination of colours creates a striking statement in both interior design and fashion, whether you choose the deep depth of burgundy or the passionate fervour of red.
Pink: The Gentlest of Colors
The earthiness of brown is softened by the addition of delicate and romantic pink tones. This duo works wonderfully to provide calming and endearing feminine aesthetics.
You should also know – Wall Paint Beautify Your Space
Gray – Understated Elegance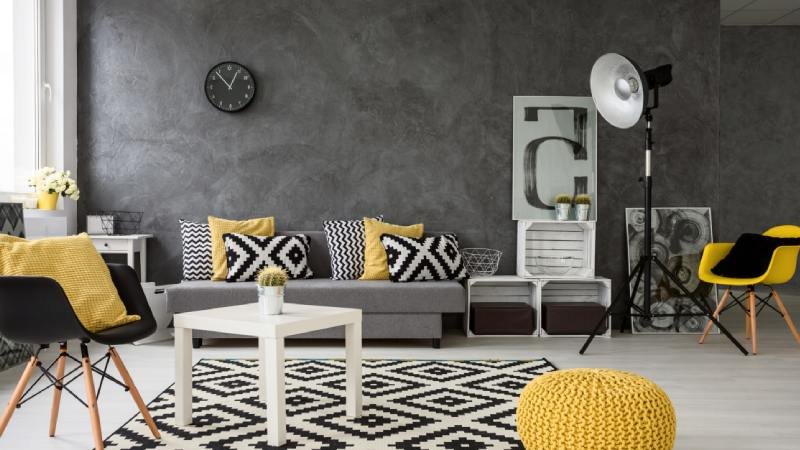 The combination of grey and brown exudes a quiet refinement. This combination's range of greys from white to black is ideal for creating a sophisticated and contemporary aesthetic.
Gold and Metals: Elegant Accessories
Brown may be made to look more luxurious by adding gold or metallic elements. These hues emphasise Brown's natural depth, lending an air of sophistication and opulence.
Also consider reading the Orange Colour / Color Paint.
Earthy Elegance: Brown and Green Symbiosis
The natural companionship that exists between brown and green provides an earthy palette that is harmonious and brings the beauty of the outdoors into your homes.
See how the many colours of green may be used to compliment and accentuate the warmth of brown, so bringing a touch of the tranquilly that nature provides to your surroundings.
Everlasting Neutrals: The Brown, Gray, and Beige Color Scheme
Experience the elegant interplay of brown, grey, and beige – a trio of classic neutrals that can be easily blended together to create rooms that exude an understated elegance.
Investigate the ways in which these colours may be used to create a space that is both relaxing and fashionable that will endure the test of time.
Read about – Vastu Colours For Your Graceful Home
A Pop of Vibrancy: Brown and Accent Colors
Brown is the base hue, so let your creativity run wild by adding bold accent colours.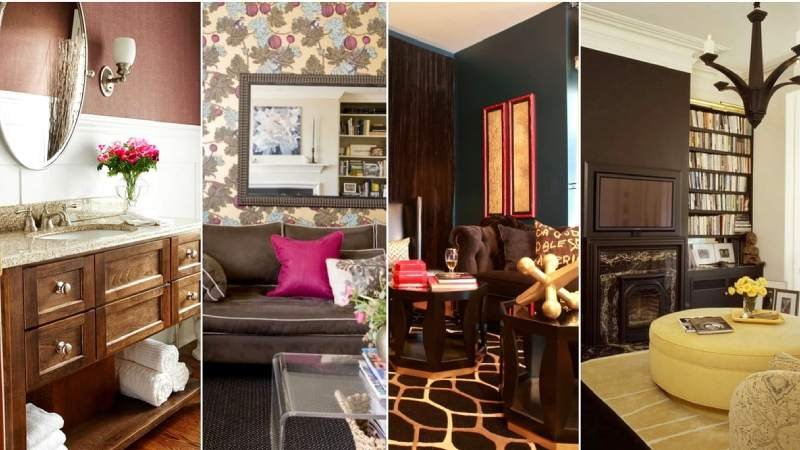 Go into the realm of accent colours like as turquoise, coral, and ochre that add vitality and excitement into your interiors while yet harmonising with the warmth of brown. These colours may be found in a variety of environments.
Experimenting with Contrasting Colors and Patterns While Using Brown
Explore the area of striking colour contrasts by looking at how brown may be used with colours such as turquoise, deep purple, and even black to produce dramatic and intriguing pictures.
Explore the remarkable impact that these opposing combinations have and how they contribute to the overall improvement of the aesthetic.
You can also look at colour combination for bedroom walls.
Complementing Brown with Different Textures and Designs of Fabrics
Learn how to make brown look more appealing by experimenting with different textures and patterns.
Explore the ways in which elaborate textiles and intriguing patterns, together with other fabrics and aspects of design, may add depth and dimension to areas dominated by brown, transforming them into surroundings that are inviting and aesthetically captivating to look at.
Conclusion
It's fascinating to explore the enormous universe of colours that go well with brown. Brown is a neutral backdrop that goes well with many other colours, including the timeless sophistication of white and beige, the energy of red, and the calmness of blue. 
Brown is a versatile hue that can be used to create a wide range of stunning and beautiful aesthetics, whether you're working on a home decor project, a wardrobe, or a work of art.
Thus, free your imagination and try out the infinite permutations that result when brown is combined with a rainbow of hues.
Consider reading -