Wall racks are more than simply utilitarian storage solutions; they are also elegant and flexible design elements that may improve the look of any room.
Wall racks are an excellent alternative for organising your stuff, displaying your favourite artefacts, or adding a sense of elegance to your house.
In this article, we will look at several wall rack designs and examples that demonstrate their beauty, utility, and adaptability.
Minimalist and Modern Wall Rack
The sleek and clean lines of the minimalist and modern wall rack design make it a popular option for contemporary settings.
These wall racks, which are often made of metal, wood, or glass, flawlessly combine usefulness and beauty.
Their open shelving style provides for simple access to goods, making them excellent for clutter-free display of books, decorative pieces, or plants.
These racks lend a bit of refinement to any environment, whether it's a living room or an office, with their subtle elegance.
Because of their adaptability and simplicity, they are ideal for individuals who desire a streamlined and organised appearance.
A black metal wall rack, for example, emanates modernism while neatly displaying personal possessions or decorative components, providing an appealing focus point in any area.
Also read about– Amazing Wall Design Ideas
Rustic Wooden Wall Rack
The charm of a rustic wooden wall rack lies in its capacity to add warmth and character into interiors. These racks, made of salvaged or weathered wood, seamlessly combine nostalgia and functionality.
Their earthy tones and textured surfaces lend a realistic feel to cosy farmhouse kitchens or country-themed living areas.
A rustic wooden wall rack with hooks and baskets is an excellent example. This design not only shows the rack's visual appeal but also its utility.
When installed in a kitchen, such a rack transforms into a wonderful storage option for exhibiting vintage utensils, hanging aprons, and keeping jars of culinary staples.
It morphs into a pleasant organiser for coats, hats, and bags in a hallway or doorway while emitting a warm rustic atmosphere.
Also consider reading the Unique Ways to Decorate Walls.
Versatile Pegboard Wall Rack
The changeable pegboard wall rack is a dynamic and adaptable storage solution. Its perforated board design enables easy modification, allowing you to add hooks, shelves, and other accessories as needed.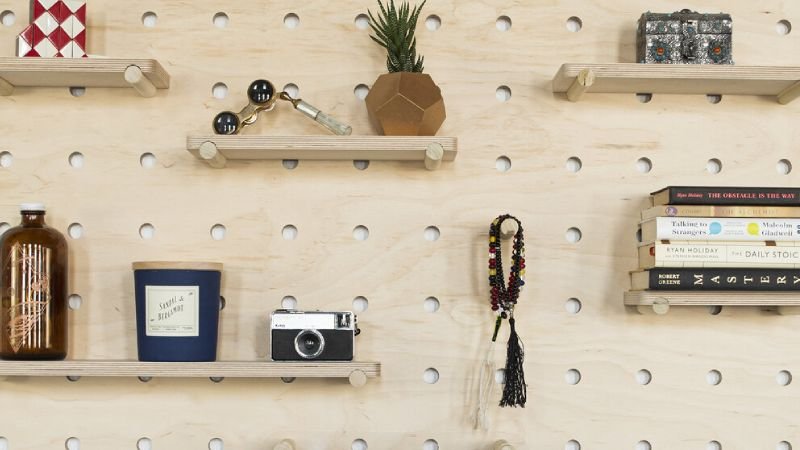 This wall rack is useful in a variety of locations, from organising tools in a garage to neatly displaying art materials in a creative workspace.
It thrives on its ability to evolve, providing the freedom to reorganise and adjust the arrangement at any time.
Aside from being functional, the pegboard wall rack turns organisation into an enjoyable pastime, making it a great addition to playrooms or creative spaces.
The pegboard wall rack's ability to combine usefulness and interactivity, as well as its ability to match many interior designs, confirm its place as a classic.
You should also know– Kitchen Wall Painting Ideas
Floating Wall Shelves
Floating wall shelves redefine the notion of storage by combining refinement and utility. These slender shelves give the appearance of weightlessness by appearing to float on your walls without the need for visible brackets or supports.
They maximise vertical space while giving a touch of contemporary flair to both small and large homes.
Consider embellishing your living area with a pair of spotless white floating wall shelves. These shelves provide an artistic exhibit for beloved family pictures, carefully picked décor pieces, and even miniature indoor plants.
Floating wall shelves allow you to build a personalised gallery that transforms any area into a thrilling visual experience by beautifully presenting your possessions without consuming important floor space.
Whether you choose a simple or cascading arrangement, floating wall shelves are a versatile and elegant choice for people looking for aesthetic appeal as well as economical storage.
Here is Wall Painting Patterns and Combinations.
Multi-functional Wall Cubes
Multi-functional wall cubes are clever design components that provide a seamless combination of storage and display, making them a flexible addition to any decor.
These small cubes may be placed in enticing ways to create a visually appealing focal point on the wall.
They function as shelves for organising books, displaying artefacts, or holding everyday needs, and are ideal for maximising space in tiny locations such as flats or studios.
Wall cubes respond to shifting demands due to its modular structure; they may easily replace traditional nightstands or contain workplace supplies.
These cubes are available in a variety of finishes and materials, including wood, metal, and acrylic.
Multi-functional wall cubes convert walls into dynamic canvases that represent the homeowner's pragmatism and creativity by balancing form and function.
You may also like to read – Wall Painting Ideas for Homes
Geometric Wall Racks
Geometric wall racks exist at the intersection of usefulness and artistry, providing an enthralling combination of modern design and practical application.
These racks, inspired by the beauty of forms such as triangles, hexagons, and circles, go beyond simple storage solutions, transforming walls into vibrant canvases.
The hexagonal metal wall rack, a mesmerizing blend of form and function, is a perfect example.
Its symmetrical angles offer a visually appealing focal point while also serving as a platform for exhibiting plants, sculptures, or curios.
Geometric wall racks seamlessly incorporate modern aesthetics into any area, whether it's a living room, workplace, or even a corridor.
By embracing these geometric wonders, you add visual curiosity to your walls, transforming them into intriguing art pieces that not only organise but also inspire. Wall racks are functional and aesthetically pleasing design features.
There is a wall rack design to fit every taste and environment, from minimalistic and modern styles to rustic wooden designs, from pegboard versatility to floating beauty, and from multi-functional cubes to geometric art.
These examples show how wall racks may improve the utility and aesthetics of any area while also keeping it organised and clutter-free.
Consider reading-