It is necessary to create a contemporary and aesthetically pleasing workplace space in order to compete in today's fast-paced and dynamic work environment.
The style of the walls of an office space has a considerable impact on both the atmosphere and the level of productivity that may be achieved in that area. 
Wall designs in modern offices often mix practical aspects with more aesthetic considerations, producing an atmosphere that is not only pleasant to the eye but also productively conducive to work.
In this article, we will examine 10 modern office wall design ideas that will inspire you to change your workstation into a fashionable and exciting location. These ideas will help you create an atmosphere that is conducive to productivity and creativity.
There are a wide variety of designs and artistic expressions available to choose from, each of which may be tailored to your sense of personal style and the identity of your product or service.
Let's take a deep dive into the world of contemporary wall designs for offices, and find out which ones are most suited for your space.
Sleek and Minimalist
Office wall designs that are sleek and minimalist create an appearance that is clean and free of clutter. Choose designs that are uncomplicated yet nonetheless powerful and convey an air of refinement. 
You could want to think about choosing materials like glass, metal, or wood that have clean lines and very little embellishment. These designs engender a sense of serenity and concentration, which enables workers to focus entirely on the job at hand without being distracted.
You may also read: Home office furniture designs
Vibrant Accent Walls
Introducing a vivid accent wall into the office area is a great way to infuse the room with vitality and personality. Choose vibrant colours that are eye-catching and connect with the identity of your company or the ambience you want to achieve in the office. 
If you want to create a visually spectacular focal point, you might want to think about utilising high-quality paint, wallpaper, or even commissioned murals.
Biophilic Office Wall Designs
Biophilic office wall designs build a link with the outdoors by incorporating aspects of nature into the design. You could want to think of erecting live green walls, vertical plants, or even wallpaper with a natural theme.
These designs encourage well-being, lower stress levels, and enhance air quality, resulting in an environment that is more welcoming and conducive to productivity.
Patterns with Geometric Shapes
Patterns with geometric shapes give visual appeal and a contemporary feel to workplace walls. Choose wall coverings or wall decals with complicated geometric forms, such as hexagons, triangles, or chevron patterns. 
You could even try a combination of the two. These designs produce an up-to-date and active appearance, which may be further accentuated by the strategic application of lighting.
You should also know: Office chair design
Interactive Walls
Interactive walls encourage both employees and visitors to get creative while also facilitating teamwork. Think about putting in whiteboards, chalkboards, or other written surfaces in areas where people may discuss and develop their ideas.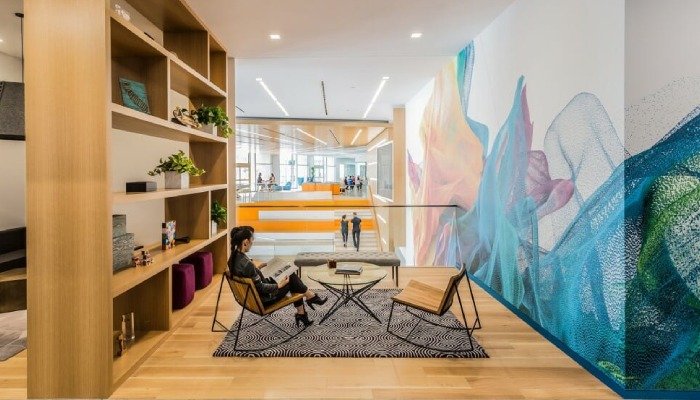 These designs both promote and give a platform for brainstorming sessions, which can then be used to visualise various thoughts and methods.
Acoustic Wall Panels
Acoustic wall panels serve a dual purpose by improving the acoustic quality of the office while also providing a contemporary style. Choose panels that have designs that are modern and elegant and are created from materials that absorb sound.
These panels lessen the impact of outside noise, resulting in an atmosphere that is less distracting and more conducive to productive work.
Textured Wallpapers
Textured wallpapers may give the appearance of depth and aesthetic appeal to workplace walls. Wallpapers that include three-dimensional patterns or textured surfaces, such as brick, stone, or fabric-inspired motifs, are great options to consider.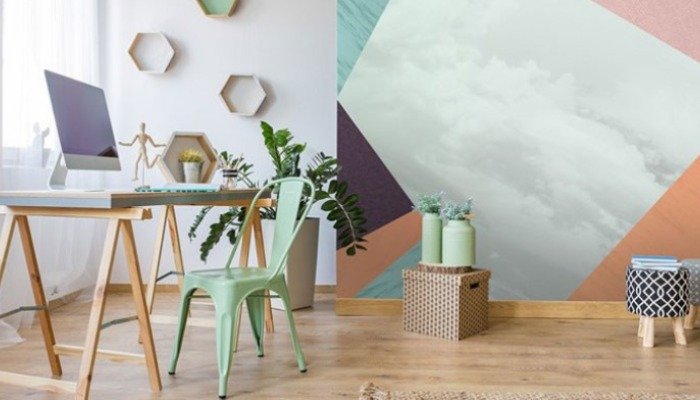 Using these wallpapers results in creating a sense of texture and dimension, lending the working environment a sense of warmth and character.
May you also like to read: Vastu for Office Paint Color
Artistic Wall Murals 
The walls of a workplace may be transformed into appealing pieces of art with the help of artistic wall murals.
You could want to think about contracting local artists or utilising digital printing technology to produce murals that are unique to your company and either spark creativity or reflect the brand's ideals.
These murals become places of focus and discussion starters, which helps employees feel a feeling of pride and encourages creative thinking.
Brand Identity Wall
Dedicate a wall in the office to displaying your brand's identity. Make use of the wall to show important corporate information such as the organisation's mission statement, fundamental values, and logo.
To make an impressionable depiction of your business, you could want to think about employing signs, displays with back-lighting, or even interactive digital panels.
Quotes and Sayings Wall
The practice of posting encouraging remarks or statements on the walls of an office may boost the morale of staff members and contribute to the development of a constructive setting for work.
Also read: Office interior design
Make sure the phrases you choose have an effect and are in line with the culture and values of your firm. If you want to make the environment more inspiring and motivational, consider employing wall decals, vinyl lettering, or bespoke signs.
Conclusion
Contemporary wall designs for offices have the potential to completely revamp the working area, resulting in an atmosphere that is both aesthetically pleasing and conducive to work.
Whether you want designs that are clean and minimalist, colourful accent walls, or interactive elements, there are a wide variety of solutions available to represent your company's identity and boost your employees' well-being. 
You may create an exciting and attractive workspace that encourages creativity, cooperation, and productivity by adopting these 10 ideas for modern office wall design. This can be accomplished by adding these concepts into your office. 
Put the power of contemporary design to work for you by transforming the walls of your workplace into eye-catching elements that will make an indelible mark not just on visitors but also on staff.
Consider reading: