Choosing the appropriate wall paint is critical when it comes to changing the look and feel of your house. A high-quality paint brand may not only produce a magnificent finish, but also endurance and long-lasting attractiveness.
There are several paint brands available, each with its own set of characteristics and benefits. This article will go through some of the top wall paint brands on the market, allowing you to make an informed selection for your next painting endeavor.
Asian Paints 
Asian Paints is unquestionably the market leader in the Indian paint industry. With a seven-decade history, they provide a diverse selection of paint options, from interior and exterior paints to textured finishes.
Asian Paints products are well-known for their high quality, durability, and wide range of colour options. 
Their interior paints are available in a variety of finishes, including Royale, Apcolite, Tractor Emulsion, and others, to accommodate a wide range of tastes and budgets.
Asian Paints also offers cutting-edge solutions like Royale Atmos, which cleanses indoor air and creates a clean and healthy living environment.
Berger Paints 
Berger Paints is another well-known name in the Indian paint business, with a reputation for high quality and environmentally friendly products. They provide a wide choice of interior and outdoor paints, as well as weatherproof coatings. 
Silk Breathe Easy by Berger Paints is a popular option among consumers because it provides a luxury finish while enabling the walls to breathe and minimise moisture accumulation.
Their diverse colour palette and technologically advanced solutions make them a popular brand among both homes and professionals.
Dulux 
Dulux, an AkzoNobel trademark, is known for its remarkable colour accuracy and product innovation. They provide a wide selection of interior and outdoor paints, including Dulux Velvet Touch, Dulux Weather-shield, and Dulux Super-clean. 
Dulux also offers distinctive finishes such as stone, metallic, and suede textures to bring a touch of sophistication to your walls.
Their commitment to sustainability is demonstrated by projects such as Dulux Weather-shield Powerflexx, a weatherproof exterior paint that saves energy by keeping interiors cooler.
Also know about: Jharokha pattern
Nerolac Paints 
Nerolac Paints, a Kansai Nerolac subsidiary, is a well-known brand in India for its high-quality products and creative solutions. They provide a large selection of interior and outdoor paints, as well as textural finishes and metallic effects.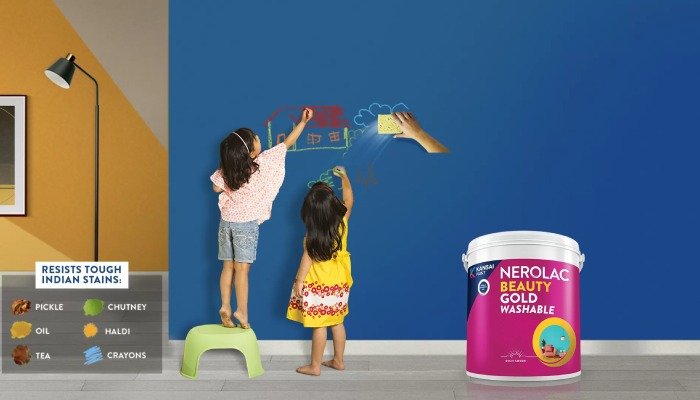 Low-VOC and odorless paint Nerolac Impressions Eco Clean is a popular option among environmentally aware customers. Their exterior paints, such as Nerolac Excel Total, give long-lasting protection against the elements.
The emphasis on sustainability and Eco-friendliness of Nerolac Paints makes them a dependable choice for ecologically aware homes.
Factors to Consider When Choosing a Wall Paint
Colors and shades: The color of your walls determines the overall atmosphere and appearance of a place. Look for paint manufacturers that provide a diverse variety of color options and tones to guarantee you get the ideal fit for your desired atmosphere and interior style.
Available paint finishes: Different paint finishes, such as matte, satin, gloss, or eggshell, offer variable amounts of luster and texture. Consider the intended appearance and feel of your area when selecting a finish that compliments your style and is useful for the room.
Durability and resistance to wear and tear: Quality paints should be able to endure daily wear and tear, such as washing, cleaning, and sunlight exposure. Look for paints that are particularly developed to be robust and long-lasting in order to keep your walls looking good over time.
Ease of application and coverage: Take into account the ease of application of the paint, especially if you want to do the painting yourself. Look for paints with adequate coverage, which will help you to get the ideal color and finish with fewer layers.
Environmental friendliness and low VOC content: VOCs are compounds present in many paints that can emit toxic vapours into the air. To promote a healthy living environment, use paints with minimal VOC content or those are labelled as ecologically friendly.
Price range and value for money: Determine a budget for your painting job and compare the prices of various paint brands. While quality should be prioritised, it is critical to strike a balance between price and value for money.
You should also read: Wall almirah design
Availability and accessibility in your region: Confirm that the paint brand is available in your area to provide simple access to the necessary paint materials. This saves you time and effort while looking for paint for your project.
Choosing the proper brand of wall paint is critical for improving the looks and longevity of your room. Numerous brands in India cater to the various demands and tastes of people. Asian Paints, with its vast colour palette and creative innovations, is the market's unchallenged leader. 
Berger, Dulux, and Nerolac Paints are also well-known for their high quality, diverse colour palettes, and ecologically responsible solutions.
Consider the kind of finish, colour range, durability, simplicity of application, and budget before making a final selection.
It is best to consult specialists or seek expert guidance to ensure that you are using the proper paint brand for your unique needs. Remember that a well-chosen wall paint brand not only improves the appearance of your room but also protects it.
Consider reading: