The dining room table is the focal point of many happy memories between loved ones. It's an area that needs cautious thought put into its decor.
Wallpaper in the dining room can offer a touch of class and character, complementing the furniture, lighting, and other decorations that help set the mood.
This blog will delve into the fascination of dining room wallpaper, discussing how it can be used to make your dining area a more inviting and aesthetically pleasing setting.
The Power of Wallpaper in Dining Rooms
Wall wallpaper has been used in interior design for ages to add pattern, colour, and personality to walls. The mood of a dining room, where people gather to eat and build relationships, can be greatly influenced by the wall covering chosen.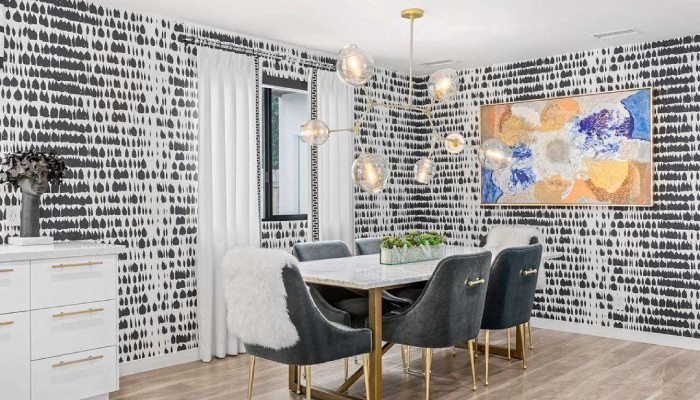 Wallpaper is a versatile tool for any interior designer, as it can be used to create anything from a warm and inviting space to a vast and luxurious one.
Dining Room Wallpaper Designs
Timeless Charm: Damask
Damask wallpaper is a popular option for dining rooms because of the aura of sophistication and elegance it conveys. This design style can be found in a wide range of hues and is characterised by elaborate patterns.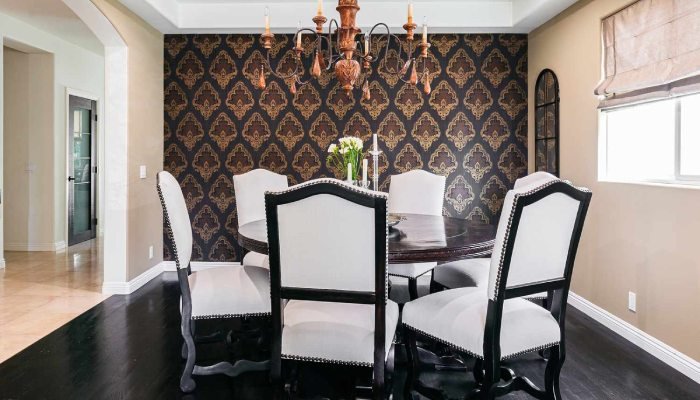 Damask wallpaper looks amazing with dark wood table and chairs and ornate chandeliers to make a formal dining room appropriate for a celebration.
You should also know: Steel dining table
Contemporary Style: Geometric
Geometric wallpaper is a great choice for creating a modern and stylish atmosphere. Modern and creative dining rooms can be achieved with the use of geometric patterns like chevrons, hexagons, and abstract designs.
When combined with modern tableware and simple accents, geometric wallpaper may completely revamp a dining room.
Floral Nature's Warmth
The floral wallpaper in the dining area draws the outdoors in and adds a cozy, welcoming vibe to the space. Whether you go for soft, pastel flowers or bright, vivid blooms, a dining room decorated in this style can seem warm and inviting.
Floral wallpaper works nicely with rustic or shabby-chic furnishings and adds a sense of softness and grace to a room.
May you also read: Plastic dining table
Classic Simplicity: Vertical Stripes
Striped wallpaper is a classic that works well in any type of dining area. Perfect for narrow dining areas, horizontal stripes provide the impression of more space. However, vertical stripes can make a room feel taller and more impressive.
It's not hard to choose a complementary colour scheme when using striped wallpaper, which is why it's so popular.
The Importance of Mood-Altering Colours and Patterns
The mood of a dining room can be greatly affected by the wallpaper's colour scheme and design.
Cosy and Inviting, with Earth-Based Colours
Dining rooms decorated with earthy tones, such as warm browns, soft creams, and muted greens, can feel welcoming and cosy.
The earthy tones of the wallpaper and the wooden furnishings and gentle lighting make for a cosy and conversational setting, ideal for extended family dinners.
Also read about: Kitchen bar ideas
Colourful and Active: Distinctive Designs
The dining area comes to life with the addition of bold and brilliant patterns, such as colourful floral or striking geometric. This design is perfect for modern and eclectic interiors, where it will serve as a welcome injection of energy and character.
Eternal Elegance, Grayscale Color Schemes
Wallpaper in muted tones, such dove greys, delicate beiges, and pure whites, has a classic allure. This design is versatile enough to complement both classic and contemporary dining room settings with ease.
You may also like to read: Kitchen pop design
Using Walls as an Accent to Draw Attention
Using wallpaper in the dining room as an accent wall can help focus the eye to a certain part of the space.
Adding wallpaper to the wall behind the dining table can make for an eye-catching focal point and a

more pleasant dining experience

.

If your dining room features a fireplace, adding wallpaper to the wall around it will help to create a warm and inviting ambiance.

If your dining room includes a niche or alcove, you can use wallpaper to transform it into a lovely

focal point and add depth

to the space.
Things to Think About in Practice
While it's true that the right dining room wallpaper may greatly improve the atmosphere, it's also important to keep a few things in mind.
If your dining area is prone to spills and stains, choosing a wallpaper that can be washed and scrubbed clean is a must. Vinyl and non-woven wallpapers are two of the most low-maintenance options available.
Lighting: Think on how bright the dining room is, both naturally and with lamps. While brighter wallpapers might help lighten up dark environments, darker wallpapers may be too much of a contrast in those settings.
Room Size: The dining room's size is an important consideration when choosing wallpaper. Smaller designs can get buried in large rooms, while larger ones can dominate smaller ones.
Also read: Modular kitchen design
Durability and longevity: Go for resilient and long-lasting wallpaper. If you get high-quality wallpaper, your dining room will look great for many years to come.
Conclusion
The wallpaper in your dining room has the potential to completely modify its atmosphere.
Dining rooms can be decorated in an infinite number of ways, thanks to the wide variety of styles and colours available, from traditional damask to contemporary geometric patterns. 
Let the classic allure of wallpaper in the dining room set the mood for intimate family meals and pleasant exchanges that will last a lifetime.
The correct wallpaper in the dining room can make every meal enjoyable, whether your taste runs to classic elegance, sleek modernity, or the comforting embrace of nature.
Consider reading: