Are you tired of the same old boring walls in your bedroom? And you want to add some colors to your walls that give them life?
DecorChamp is here to help you to Look no further than these wall painting designs that are sure to transform your bedroom into a beautiful and better-looking one.
Geometric Patterns
These patterns are trending nowadays in wall painting designs. These Geometric patterns are perfect for those who want to create a modern look.
You can choose from many different designs, whether you prefer bold, graphic patterns or simple ones that suit your style.
Geometric patterns can be created in many ways.
Some people choose to use stencils or painter's tape to create shapes and angles, while others prefer a more free-form approach. Using different colors to create a unique and special look is one good idea.
One great thing about geometric patterns is that they can work in many different types of bedrooms.
If you have a small space, you can use geometric patterns to create the illusion of depth and make your room appear larger. On the other hand, if you have a large bedroom, you can use bold graphic designs to create a statement and draw attention to your walls.
Overall, geometric patterns are a modern way that will suit your style and transform your bedroom into a beautiful and relaxing space. Here are some different types of wall covering ideas to make a beautiful and decorative wall.
Striped Walls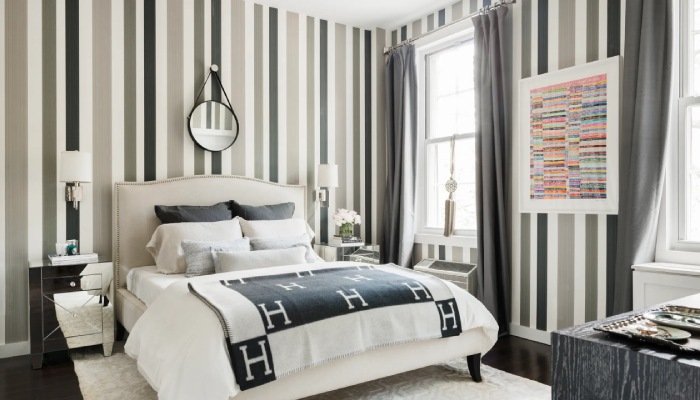 Striped walls are one good way to add some visuals to your walls and to the bedroom. Whether you prefer thin, delicate stripes or bold, graphic ones, striped walls are sure to make a good look for your walls.
Striped walls can add texture and depth to your walls, which can create a unique and personalized look. In terms of choosing colors for your striped walls, there are many ways.
You can choose two contrasting colors for a bold and dramatic effect or two similar shades for a better look. You can also experiment with the width of your stripes, from thin, delicate lines to bold and graphic designs.
One great thing about striped walls is that they can work in many different styles of bedrooms. They can add a playful touch to a child's bedroom, an elegant touch to a master bedroom, or a bold and modern touch to a normal bedroom.
Indeed, striped walls are a classic and timeless way to add some interest and texture to your bedroom walls.
As there are different colors and styles to choose from, you can easily find a striped wall design that will suit your style and you can find it simple to create a beautiful and inviting space in your bedroom.
Are you know about these amazing wall design ideas? These designs are perfect for small and medium size rooms.
Flower Patterned
Flowers are always a beautiful addition to any wall painting and your bedroom is no exception. Adding floral accents to your bedroom walls is a great way to make your space look more beautiful and feminine.
Flowers always look pretty, and they can make your bedroom feel more comfortable and romantic.
There are many different ways to include Flower Patterned designs to your wall painting designs. You can choose to paint a single accent wall with a large floral pattern, or you can add smaller floral accents throughout the room for a more subtle effect.
May you should also know: Double Decker Beds: Safety, Size and Style
You have many options in choosing flowered patterns, you can opt for a bright and colorful floral design for a bold and cheerful look, or a simple design for a calm and peaceful feel.
They can add a touch of pleasantness to a child's bedroom, a romantic touch to a master bedroom, or a fresh and modern touch to a normal bedroom.
So, adding Flower Patterned designs to your bedroom walls is an easy and beautiful way to make your bedroom looks comforting and great.
Metallic Finishes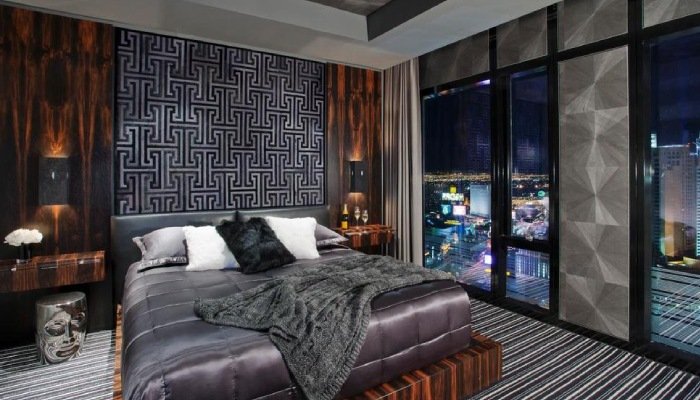 If you want to add some sparkle and luxury to your bedroom, a metallic finish is what you are looking for.
Metallic finishes like silver, gold, and bronze are popular choices for giving your walls a shiny and sophisticated look.
You can use metallic finishes in different ways to achieve different effects. For example, a metallic surface can give your bedroom a refined touch, while a bright finish can give a bold look. You can also use metallic finishes to create patterns or designs on your walls.
Metallic finishes work well with many bedroom styles. They can add elegance to a traditional bedroom, and a modern touch to a futuristic bedroom. When choosing a metallic finish, consider the other elements in your bedroom.
If you have a lot of colors and patterns choosing the simpleone amongst them does the work In summary, metallic finishes are a great way to give your bedroom walls some shine and luxury.
Chalkboard Walls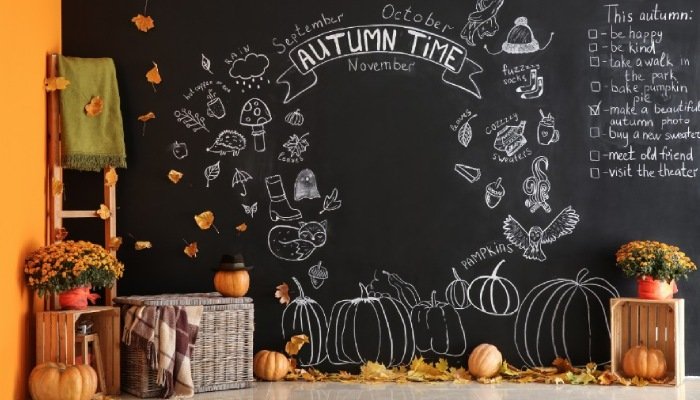 Chalkboard walls are a cool way to add some fun and creativity to your bedroom.
By using special chalkboard paint, you can turn any wall into a surface on that you can write and draw with chalk.
You can show off your personality and style in this way which creates an impression on you or you can simply draw with chalk on a wall and create a special look in your bedroom.
Or, if you are feeling adventurous and want to showcase your urge, you can paint all the walls for a completely unique look.This is especially fun for kids' bedrooms or playrooms where they can show their creativity
This method is not only a fun way to express yourself, but also practical. You can use the wall to write down to-do lists, reminders, or even inspirational quotes to start your day off right.
You may also like to read about: Night Lamp for Bedroom: The Latest Trends in LED Lamp for Wall & Table
Additionally, it is quick to erase and start a new paint whenever you want to change the look of your room.In conclusion, there are many ways to paint your bedroom walls, renovate them and give them a fresh new look.
From adding stripes or geometric patterns for a modern touch to creating a flowered pattern for a calming ambiance, or even adding some shine with metallic finishes, there's a design for every style, and don't forget the fun of chalkboard walls.
So, start your bedroom renovation today, and for more similar ideas follow DecorChamp!
Frequently Asked Questions
Question-1 What are some popular wall painting designs for bedroom renovation?
Answer – Some popular wall painting designs for a bedroom renovation include solid colours, geometric patterns, stripes, floral prints, and abstract art.
Neutral tones such as beige, grey, and white are popular choices for a calming and serene environment, while bolder colours like red, blue, and green can add a pop of personality to the space.
Different painting techniques like stencilling, ombré, and colour blocking can also create unique and visually appealing designs. Ultimately, the choice of wall painting design will depend on personal preference, style, and the overall theme of the bedroom.
Question-2 How can different colour schemes affect the mood of a bedroom?
Answer – Different colour schemes can affect the mood of a bedroom in various ways. Elements which are neutral and chilly, like blue, green, and grey, can generate a soothing and unwinding setting that is ideal for a sound night's sleep.
Bright Colours like red, yellow and orange can add energy and warmth to space but may not be as conducive to sleep. Pastel shades can create a soft and delicate ambiance, while bold and bright colours can bring a sense of excitement and vibrancy.
Ultimately, the choice of colour scheme will depend on personal preference, but it's important to consider the desired mood and functionality of the space when selecting a colour palette.
Question-3 What are the necessary steps in selecting the proper paints for a bedroom?
Answer – Numerous variables must be considered when picking the proper kind of paint for a bedroom. The first is to determine the type of paint finish, such as matte, eggshell, or glossy, based on the desired look and durability.
Next, select a paint brand that fits within your budget and quality requirements. Consider the VOC content of the paint, which can affect indoor air quality.
Finally, choose a colour or colour scheme that complements the room's decor and lighting. It's important to sample the paint on the walls and observe how the colour looks in different lighting conditions before committing to the final choice.