POP Designs or False ceilings have become highly popular in recent years. Not only are they a super convenient way to hide ugly wirings and AC ventilation pipes, but they also allow you to change the bland look of a simple ceiling and add your own creative touch to it.
False ceilings are nothing short of a boom for businesses that operate out of buildings that have unfashionable designs and allow owners to revamp the whole place and make it look more modern.
POP designs for the hall can be used to create a variety of looks for your home. A variety of styles are available to you, and you may use them to complement your décor or simply give your area a touch of beauty.
POP designs may be used to personalize your space. If you are looking for a way to change up the look of your hall, then consider using POP design.
Curved Hall POP Design
The days of rectangular and square POP ceiling designs for halls are long gone; nevertheless, you don't have to stick to them.
You may now choose from circles, curves, and arcs to create a beautiful and fresh style for your house in hall or use this plus minus pop design for gallery as well.
Carved Ceiling POP Design Small Hall
When you make use of POP, it's comparable to clay. It's really simple to draw a pattern on it.
The finest aspect of these false ceiling ideas is that the depth and appeal of the carved POP false ceiling designs can be increased by selecting the right lighting and proper ceiling color.
Double-Layered POP Design For Hall Images
POP designs in hall with lighting and layers are becoming increasingly popular and looks attractive. Therefore, it is time to spruce up your big living area with layers and lovely illumination.
Have a look at simple, modern and attractive kitchen pop design here to give your kitchen a royal look.
Many individuals choose a double-layered POP phony ceiling design because of its beautiful appearance and aesthetic appeal it adds to the entire room.
However, there is a condition. This home-improvement project will not only improve the appearance of your property but also give it a minimalist aesthetic.
Multi-Layered POP Design In Hall
When it comes to innovative designs, POP ceiling designs provide an infinite number of possibilities. If you want your hall or bedroom pop design to appear visually appealing and free of intrusive electrical cables, this is an excellent option.
The number of POP ceiling designs that are accessible today is considerable, with many styles to match the various needs of your home.
The room will have a striking appearance when you combine the POP ceiling design with a tall hall of different heights.
Traditional POP Design For Hall Images
One of the most popular choices for a hall today is a traditional pop false ceiling design. If your house has a rustic and ancient feel to it, this traditional POP ceiling style for the hall would be an excellent way to dress it up.
Also have a look at the latest images for pop plus minus design for porch here.
A living room ceiling design might be based on classic ancient architecture or lovely Indian motifs patterns. Your ceiling will speak for itself, and it may also act as a starter for your visitors' talks.
Simple POP Design for Hall With Lighting & Fan 
As a result, selecting an attractive lighting fixture will considerably brighten the appearance of your fake ceiling and house. One of the simplest methods to improve the look of your living space is to choose a pop false ceiling design for the hall.
Adding LED lights to the POP design is a great way to make your space seem more cheerful and welcoming to visitors. And the great news is that you can always play around with the suspended ceiling and experiment with different forms and colors that go against your current décor.
Modern Simple POP Design Hall
Are you seeking for an innovative POP out-of-the-box ceiling design? If that's the case, we've got the finest living room ceiling design for your house.
A false ceiling design with hanging lights will undoubtedly be ruling the charts. The most appealing aspect of this fake ceiling concept is how it dresses up the space.
A finesse-over-pompousness interpretation of a POP design for a home with hanging fixtures is an excellent illustration of form over fluff.
Floral POP Design For Hall
We all adore floral patterns and delicate flower motifs, don't we? So why not incorporate this design in your living room ceiling plan?
It sounds intriguing, doesn't it? A lovely floral petal pattern on a hall POP false ceiling design is one of the most attractive POP ceiling designs.
A halogen spotlight may be used to highlight each POP ceiling design for the house.
Symmetric POP Design For Living Room
In the living area, there are no better ways to enhance your minimalism than with symmetry.
To make the living room ceiling design a work of art, you may utilize LED lights and each POP panel.
However, bright colors should be avoided since they would undermine the concept. As a result, use only modest hues.
Colorful POP Designs For Hall
When it comes to living room ceiling designs, the first thing that springs to mind is a white false ceiling design. However, why go with white when you may bring color into your POP ceiling designs?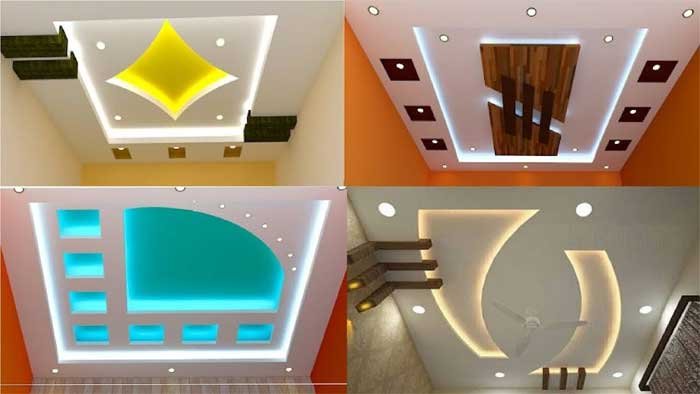 Try these POP Colour combination in your pop hall design to decoration your hall in an attractive and new way.
The color scheme of your home, or the overall décor, may influence the color selection for your false ceiling design.
Tips To Pick The Right POP Ceiling Designs For Hall
Do you live in a small apartment and want to test out a POP false ceiling design?
When creating a down-ceiling design for a hall, you have the option of using different patterns, shapes, and color schemes to make the living room seem larger.
When it comes to picking the perfect geometrical pattern for a tiny living room ceiling design, you may choose from a variety of geometric designs and forms such as circles, curves, and squares that are appropriate.
Useful Tips for Selecting the Color Scheme of Your POP Ceiling
Why choose a boring white ceiling design when there are so many gorgeous paint color possibilities on the market? Is it time to freshen up your interior décor game and bring some life to the false ceiling design in the hall?
Here are a few complimentary hue combinations for the main hall fall ceiling design that will make them stand out.
To give your POP ceiling design a quirky twist, consider installing a colorful false ceiling in the form of a POP.

For kind and pleasant energy, use gold or white.

To add a touch of elegance to the hall, consider using gorgeous ivory and grey hues.
Precautions To Take When Installing A False Ceiling
The installation of a false ceiling is the final step in the process. However, during the installation procedure, be mindful and follow these guidelines:
Do not cut corners on the quality of your POP by selecting a lesser-known, reputable brand.

Every homeowner must remember that a false ceiling design is the greatest approach to hiding all of the electrical wiring and fittings, however, you must exercise extreme caution.
Tips To Maintain The POP Ceiling
If you want your POP ceiling design to look new and free of cobwebs, make it a point to clean it regularly. When cleaning the phony ceiling design, use only gentle motions.
Dos & Don't of POP Hall Design
Pre-Planning

: If you're renovating your house's inside and want to install a false ceiling, make sure you plan the lighting scheme ahead of time so that you can choose the best design for your hall.
In tiny living rooms, a basic and straightforward POP ceiling design with no moldings is sufficient.
For a large living room, consider installing a double-layered POP false ceiling design in the hall. You may also try some unusual forms and textures to add a touch of drama to your big living space.
Increase the floor space: The finest option for concealing all of the messy electrical wires, AC ducts, and copper pipes while also increasing the room is to hide them in the false ceiling design.

Ceiling fan installation

: If you want gypsum false ceiling or another lightweight false ceiling, make sure the fan is installed on the ceiling before the fake ceiling is built.
Halls are the best place to use a false ceiling, and the large open area of a hall offers much scope for getting a little creative. So let your creativity shine with one of these 7 false ceiling ideas:
For a modern false ceiling design for living room refer to the below designs as well.
A fun and light design for a game room that is perfect for medium and large basements: You can use light coloured gypsum panels with a pattern of your choice to really brighten up the place.
A simple and spartan den for yourself: Make a getaway for yourself in your home using simple false ceiling patterns that create a cosy den for you.
A party room for the family: Give your social life a boost with a hall decorated with false ceilings that use bright and cheery patterns, and have small lights fitting in to offer makeshift dance floors.
A media room for your music and movies: False ceilings designs can also be used to soundproof your hall. Set up your speakers and plasma TV in the hall under a false ceiling that ensures low light, and enjoy your personal cinema hall effect.
A professional work area for your employees: Set up a simple false ceiling with lights fitted into it at regular intervals, to create uniform lighting and a highly productive environment for your employees'
A chill out zone for your team: Your employees deserve a great break once they have finished their work. A small with cushions, bean bags, and a darker false ceiling will create a soothing and relaxing ambiance.
A semi-formal eating area: Create a space where a large group of people can come together for a bite. A medium sized hall with false ceilings can be the perfect solution. Keep the ambiance on the lighter side, but avoid white and similar colours as they will get dirty very quickly, especially if you use special food containers that keep the food heated.
Conclusion
A POP design for hall is a cost-effective way to change the look of your home while also concealing any unsightly beams or ductwork. While there are many tips and tricks to keep in mind when choosing the perfect false ceiling design for your home, the most important thing is to have fun and be creative.