When you want to add a touch of design to your home's porch, consider using the pop plus-minus design.
This type of design can help to bring out the best in your home's architecture and can also help to provide you with a porch that is both functional and stylish.
If you are not familiar with this type of design, it involves using two colors on either side of a dividing line to create a look that is both modern and stylish. In most cases, the colors used in this type of design are black and white or gray and white.
However, you can also find this type of design in other colors such as blue and white or even green and white.
Let's know how this type of design can benefit your home's porch.
Latest, Modern POP Plus Minus Designs for Porch
1. Stripes POP Plus Minus Design for House Porch
POP stripes are available in many colors. Color is one of the most important things that you will need to consider when you are trying to create a unique look for your home porch.
You can also use POP stripes to create a border around your porch or any other area of your house. This pop design can help to define the space and make it look more finished.
You can use different colors for the border so that it stands out from the rest of the design.
2. POP Pillars Plus Minus Design for House Porch
Pillars are one of the main design elements on porches. They support the roof and can be used to create an elegant or grandiose look.
Pros:
They can also make your porch look more grand and stately.

Pillars can help support the roof of your porch.
Cons:
Pillars can be expensive to install.

They may require more maintenance than other parts of your porch.

If not installed properly, pillars can cause your porch to collapse.
3. Geometric Plus Minus Design for House Porch
This is a beautiful and modern geometric plus-minus design. People also prefer these designs for bedroom POP design as well. The big grey squares make it look great on any house porch. Geometric shapes always look great on any porch.
4. Stylish POP Plus Minus Design For House Porch
This is a very stylish and modern plus-minus design that can be used for the porch of your house. It is sure to make your house look more stylish and contemporary.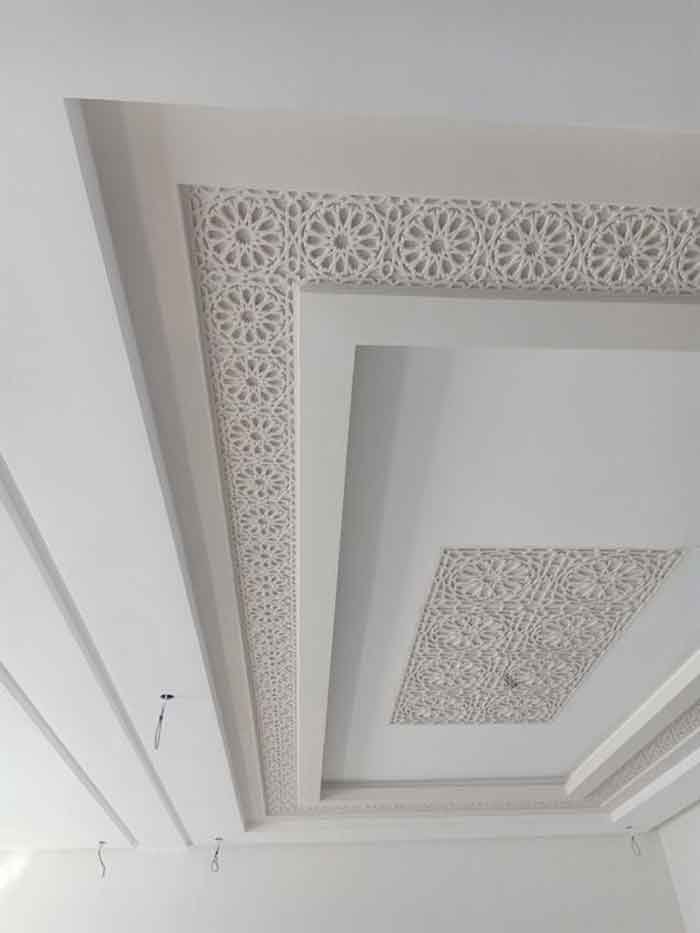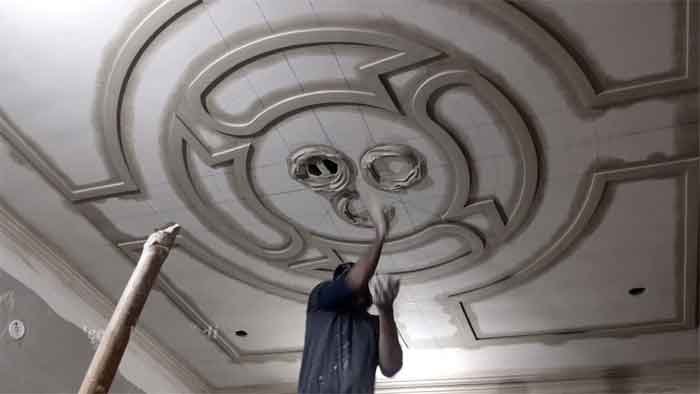 This plus-minus design can be used as an element of decoration for your porch. Gypsum false ceiling is also a good option for porch if there is no moisture and water work.
5. Gold Painted Traditional POP Plus Minus Design for House Porch
This is a traditional design for a house porch ceiling. It has a gold painted finish and minus design. This will give your porch ceiling a classic and elegant look.
Traditional POP ceilings are a great way to add value to your home and make it more comfortable to live in. This design is perfect for any home and will make it more inviting and comfortable to live in.
6. POP and Wood Plus Minus Design for House Porch
Wooden porches are a classic design element for any home. Wood can rot, warp, and crack if it's not properly cared for. That means regular cleaning and sealing are a must. Some good options include cedar, redwood, and pressure-treated pine.
You can go for a traditional look with columns and a gabled roof. Choose the porch style that blends in with your home's decor, such as a traditional cottage or a more modern design with clean lines and a flat roof.
Also have a look at POP design for hall here to give it a unique look.
7. POP Plus Minus Design For House Porch with Lights
This design is very unique and will make your porch stand out. It has lights that give it a very modern look, while the minus sign makes it more fun.
It is simple and elegant, and the light in the center adds a touch of class. The panel design on the POP Plus Minus Design makes it easy to install, and the light is very bright and visible at night.
Before Using POP for Porch Consider these Points
It is made from calcined gypsum, which is a soft mineral found in sedimentary rock formations.
POP is mixed with water to form a paste-like substance that can be easily molded into any shape. This makes it an ideal material for creating architectural features like columns, cornices, and moldings.
POP is commonly used in the construction of porches because it is relatively cheap and easy to work with. Now that you know more about using POP for your porch project when it comes to modern plus minus designs with POP, and you can start planning your design.
If you are looking for living room POP design here you go. Listed here are the latest, modern, and trending pop designs with images for your reference to choose from for your home.
How to Keep Your Porch Clean?
Porches tend to collect a lot of dirt and debris, so it's important to sweep them regularly.

Pressure wash periodically. Pressure washing your porch can help remove stubborn dirt and grime. It's best to pressure wash your porch at least once a year.

Protect your porch from the elements. Use furniture covers or tarps to keep your porch in good condition.

Repair damage immediately. Damage to your porch can lead to further problems down the road, so it's important to repair it as soon as possible.
Conclusion
Porches are a great way to add value to your home. But they're not right for everyone. If you live in a place with a lot of insects, you might want to consider another option. With the right design and materials, your porch can be the perfect place to relax and enjoy the outdoors.