A dining table with a marble top is a classy, opulent piece of furniture that enhances the beauty and appeal of any dining area. Whether your home is decorated in a conventional, modern, or eclectic manner, a marble dining table may enhance the look of the room and become the focal point.
The advantages of dining tables with marble tops, as well as their many designs, uses, and purchasing options, will all be covered in this article.
Benefits of Marble Top Dining Tables
Natural stone known as marble has been utilised in construction and design for many years. Its appeal transcends fads and trends and is enduring. 
Marble is renowned for its heat resistance, durability, and resistance to scratches. It is the perfect material for a dining table because of these features.
Durability

: Marble is a naturally

strong and resilient substance

, making it a great choice for use in furniture. A marble-topped dining table may survive for many years with the right maintenance.

Style

: Marble is a traditional, timeless material that brings a sense of richness and elegance to any space. It is offered in a variety of hues and designs, allowing you to select the ideal design to complement your decor.

Easy to clean

: Marble is a semi-material, making it

stain and spill resistant

, and is therefore simple to clean. All spills are readily cleaned up with a moist towel.

Heat-resistant

: Marble is a

thermal material

, which implies that hot meals may be placed on it without causing any harm. It is therefore a fantastic option for a dining table.

Versatile

: Marble top dining tables are adaptable and may be utilised in formal dining rooms as well as informal kitchens. To achieve the ideal aesthetic, they may be combined with a variety of various seats and accents.
How to Care for a Marble Top Dining Table
While maintaining a marble dining table is not difficult, it does need some attention. To keep your table looking its best, follow these suggestions:
Clean up spills immediately: Spills should be cleaned up quickly once since marble is a porous material and if they are not, they might seep into the surface. All spills should be cleaned up as soon as they occur using a moist towel.
Use a mild cleaner: Use a mild cleaning made especially for marble: Use a mild cleaner made especially for marble. Avoid using aggressive cleansers or chemicals that are abrasive as they might harm the marble's surface.
Use coasters: Protect the marble's surface from scuffs and stains by using coasters or placemats.
Putting hot meals directly on the surface should be avoided: While marble can withstand heat, it is still preferable to use a trivet or hot pad to shield the surface from intense heat.
Surface sealing: If your marble-topped dining table hasn't already been done, think about getting it done professionally. This will aid in preventing spills and stains on the surface.
Attractive Designs for Dining Tables with Marble Tops
Dining tables with marble tops come in a variety of designs, from traditional to modern. Here are a few common looks to consider:
Dining tables with marble tops traditionally have elaborate carvings and ornamental features. They frequently consist of dark woods and include marble with intricate patterns.
Modern: Dining tables with marble tops in this style have straightforward shapes and clean lines. They frequently incorporate clean, simple marble and lighter woods.
Dining tables with rustic marble tops have organic, natural shapes and textures. They frequently contain rough-hewn marble and recycled wood.
Industrial: Dining tables with marble tops often have exposed hardware and raw, unfinished materials. They are frequently built of metal and have plain, unadorned marble surfaces.
Transitional: Dining tables with marble tops that are transitional combine classic and modern design aspects. They frequently combine different materials, such wood and metal, and have simple, beautiful marble as their main design element.
Identifying a Marble Dining Table that Fits Your Room
Dining room ideas for small or big spaces is the key factor to take into account when selecting a marble dining table. The following advice will help you select the ideal marble dining table size for your area:
Measure your dining room: Measure your dining area to establish the amount of space you have available before you start looking for a table. Any architectural elements, such as doors and windows, that can affect where the table is placed should be noted.
Consider the shape of the table: Think about the table's shape: Round, oval, rectangular, and square marble dining tables are just a few of the options. The table's form will determine how many people it can accommodate comfortably and how much area it occupies.
Calculate how many seats you'll need: Think on how many guests you will frequently seat at the table. 
A typical guideline is to give each individual 24 inches of room. For instance, a table that is at least 72 inches long is required for a family of four.
Varieties of marble dining room tables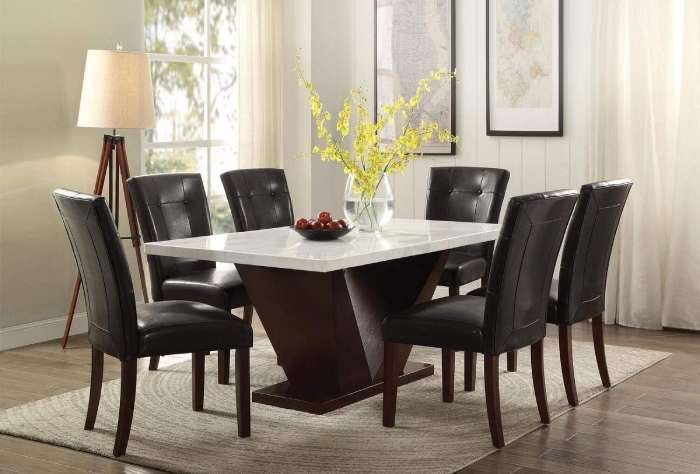 Carrara marble is a classic choice for dining tables because of its white or grey background and delicate, grey veins. 
The name of this species of Italian marble comes from the town of Carrara, where its quarries are situated. It is widely used in high-end residential and commercial structures because of its elegant and traditional style.
Calacatta marble resembles Carrara marble but has more noticeable veining and a creamier, cosier background. 
It is an expensive, uncommon kind of Italian marble that is highly sought after for its distinctive beauty. Luxurious residences and fine dining establishments commonly use it.
Rich, brown marble called "Emperador marble" with white veins that give it depth and personality. 
It is frequently utilised in classic and rustic interiors and is quarried in Spain. Rustic wooden tones and earthy hues go nicely with it.
Black marble with strikingly contrasted white veins is called nero marquina marble. 
It is quarried in Spain and frequently utilised in modern and contemporary home design. Bright hues and shiny elements go nicely with it.