Bhai Dooj is a special occasion in the Hindu calendar that celebrates the bond between brothers and sisters.
It falls on the second day of the five-day Diwali festival and is also known as Bhai Tika in some parts of Nepal.
It is a form of decorative artwork made using colorful powders, sand, or flowers. Rangoli designs can be simple or complex and are often created around religious festivals such as Diwali.
Bhai Dooj is an ideal time to create beautiful Rangoli designs, as it symbolizes the love and affection between siblings.
Significance of Bhai Dooj Rangoli
Bhai Dooj celebrates the brother-sister relationship, and it is customary for sisters to put a tilak (a mark) on their brothers' foreheads and pray for their well-being.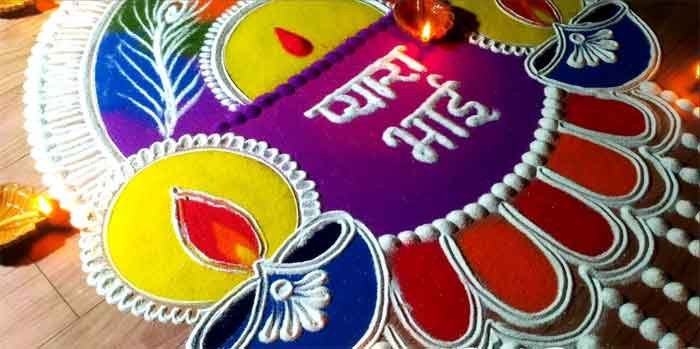 Rangolis are usually made in front of houses and temples, and they are believed to bring good luck. Bhai Dooj is an ideal time to make rangolis, as it is a festival that celebrates the bond between brothers and sisters.
Some of the most popular designs include pictures of deities such as Lakshmi and Ganesh, flowers, birds, and geometric shapes. The choice of design is entirely up to the person making the rangoli, and there are no set rules about what should be included.
However, it is generally agreed that rangolis should be colorful and eye-catching.
Making a Bhai Dooj rangoli is a great way to show your love and affection for your brother or sister. It is also a wonderful way to add some color and beauty to your doorstep or courtyard.
If you are not sure how to make a rangoli, given below are the latest bhai dooj rangoli designs that can give you step-by-step instructions on making a rangoli at home.
Alternatively, you can ask someone who knows how to make rangolis to help you. You can also adopt some common easy diwali rangoli designs as well.
If you want to keep your Bhai Dooj rangoli looking its best, you should avoid putting it in direct sunlight.
Rangolis can fade quickly if they are exposed to strong sunlight, so it is best to keep them out of the sun.
Many people like to put their rangolis in the center of their courtyards or on their doorsteps.
Others prefer to hang them up on walls or in windows. Whichever way you choose to display your Bhai Dooj rangoli, make sure that it is in a place where it will be seen by everyone who visits your home.
Have a look at diwali decoration ideas as well here to decorate your home this Diwali with new trends and designs.
Bhai Dooj Rangoli Designs
Floral rangoli & Diya Rangoli
This first design is a simple yet stunning floral rangoli. This Diwali-theme rangoli features colorful diyas (oil lamps) arranged in a geometric pattern.
The orange and yellow flames add a touch of festive cheer! People also make dussehra rangoli in this way as well where fresh flowers are used to make the rangoli design.
Peacock rangoli
The blue, green, and purple feathers are beautifully depicted in this vibrant Rangoli.
Swastika rangoli
Swastikas are a symbol of good luck in Hinduism, and this Rangoli features the auspicious symbol prominently.
The yellow, red, and orange colors make it perfect for Bhaidooj and Diwali. 
Here are the easy rangoli kolam designs with photos for you to make in simple steps this festive season.
Ganesh rangoli
Ganesh is one of the most popular Hindu deities and is often worshipped during Diwali.
This Rangoli depicts Lord Ganesh in all his glory, with colorful flowers and leaves forming the backdrop.
Here are some unique ganpati decoration ideas to decorate Ganpati this festive season.
Colored Rice Rangoli
Rice may also be used to make beautiful rangoli. The designs require only a few supplies that are readily available in every home, such as rice and food color.
A gorgeous and innovative rangoli might be made from colored rice grains.
Various Lentils
Lentils are a common ingredient in many households, and they can be used to make rangolis.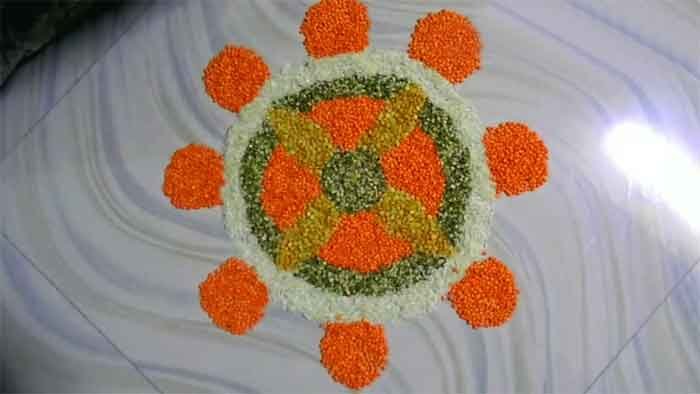 Bhai Dooj Rangoli with Diyas
Diyas are colorful and can be placed in creative patterns to make lovely rangolis. It's not only time-saving but easy to make a rangoli with diyas.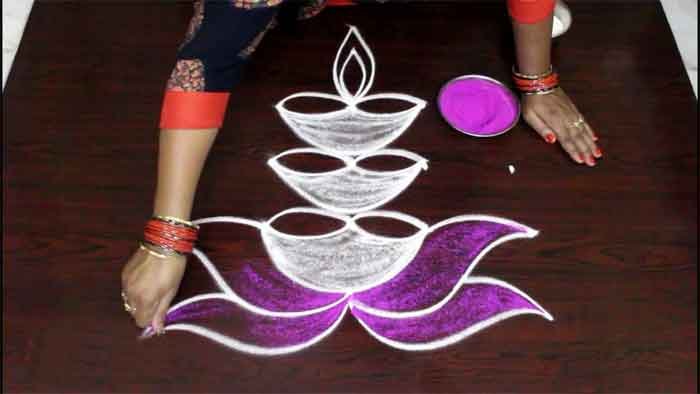 For an extra touch of magic, add some candles to the rangoli.
Flowers and Leaves Rangoli
Different flowers can be used to create beautiful rangoli patterns.
These are just some of the many Bhai Dooj Rangoli designs that you can try out. Have a look at innovative ganesh chaturthi decoration ideas here.
Facts About Bhaidooj
Yami performed aarti and applied tilak on Yamraja's forehead.

From then on, Bhaidooj came to be celebrated as a festival of sibling love and bonding. The tradition of applying tilak and exchanging gifts on Bhaidooj is also derived from this legend.

Bhaidooj is also an occasion for brothers to visit their married sisters. The festival strengthens the bond between siblings and helps them resolve any differences.

It is a day to express love, care, and gratitude towards each other.
Other Things To Do On Bhaidooj
Send a Bhaidooj card

: A beautiful and personal way to celebrate the festival is to send a Bhaidooj card to your brother or sister. You can find cards with lovely messages and images online or at your local stores.

Make a special meal

: Cook your sibling's favorite food as a way to show them how much you care. If you live far away, send them a care package with all the ingredients they need to make the dish themselves.

Give a gift

: Choose something your sibling would really appreciate, whether it's tickets to their favorite band's concert or a voucher for a spa day.

Spend time together

: If you can, take the day off work and spend some quality time with your brother or sister.

Write a letter

: Sometimes the simplest gestures mean the most. Write your sibling a letter expressing how much you love and appreciate them – they're sure to cherish it forever.
Conclusion
Bhaidooj is an opportunity to resolve any differences and strengthen the sibling bond. There are many ways to celebrate Bhaidooj, from sending cards and gifts to spending time together.