Sumica is a widely used product when it comes to home improvement or remodeling. Be it bedroom, kitchen, bathroom, or any corner of the home, it can not be designed without sunmica.
And when it comes to the bedroom wardrobe or any wardrobe in the house, sunmica is used to give it a modern yet trendy finish.
Nowadays sunmica two & three colour combinations are very popular when it comes to wardrobe sunmica design and color combination.
Let us have a look at some of the best two-color sunmica designs which are used for making wardrobe or almirah designs in a stylish look.
Smoky Grey and Blue Sunmica Wardrobe
Blue is associated with frothy waves that break on a lovely beach.
The wardrobe with sliding windows looks fantastic when this lovely hue is combined with the subtle smoky grey color. The shutters are constructed of reflective glass, which gives them a very elegant look.
White and Lemony Yellow Sunmica Color
Your clothes' muted tones and soothing hues provide a beautiful balance to your room's vibrance and freshness.
If your bedroom color is spring green, aqua, or any other hue of yellow, this color combination for your wardrobe sunmica sheet designs might be the best option.
Double-Toned Wardrobe with a Mirror 
This layout may be made to match any color you want.
With the use of laminates that are extremely glossy and mirrors that can open up space to make the area seem larger than it is, this design is very beautiful.
White and Mauve Wardrobe 
A mauve hue is a soft, romantic, and melancholy color that suggests elegance and extravagance.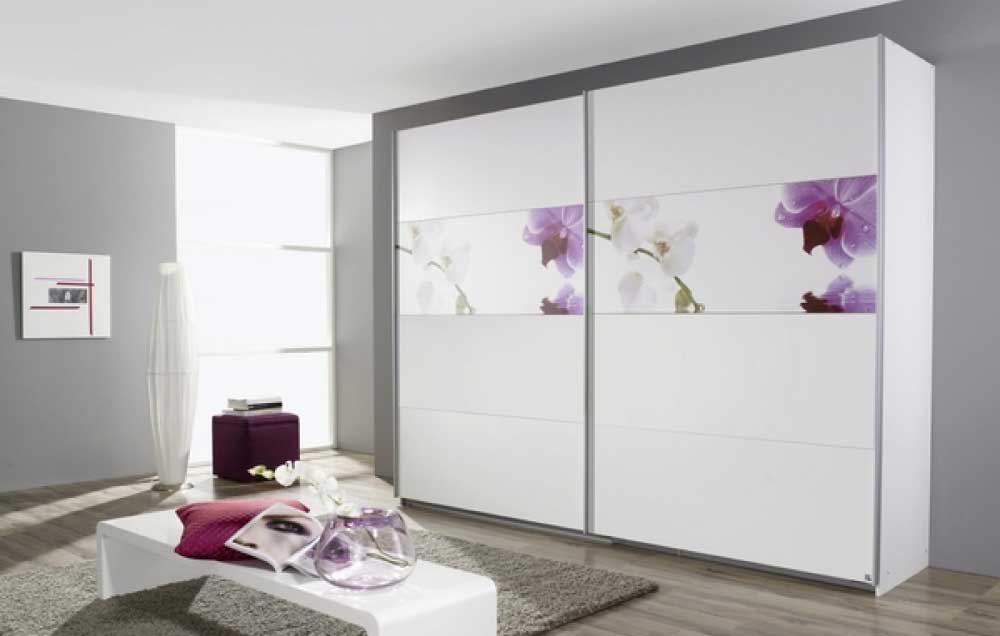 When this lovely hue is combined with off-white, it creates an excellent girl's wardrobe color combination. You may make your room, even more, inviting by using colors that are similar in the curtains, bedding, as well as wall coverings.
Have a look at wooden main door designs in indian style here.
Dark Brown With a Grey Glass Panel
Grey is a lovely hue that reminds us of nature. This beautiful hue may be paired well with a dark brown two-toned wardrobe with a smoky glass middle panel in this well-defined wardrobe.
These two panels are contrasted against the loft and finished in a very well-textured wood laminate.
Have a look at latest bathroom door design here.
Yellow and Beachwood Sunmica Wardrobe
The yellow panels border the lovely almirah and provide a cheerful, vibrant look to your bedroom's storage wardrobe.
The colorful sunshiny yellow and soothing beechwood tone of the wardrobe's laminate blend is fantastic.
White and Black Wardrobe Sunmica Color 
The yin and yang pair is a popular choice among many.
A dramatic and beautiful décor may be created with your bedroom's exterior using a combination of white and black.
Red and White Combination Sunmica
Consider mixing crimson and red into your bedroom wardrobe with a contrasting palette like cream, and white.
This double-color wardrobe design will give your contemporary master bedroom a distinctive look.
Choose the perfect door frame design to give your home a modern look.
This is unquestionably a classic combination of colors, and it's a stunning choice for your elegant home décor. This is one of the most vibrant color combinations, and it always has an enormous impact.
Cream and Violet-Blue Wardrobe 
The owners of this home will undoubtedly fall in love with it. All you can pick from are straight shutters that are edge-banded on a matte laminate finish.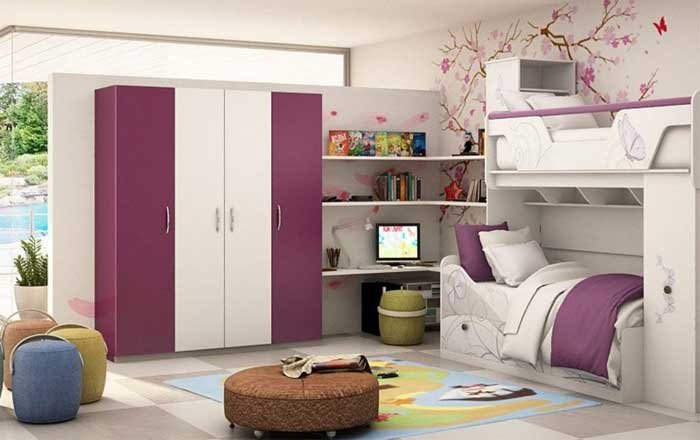 Try these two color combination for your bedroow walls to match it with the wardrobe sunmica colors.
Grey Wardrobe with Light Brown Grooves 
The best design for a modern and contemporary bedroom is this twin-color wardrobe scheme.
This is one of the most appealing designs, with light brown grooves separating the shutters of the wardrobe.
Also read about stylish readymade doors here.
White and Dark-Brown Glossy Laminated Wardrobe 
You may build this on the entire wall of a wardrobe if you want a white and brown closet.
The gleaming sheen of the white and dark brown laminates would complement your bedroom beautifully. A mix of hardwood and marble flooring can also improve the appearance.
White and Green Sunmica Color Combination
The white color in this laminate wardrobe gives the room a serene and calming feeling, while the green stripe running through it adds just the right amount of contrast.
The lightest shade of green is used for the center panel, which makes it appear as though there's a beautiful garden inside the wardrobe.
Consider reading: main door glass designs for home
Orange and Grey Sumica Combination
The orange and grey colors in this laminate wardrobe are perfect for a funky and stylish look.
The orange shade is used for the bottom door panels, while the grey is used for the center panel and trim.
Black Wardrobe with a Grey Tinted Glass Door
This design incorporates the beauty of wood with the sleekness of glass to create a wardrobe that is both stylish and functional.
The glass door allows you to see what is inside the wardrobe without having to open it, which is perfect for busy mornings when you're trying to get dressed in a hurry. 
Also read: Flush Doors vs Wooden Doors
Black and Blue Wardrobe 
This is a beautiful and unique color combination that is perfect for a modern bedroom.
The black wardrobe with blue highlights creates a stunning contrast that will make your bedroom stand out from the rest.
Peach and White Wardrobe 
This two-tone wardrobe is perfect for a feminine and romantic bedroom. The peach color is soft and delicate, while the white gives the room a fresh and airy feel.
A cheerful, bright yellow and green might be the perfect hue for a spring or summer bedroom.
Have a look at creative door paint ideas here.
Teal and White Wardrobe 
This color scheme is ideal for a seaside-themed bedroom. The teal color is cool and refreshing, while the white gives the room a clean and crisp feel.
This color combination is also perfect for a nautical-themed bedroom.
Conclusion
There are many other sunmica wardrobe design possibilities to choose from, so be sure to explore all your options before making a final decision.
The wardrobe designs in a double color that we've discovered are one of the most fashionable wardrobe designs currently.
One of these styles might be a fantastic addition to your bedroom's decor.