Black house exteriors are a stunning and futuristic architectural trend that have captured the attention of homeowners and architects alike in recent years. A dark contemporary home is appealing because of the air of mystery and classic style it exudes.
This blog will dig into the world of black-themed homes, covering topics such as the colour's meteoric rise in popularity, innovative design concepts, and versatile use across a wide range of architectural motifs.
Why Choose a Black House Exterior?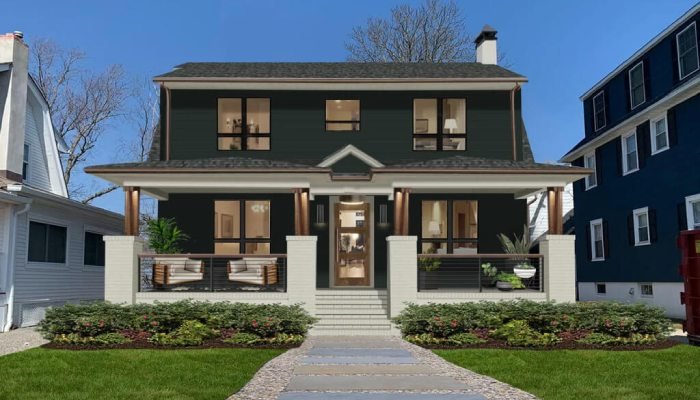 A home with a black facade is the epitome of sophistication and elegance. The sophisticated ele

gance that

this dark shade conveys

is difficult to achieve with any other colour.

Home exteriors that choose to go black make a daring and distinctive statement. The

owner's boldness and willingness

to challenge convention are on full display.

Black's allure is eternal because, unlike fleeting colour fads, it may be used in any era or style of architecture. A home with a

black façade will always

seem sleek and modern.

A

dramatic contrast is created

by black painting the home, highlighting the property's other architectural details and landscape aspects.

A sleek and polished appearance may be achieved by painting the outside in black, which also has the

added benefit of hiding

any flaws.
Also like to read: Acp sheet
Designing a Black-Themed House Exterior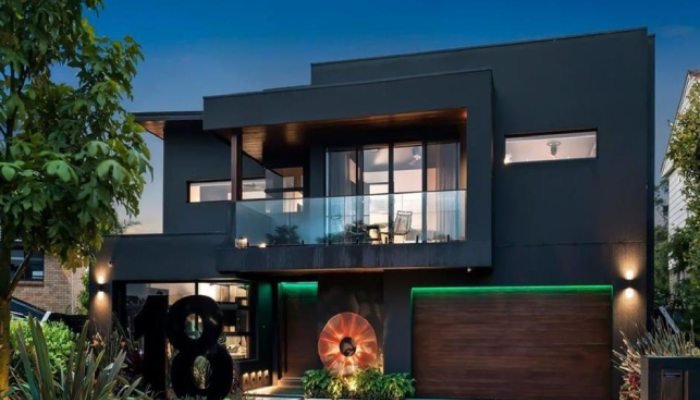 The outside of a black home may be designed to fit in with a wide range of architectural styles, from

ultra-contemporary to classic

to rustic. The objective is to find a harmony between the dark hue and the architectural characteristics.

Complements and Accents: White, grey, or natural wood tones can be used as accents to break up an otherwise monochromatic design. These embellishments can benefit from

window and door frames

, trimmings, and other architectural elements.

Add depth and visual interest to the outside with textured finishes, such as black brick, black wood cladding, or black-stained concrete.

Choosing the right landscaping is essential to increasing the curb appeal of a black-themed home. A

gloomy facade may be

warmed up and brought into harmony with the addition of lush vegetation, colourful flowers, and strategically positioned lighting fixtures.

Black homes can look very different depending on the type of roofing used. Black shingles, metal roofing, or

even a green roof

are all stunning additions to a dark facade.
May you also know: Elevation design
Ideas for Black House Exteriors
Embrace minimalism with a sleek modern black exterior by painting your home's walls black. Get a

modern appearance with simple

shapes, big windows, and flat roofs.

Give a modern twist to a classic home design by painting the outside black. Use black paint to

highlight traditional features

like gables, dormer windows, and columns.

Add the sophistication of black to the homely warmth of a farmhouse. Create a warm and

inviting farmhouse exterior with black

wood siding, a white picket fence, and a wrap-around porch.

Combine a black exterior with exposed steel beams, concrete textures, and metal embellishments to create an industrial look.

Contrasting with the blue ocean, a black beach home may be a real eye-catcher. To evoke the feel of a beach-side retreat,

decorate with white and sandy

tones and black cladding.
Also know about: Modern exterior texture paint designs
Blacked Out House: Dos and Don'ts
To make sure the black outside of your home lasts for many years, it's important to use high-quality paint or finishing products.

Make sure there's adequate lighting. Highlighting architectural details and creating an

inviting atmosphere may both

be accomplished with well-placed outdoor lighting.

Lighten up the facade by surrounding it with lots of plants and trees.

Avoid going all-black without any accents. Add depth to the design by using colours and materials that contrast with one another.

Don't Ignore the Weather forecasts. As

black is a heat-trapping

colour, it's best to avoid wearing it indoors if you live in a warm environment.
Conclusion
Black home exteriors are appealing because they never go out of style and always attract attention. Black's application in exterior design provides an unrivalled air of refinement and aggressiveness to any structure, from cutting-edge modern marvels to quaint conventional residences. 
Black-themed homes may be architectural masterpieces with careful planning of design, accents, and landscaping. If you want your house to make a statement that will be remembered for years to come, don't be afraid to use the colour black.
Consider reading: