In the latest trends, credenzas and sideboards are making a buzz in the interior designing world. A classic piece of the credenza for your dining room can change the whole look of it and can help you in displaying your food and crockery. 
The storage space that a credenza and a sideboard hold, have so much opportunity for you to put in all the necessary dining items into it and the top of it can be designed beautifully. 
If you are planning to buy a credenza or a sideboard for your dining room, you need to have ideas to make it look beautiful and aesthetically pleasing. Here are some decoration ideas for your credenza and sideboard. 
Mount a Fine Art on Credenza: 
Who doesn't want their living room to look beautiful and aesthetic? If you go online and search for a credenza styling option, you will see so many options of a large art mounted right above the cabinet. Ever wondered why? because this idea always works!
Placing a large piece of art or painting right above the credenza or a sideboard makes it look beautiful and somehow helps in unifying the art across the living room. Or you can try another option, where you can just lean the art against the wall and place it on the credenza. 
Place a TV Console on Credenzas: 
A very common design but works almost every time. Since credenzas have low or no legs, it keeps the TV screen at eye level. It helps in hiding all the chords behind it and keeps the area neat and clean.
You can place all the other TV essentials right on it and also your dining essentials. It gives a beautiful as well as a classy look to your living room. 
Please remember, this idea only works for those who have large drawing rooms. That will not make it look congested when a TV console is placed. 
Plants on Credenzas:
When have plants ever been out of fashion? Placed anywhere, properly, Plants can enhance the look of every corner of the house. Placing a plant stand on your sideboard can make it look very beautiful, fresh, and aesthetic.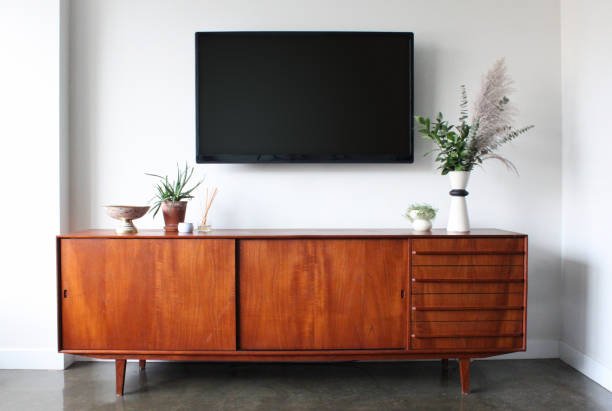 You can even buy small succulent plants and decorate them to give your credenza or sideboard an aesthetic look. 
Make sure you take care of your plants regularly if you want that aesthetic look to be consistent. If the plants die, it will ruin the look of your room and you might have to throw the plants and the credenza would be empty until you decide to buy something else for it. This will just make it look empty and bland. 
If you feel that you would not be able to take care of your plants, then go ahead and place some fake plants. This will not only look beautiful but also lessen your work! 
Create Credenza a Home Bar 
This is not a bad idea. A home bar looks classy and gives out luxurious vibes. You might have guests over and slay your home bar in front of them – a little bit of show-off is not wrong!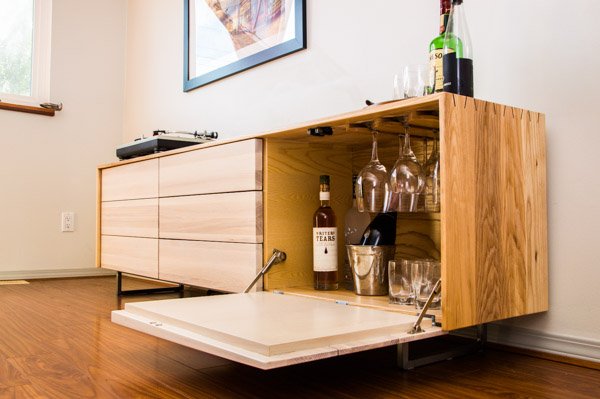 Stash all your bottles inside the credenza or the sideboard, and just display what you would drink on the top with some glasses and a serving tray. 
This will give your room the luxurious vibe that you wish to have. 
Using Two Credenzas as One 
Mini credenzas are cute and little and can make your living room look pretty. You can buy two mini credenzas and make them one by keeping them side by side. It will make your room look pretty and cute – all at the same time.
If you don't want to place both of them right next to each other, you can keep a tall plant or a showpiece in between the two. It will separate the mini credenzas and give your living room an aesthetic vibe! 
Place a Huge Mirror on Sideboard
Mirrors are beautiful items for interior design. Placing a huge mirror over your credenza will make it look beautiful. 
You can also decorate it with a focus light on top of it and that can enhance the look. At night when you would have guests over, you can turn on this focused light and place your dinner on your credenza or the sideboard. Put on some light music and set the vibe. 
This will make your living room give a relaxing night vibe and your guests can enjoy their dinner. 
Set up Dual Lamps on Credenzas
Light lamps give out an old-school vibe and an aesthetic look. So many houses also have a problem with inadequate lighting. A credenza can easily solve this problem. You can place two small light lamps on top of it. This will make the whole corner of the credenza look beautiful and aesthetic. Since old school has again come back into fashion, light lamps would work for credenza styling. 
Simplicity 
Well, last but not the least, simplicity is the key to giving the most elegant look. Keeping your space simple, with not a lot of accessories or decorative items can make this look beautiful and somehow very elegant. 
If you are someone who doesn't like decorating much or keeping a lot of accessories on top of your sideboard or credenza, then this is the best for you. Go for a minimalistic style. Just place a little showpiece on top of your credenza or a plant stand. 
Please make sure the credenza should match the color scheme of your whole living room if you are not planning to decorate it much. This is because if you go by the minimalistic approach, then it's the credenza that will catch the eye. Therefore, keep it neat and clean – and should match the decor. 
Conclusion 
Credenzas and sideboards have been into fashion now and are very the most popular idea for decorating a living room. 
If you style it well and keep it's aesthetic alive, credenza and sideboards can completely change the look of your room. 
Please know before buying that credenzas are smaller in size as compared to sideboards. If you wish to buy a cabinet that is long then go for a sideboard but if you want a small cabinet with small storage, credenza is the best choice. 
Choose the right one and decorate your credenza and sideboard to give your living room an aesthetic vibe!