Are you a book lover who has always dreamed of having a friendly and stylish home library?
With the right design ideas, you can transform any space in your home into a personal sanctuary where you can relax and indulge in your favorite reads.
DecorChamp will share some home library design tips and ideas that will help you create the perfect space for your literary collection.
Home Library Design Ideas
Choose the Right Space
To make a good library at home, you need to choose the right place for it. The best place is one that is quiet and does not have a lot of noise or people walking by. It should also be a place that does not have a lot of distractions, so you can focus on reading or studying.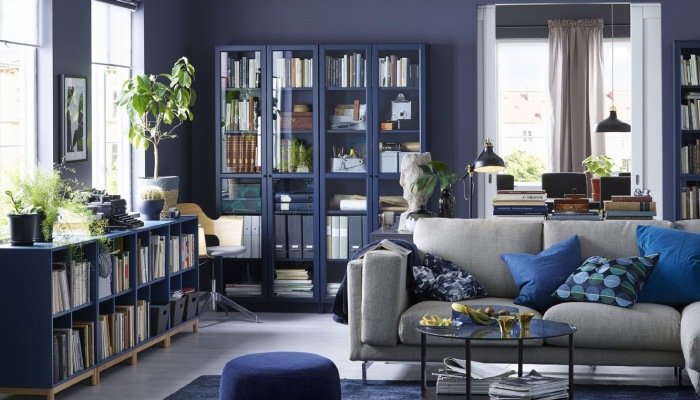 It is best if the place has lots of natural light coming in and good airflow, so you can breathe easily and feel comfortable.
If you do not have an entire room to use, you can create a smaller space by using a corner or nook in your house. This will make it a comfortable place for you to read, learn or work.
Remember, the key is to find a space that you feel comfortable in and where you can concentrate without any distractions. Once you have found the perfect spot, you can start filling it with all your favorite books and creating a space in which you will love spending time.
Plan Your Layout
After you have chosen the space for your home library, you need to plan how it will look. This is called your layout. You should think about how big the room is and where you want to put your bookshelves, chairs, and other furniture.
You want to make sure that everything fits well in the room and looks nice. Here is what you can do:
You can arrange your books in a way that is both pretty and useful. 

You can organize them by type, like mystery or romance, or by author's name.

You can also

organize them by color, so they look like a rainbow!

Think about what you want to do in your library. Do you want to read books or work on a computer? This will help you decide what kind of furniture to get.

You want a comfortable chair to curl up in with a book or a desk to study on.

Remember, your

library should be a place you enjoy spending time in

. So, take your time and plan your layout carefully. 

With a little bit of effort, you can create a beautiful and functional library in your own home.
You may also like to read: Best Corner Almirah Designs to Elevate Your Home Decor
Invest in Good Lighting
Investing in good lighting is important when setting up a home library. Good lighting can help you read without straining your eyes or getting headaches. First, make sure there is plenty of natural light in the room.
This means having windows or skylights that allow sunlight to come in. Natural light is good for reading because it is bright and can help keep you awake.
Second, invest in surrounding lighting options. Ambient lighting is lighting that is not too bright or too dim, and it helps to create a comfortable reading environment.
Some examples of ambient lighting options include table lamps, floor lamps, or wall sconces. These types of lighting can provide just the right amount of light to read comfortably.
May you should also know: Must Have Modern Bathroom Accessories
Third, consider adjustable lighting. Adjustable lighting allows you to control the brightness of the light. This means you can make the lighting brighter or dimmer depending on your needs.
This can be especially useful if you are reading for lengthy periods of time, as you can adjust the lighting to avoid eye strain.
Choose Comfortable Seating
Choosing comfortable seating is important for a home library because it allows you to sit and read for long periods of time without getting uncomfortable.
First, choose a comfortable armchair or sofa where you can sit and read. Look for a chair or sofa that has soft cushions and good back support. This will help you sit comfortably and avoid back pain.
Second, consider adding a footstool or ottoman to your seating area. These can provide extra support for your feet and legs, making it even more comfortable to sit and read.
Third, if you have enough space, you can create a reading nook with a pleasant window seat or built-in bench. A reading nook is a special place in your home library where you can go to relax and read. It can be a wonderful place to escape and enjoy your favorite books.
Add Personal Touches
Make your home library feel personal by adding some decorative touches. Hang artwork or photographs on the walls, add some plants or flowers for a touch of nature, or include some decorative objects that reflect your personal style. A rug or a throw blanket can also add warmth and closeness to your space. 
Home Library Interior Design
Choose the Right Color Scheme
Choosing the right color scheme is an important part of home library interior design. Prefer for warm and inviting colors, such as shades of brown, gold, or gray.
Do not forget to consider and follow vastu for colors while picking a new paint color for your library.
These neutral colors will create a calm and relaxing atmosphere and allow your books and decorative items to stand out.
Use Wallpaper or Textured Paint
Wallpaper or modern texture paint designs can add depth and interest to your home library interior design. Choose a subtle pattern or texture that complements your color scheme and adds a touch of visual interest to your walls.
Add Built-in Bookshelves
Built bookshelves are a fantastic way to maximize space in your home library.
Choose a style that complements your existing furniture and decor and consider incorporating some closed storage options for items that you want to keep out of sight.
Use Artwork and Decorative Objects
Artwork and decorative objects can add personality and character to your home library interior design. One can also use decorative items for living room in their home library to give the library a unique look.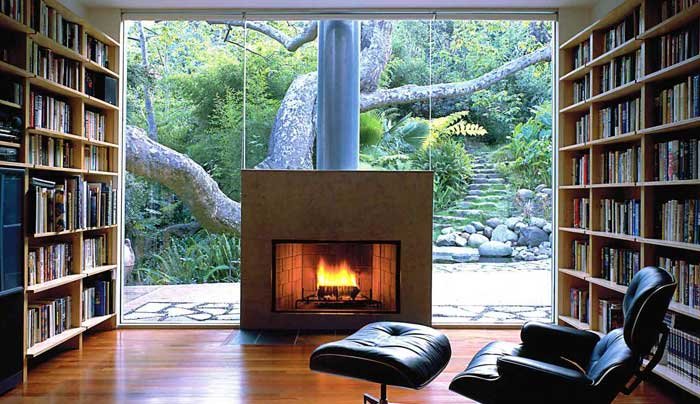 A large painting or sculpture can make a bold statement, while smaller decorative objects can add a touch of whimsy or charm.
These are the Few of the Best Design Tips for Creating the Perfect Home Library.
Frequently Asked Questions
Q1. What are some interior design suggestions for the ideal home library?
Ans. There are various design suggestions that can be used for ideal home library which makes is look good, useful, and pleasing. Initially, it's crucial to consider the available space and make the most of it by adding specially constructed shelves. 
Next, choose useful furnishings, such a plush chair or a reading corner with soothing lighting. Lighting is a crucial component, and task lighting or lamps may be used to create natural light. Books may be displayed by being arranged according to colour or size. 
Family pictures or original artwork may provide a special and warm touch to the room. We need to make sure that the space is clean and tidy to find our books and to enjoy the space.
Q2. What are the creative ways to display a home library?
Ans. home library may be decorated in a variety of ways to show creativity of displaying books. One strategy is to arrange books according to colour to provide an eye-catching display.
 Another option is to arrange the books in odd patterns or configurations, such as putting them in spiral-style or building a tower. 
Bookshelves can also be used to project our genre of books, Consider grouping books by genre or topic, using labels or tags to make it easier to find particular titles, for a more useful presentation. 
To achieve a space-saving library some homeowners even utilise wall-mounted bookshelves or floating shelves. In the end, there are a variety of artistic ways to arrange books in a home library, and the final decision is yours.
Q3. What kind of furniture, and how should it be placed for a home library?
Ans. Neat and practical style of furniture is ideal for a home library. For readers, ambient lighting is a common choice but for writing or studying, some homeowners additionally choose to include a desk or worktable. 
To make the most of space, bookshelves should be built-in or custom-designed. They are necessary for organising and storing books. 
A comfortable and effective furniture arrangement should provide for plenty of room for mobility and should be easy to accessible. It's crucial to think about the room's general design and how the furniture will fit in. Eventually, the adding furniture that is suitable for you room is important to create an environment to read and study.
Consider reading:-