Which house or room does not have a door attached to it? Everyone does, right?
Doors, although essential parts of the house, are not given the credit that it deserves. And in comparison, door frames are given even less credit.
But remember that door frames or chaukhat are equally important to doors as it ensures the strength and durability of the doors. 
Before you go on to select a door frame design or we can say "chaukhat ki design", you must know the different modern chaukhat designs available in the market. Door frame designs can also be easily viewed in the online world as well.
Just point your browser to DecorChamp.com and you will get a huge catalog of modern chaukhat designs or door frames.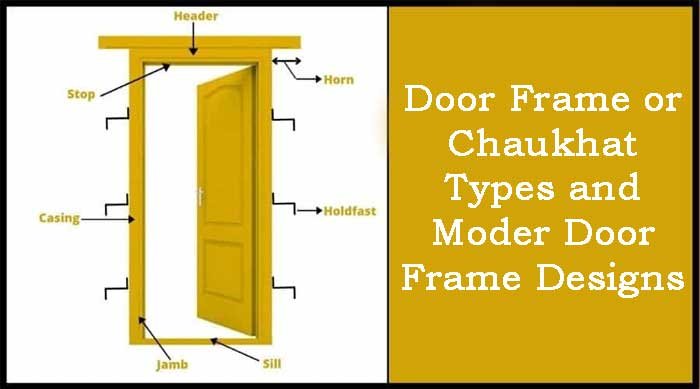 To make your research process easier, mentioned below are the top door frame designs used popularly in homes. 
Types of Door Frames or Chaukhat
When it comes to a door frame there are many types of door frames available nowadays. All have their own advantages and disadvantages when it comes to durability, safety and looks. Do check the types of all door frames below:
Note: You can also check the latest name plate designs for main gate here as well.
Open Modern Door Frame Designs
Open modern door frame designs are usually found in indoor places. With no sill present at the bottom, you get extra space, and doors at homes can be found with such designs.
This commonly used door frame is extremely simple to work around with double vertical members. 
Closed Chaukhat Design 
Closed-door frames are usually applied for outdoor doors. An elevated sill at the bottom is required because they are utilized for external doors to conceal the area between the door and the ground surface.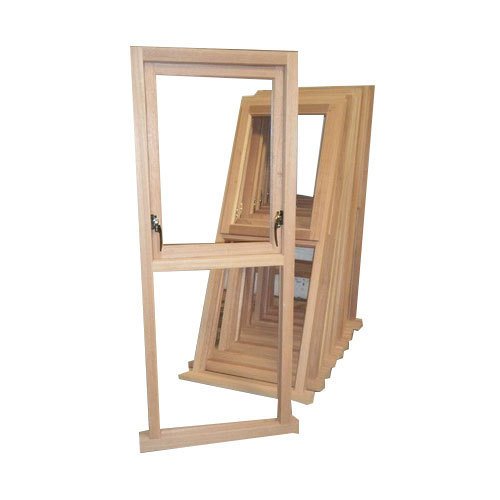 The configuration of the closed chaukhat design stays unchanged for open door frames. Similarly, open door frame design can have a sill according to the purchaser's preferences, though it will usually be restricted in height.
Also have a look at modern iron gate design here.
Glaze Panelled Door Frame Design 
People often add a glazed panel to the frame structure to give it a better look, adding to the architectural interest and allowing the spread of natural light better. Different shaped glazed panels can be easily installed either horizontally or vertically, looking as windows on the door frames. With a professional's help, you can select the best glazed panel for your door. 
Directional Door Frame Designs
When selecting an exterior door frame design for your home, take into account the direction where you want the door to open towards. Note that doors that work on hinges only open in a single direction.
This is why it is critical to understand the exact opening direction of the door in order to place the stoppers inside the door frame in the proper spot to prevent the leaf from moving in the opposite direction.
Know the basic difference between flush doors and wooden doors before opting for any of these.
Door Frame Designs 
In India, door frames are called the chaukhat, or a chaukhat design. If you want to install the best modern chaukhat design or door frame design for your door, then you can check out some of the modern designs mentioned below with images for your reference.
When it comes to the door frame with windows then you can opt for any design shown below in the image:
Main Door Frame Design 
If you invite anyone to your home, they will enter through the main door. Designing a good main door frame design is very important for this purpose.
From keeping the modern main door frame design minimalistic and simple to installing bold designs, you can be adventurous.
Most main door frames are recommended to be made out of wood, as wood enhances the overall look and aesthetic of the door.
Wooden main door frames are perfect if you have a wide doorway entrance, or if you want to use some vintage-inspired look. Check the latest wooden main gate here with pictures and pick the one which is best looking for your home.
WPC Door Frame
One of the most popular materials for external claddings is WPC. Wood plastic composite door frame, or WPC door frame is used as part of an illusionary technique to show elevation.
Because they are highly antibacterial, waterproof, fireproof, and non-corrosive, they are used in bathrooms and kitchen spaces. However people use these frame for main gate design as well.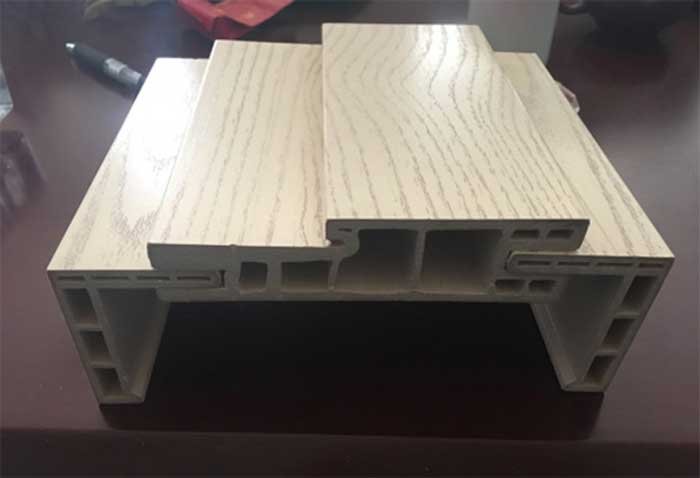 They are also popular because they are inexpensive and promote longevity. WPC door frames have great finish touches and because it uses advanced technology, their integral quality is great.
Granite Door Frame
Granite door frame designs add a glamorous and luxurious touch to any room or doorway where it is installed.
These types of door frame designs are not just greatly functional but also provide amazing support to your door.
A granite door frame is usually found in contemporary homes where attention is wished to be placed on minute details and furnishings.
You can also find granite door frame designs in commercial and high-end real estate buildings. 
Try these readymade doors design with these chaukhat for an apealing look.
Wood Door Frame
Whether you want to achieve a vintage, traditional, or even a sleek modern door frame look, you can do so by using a wood door frame.
Whichever type you wish to use, you will give a very classy and luxurious touch to your space.
Main doors usually use a wooden door frame, but nowadays, even common room and cupboard doors use wood as their main material.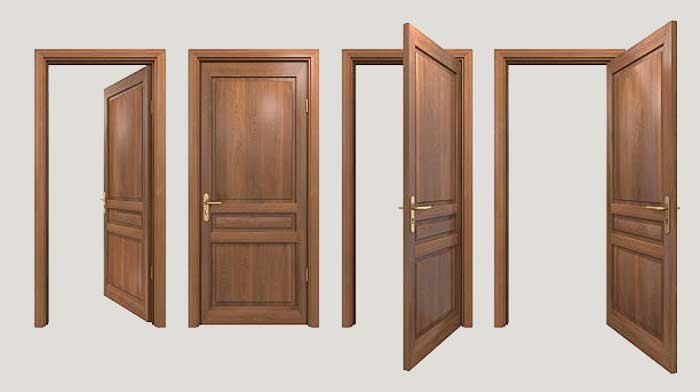 You can even customize by adding intricate designs on the wood, or printed glasses on the door frame will make your entire door area look designer-made. 
Try these chaukhat with bedroom door designs to give a perfect match.
Aluminium Door Frame 
Unlike the past when an aluminum door frame was used in commercial estates, they are also used in modern homes. These sturdy, long-lasting, very safe, and affordable door frames make a statement for themselves.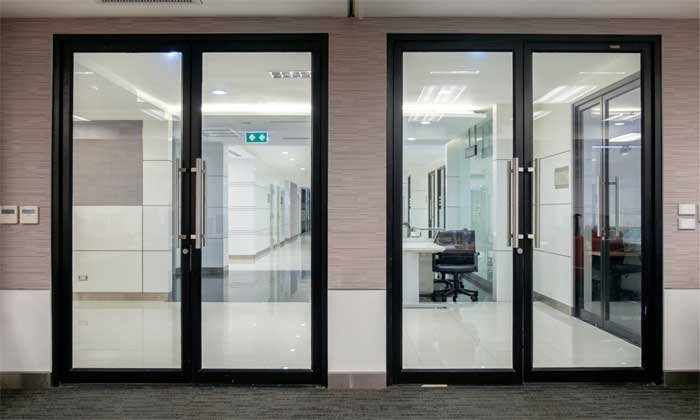 Aluminium door frames provide a classic as well as contemporary touch, something that not all door frame types can achieve. If you want your door frame to look even better, adding frosted or darkened glass will prove to be a good choice.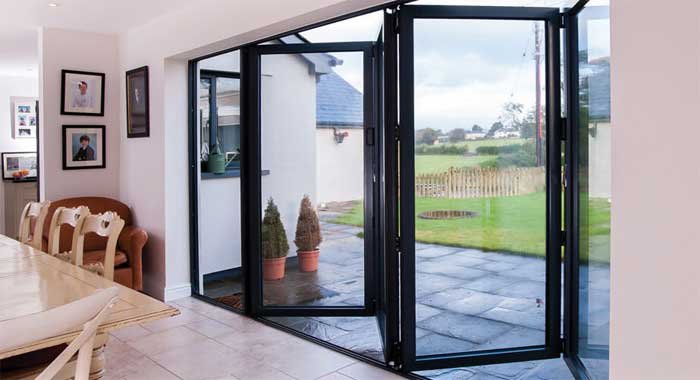 Aluminium door frames are ideally meant to be installed in spaces overlooking a great poolside, garden, or city view. 
Fenesta doors and Schuco doors are top manufacturers of making aluminium doors you can enquire with to get any aluminium door installed.
Cement Door Frame 
Cement door frames are also very common and highly popular in most Indian households.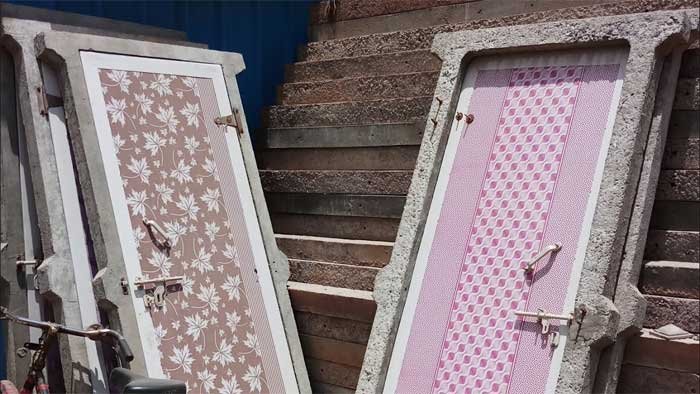 Given that they are easy to install, and are available at reasonable prices, you can do a lot of customizing with such door frames.
You can manually create some artistic design, or get professional help to do this job.
Although a cement door frame requires great maintenance and care, you can count on this type to be long-lasting and durable. 
Know the best cement in india while getting a cemented chaukhat for home and choose the best cement.
PVC Door Frame 
Cheaper than most aluminium and wooden door frame designs; the PVC door frame is a very good form of material.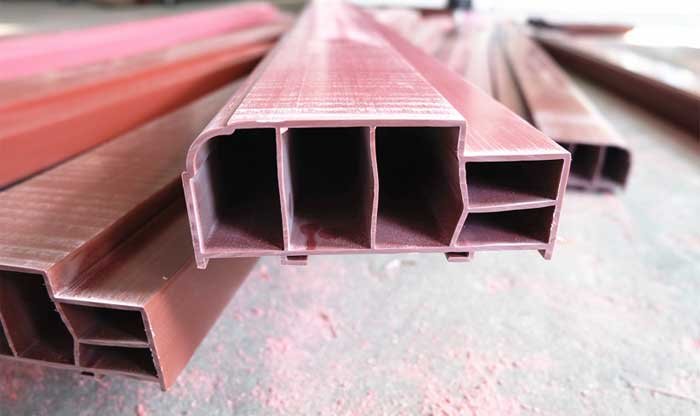 The PVC door frame stands strong for a very long time and requires minimal maintenance. They are also highly resistant to most environmental features. Also, because it weighs very less, even a single person can get the door frame fitted. 
Conclusion
Doorways are the most underrated part of one's home which is why ensuring that its frame is highly complimenting it. A door can only be strong, stable, and durable if the chaukhat design is also strong and durable.
Thus, choosing the appropriate materials to build a modern chaukhat design is important. Understand the required measurements and space available properly before moving ahead with selecting a door frame design. 
Consider Reading: