When it comes to enhancing the aesthetics of our homes, few elements make as big of an impact as the entry doors. They serve as a gateway, welcoming guests and creating the first impression of our living spaces.
Among the various options available, ready-made doors continue to be a popular choice, blending classic charm with versatility and durability.
Readymade doors are the most commonly used doors for the household purposes. They are known for strength and are equally stylish to aptly impart a special look to the homes.
These ready made doors are available in different forms. In the available options today, it is essential to determine the characteristics of different ready made doors to understand their benefits.
The Allure of Ready-Made Doors: Timeless Elegance of your Home
Ready Made Wooden Doors
Flush doors are common wooden doors that are usually used for rooms and other internal areas of the house. The specialty of these doors is that they do not contract or expand significantly due to climatic changes.
This makes them easily usable throughout the year. Moreover, the deadly combination of classy appearance and strength keeps it on the top most priority list.
SPECIFICATIONS
Wooden doors have been a symbol of elegance and sophistication for centuries
The natural warmth and richness of wood bring a sense of warmth and character to any entrance
Whether you prefer the grandeur of double doors or the simplicity of a single panel, wooden doors offer endless options to suit your preferences
High-quality wooden doors are often constructed from hardwoods such as oak, mahogany, or teak, which are known for their robustness and resistance to warping or cracking
Unlike other materials that may require frequent repairs or replacements, wooden doors can maintain their beauty and functionality for decades with proper care
Ready Made Paneled Doors
Paneled doors are wooden doors which have segregated compartments with the help of veneer and glass. They are extremely attractive on the scale of appearance.
However, these readymade doors are less rated on strength aspects. They can still be used for farm houses, homes or elsewhere wherein the appearance is more important than strength.
SPECIFICATIONS
Whether your home has a traditional, transitional, or contemporary style, paneled doors have the unique ability to blend seamlessly with various architectural aesthetics, making them a versatile choice
From simple and sleek paneling to more elaborate and ornate patterns, you can find a door design that perfectly complements your desired aesthetic
Additionally, paneled doors are available in different configurations, including single panel, double panel, or even multi-panel options, offering further customization possibilities
Paneled doors can also be used strategically to divide larger spaces
They can be painted, stained, or finished to match your existing trim or furniture, creating a cohesive and harmonious look throughout your home
Interested for more designs? – Main door designs for indian home
Ready Made Glazed Doors
Glazed doors are one of the very old fashioned door styles which are still quite famous. They are consistently used for commercial purposes as well as for homes to enhance appearance without compromise on security.
Ready-made glazed doors are a captivating addition to any home. With their ability to invite natural light, create an open atmosphere, and seamlessly connect spaces, glazed doors offer a perfect blend of beauty and practicality.
SPECIFICATIONS
The large glass panels allow sunlight to penetrate your home, creating a bright and airy ambiance
Whether it's a patio, garden, or balcony, glazed doors provide a clear view of the surroundings, blurring the boundary between inside and outside
Additionally, glazed doors are available in different frame materials, such as wood, aluminum, or uPVC, allowing you to select an option that matches your desired look and maintenance requirements
High-quality glazed doors often feature double or triple glazing, which improves insulation and reduces heat transfer between indoor and outdoor spaces
The insulation properties of glazed doors can create a quieter and more peaceful environment indoors, allowing you to enjoy tranquility and privacy
Wire Gauge Doors
Wire gauge doors are one of the popular door forms in the summer prone areas. When the flow of wind is strictly restricted and the flies, mosquitoes, pests etc; become intolerable, wire gauge doors are the best option.
They not only allow smooth ventilation through the net but also block the pathway for the pests which are always annoying.
Get a hold of interesting bathroom shower door designs
SPECIFICATIONS
Wire gauge doors offer a high level of security by providing a sturdy barrier against unauthorized access
The wire mesh construction allows for excellent visibility, making it easy to monitor activities on the other side of the door
Wire gauge doors provide good airflow and ventilation
The metal frame and wire mesh panels are highly resistant to damage, corrosion, and wear, ensuring long-lasting performance
Iron/Steel doors
The iron or steel doors are largely used for commercial setups like shops, house garage etc. They are attractive and equally durable. Regular painting could prevent decolorizing and corrosion.
SPECIFICATIONS
The combination of iron and steel creates a sturdy barrier that offers significant resistance against forced entry and intrusions
They are resistant to warping, rotting, and rusting, making them suitable for various climates
They often feature insulation properties that help to reduce heat transfer and improve energy efficiency within the home
Iron steel doors often have fire-resistant properties
PVC/Plastic doors  
These are some of the pretty commonly used doors nowadays. They are available on different themes making them quite unique for various purposes.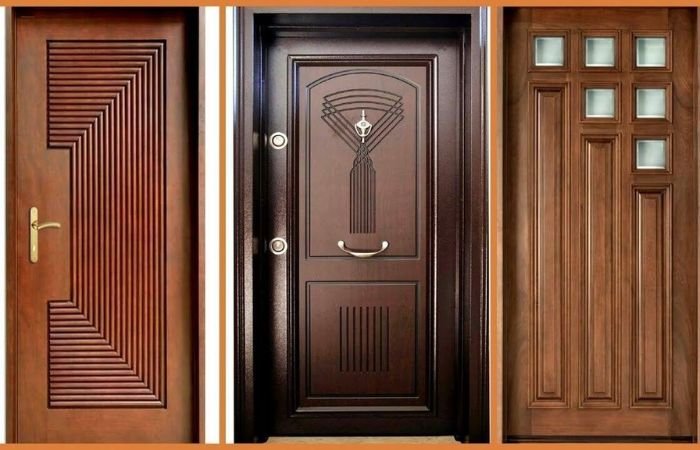 The cost factor is the biggest selling proposition for this product. They are available for very cheap prices suitable for both commercial setups as well as domestic requirements.
SPECIFICATIONS
They are highly resistant to moisture, rot, corrosion, and pests, making them suitable for areas prone to humidity or dampness
They offer a cost-effective solution without compromising on quality and functionality
PVC doors are highly resistant to weather conditions, including sunlight, rain, and extreme temperatures
Regular cleaning with mild soap and water is usually sufficient to keep them looking clean and fresh
Aluminum doors
Aluminum doors are highly durable and are used largely in commercial setups. Different commercial spaces like hotels, banks, departmental stores etc. tend to use such doors to prevent unnecessary intrusion. The weather proof qualities are quite ideal for most requirements.
SPECIFICATIONS
Aluminum doors are resistant to rust, corrosion, and weathering, making them suitable for various climates
Compared to other door materials, such as wood or steel, aluminum doors are lightweight
Aluminum doors offer design flexibility, allowing for various styles, shapes, and configurations
Thermal breaks and insulation can be incorporated into the frames to improve energy performance and reduce heat transfer
CONCLUSION
After realizing the characteristics and features of different ready made door types, it is essential to match them to your requirements. This will complete your search for the most appropriate ready made doors.
By selecting a high-quality wooden door that suits your personal style and the architecture of your home, you can enhance your curb appeal and create a warm and inviting entrance that welcomes visitors for years to come.
Consider reading- Best cement for house construction