We all have guests visiting our home. We also visit as a guest to our beloved's houses. Guest is someone who should be welcomed warmly and affectionately. Not only should they be greeted warmly but we as hosts should provide them a comfy and spacious environment. 
Arranging a guest room for them, whether big or small, is crucial. Some houses lack a guest room, although the guests are treated with great reception. 
Often, they sleep on the sofa or the host sacrifices her bed to provide it to the guest. But that leaves an unimpressive attitude of the guest toward the host. 
When your guests visit your home to spend a few days with you or to spend a holiday at your home, it is your first and foremost duty to make them feel comfortable at your home. 
They should have a cozy living with some pleasant memories to take back with them. Transform a spare room to a small guest room with these ideas that will make you occupy a great place in your guest's heart. These small guest room ideas will surely give a positive impression to your guest.
Top Small Guest Room Ideas That Will Impress Your Guest
Tiny balcony 
Be a little creative by turning the window of your small guest room to a tiny balcony. You can get your window cut into a tiny balcony to make the room attractive.

You can get it done by a mason. This will enable more fresh air and light to enter the house, making it look bright and pleasant.

You can decorate the tiny balcony with some beautiful artificial plants hung on its railing. Your guest will like to have his morning tea, standing on the mini balcony and viewing nature.
Making Kids-friendly
You might have guests with their kids. To make them have fun, you can place a two-bunk bed with some toys beautifully kept over there. They can sleep there and have some fun with the toys.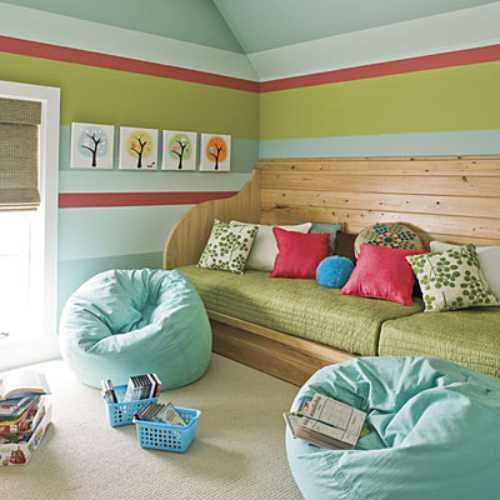 Portable Bathroom 
For your small guest room, it is a brilliant idea to place a portable bathroom in one corner of it. You can buy ready-made tiny portable bathrooms online from Amazon or other  E-commerce stores.
This is an excellent small guest room idea to win their hearts. The portable bathroom will not only add beauty to the guest room but will help your guest from the discomfort of moving out to the bathroom in the middle of the night. The guest will have a homely feeling. 
You may also like to Read – Small Bathroom Flooring Ideas
A Small Designed Bed
King sized bed is not suitable for your small guest room. A small bed, preferably a double bed is the ideal size for your guest room which will save your space to accommodate other important furniture.

You can choose a beautiful steel bed design instead of a wooden one to save some money. Iron or steel beds come in beautiful designs.
Sitting Arrangement 
Place a sofa and a small tea table to make your guest have his breakfast and snacks, sitting comfortably. Your guest might have a habit of reading the newspaper in the morning. Making a sitting arrangement in one corner of your small guest room is a brilliant idea.
Mini Bar
Having a place for a mini bar in your small guest room is impressive. Your guest might like to have some drinks at some point of time in the day.

You can arrange very few alcohols for the mini bar like a bottle of vodka, a scotch, some bottles of wine and beer. This type of arrangement will please your guest and he or she would like to visit your home again and again, giving you thousands of compliments.
Create Greenery
Who does not love nature? Placing some potted indoor plants will not only add a vibrant beauty to the guest room but also circulate sufficient oxygen in the room owing to the plants.


You can keep an aloe vera plant in a pot or a few snake plants to enhance the beauty of the room. Keeping a bonsai plant is also a great idea. You can keep a potted bonsai tree such as a mango or a lemon tree.

This idea for your small guest room will enhance the interior design of the room. Your guests will like to relax in the room for a longer time. 
To know more about plants your home or guest room you can check here – Best Plants To Bring Positivity To Your Home!
Adding Wallpaper 
Decorating your small guest room wall with wallpaper is a budget-friendly idea that has a charming effect on the room. You can select a floral wallpaper or wallpaper of birds, fountain etc. for a mind-blowing beauty. Stick the wallpaper on the wall to the side of the bed.
Wall Mirror 
Keep a wall mirror of medium size in your small guest room. Your guest might like to get ready near the mirror before stepping out of the room. Create a small shelf under the mirror. Keep a comb, a moisturizer and a talcum powder for his or her use.
Bathroom Toiletries 
Create a shelf on the door of your portable bathroom for the toiletries. Place a set of tooth brush and tooth paste with a bath soap and a towel.
A Bed Table 
Arrange a two shelved bed table by the side of the bed. Keep a jug of water and glasses above it. Also keep a table clock on the top of the table.

Your guest might hesitate to call you at midnight for a glass of water. Keep some good and interesting magazines on the shelf of the table. Some people have the habit of reading and will find such an arrangement extremely interesting.
A Wall Wardrobe 
Your guest might come to your home from a very far place, carrying a lot of luggage. He will need a storage place for keeping his shoes, bags and luggage. Other important assets can also be kept there.
These are some brilliant ideas for your small guest room to make it cozy and attractive. Choose these amazing small guest room ideas to make your guest feel comfortable and pleased at your house.
Here you can also read about the perfect wall shelves and selecting the perfect one for your home.