Not only large bathrooms but small bathrooms too look stylish and beautiful if decorated with creativity. Focus on colourful fabrics, updated texture and storage niches to help your small bathroom sparkle.
By including design elements and storage solutions in strategic ways, you can make a small bathroom look attractive with a big impact, especially the beautiful flooring of the bathroom adds polish to it.
Small bathrooms can have a grand style with outstanding floorings. We have suggested beautiful flooring ideas that will surely make your bathroom not only stylish but also functional.
Style And Design Of Small Bathroom Floor
Before choosing the type of style for your small bathroom flooring, you should know what exactly you want to have. Whether you want to give the illusion of a bigger space or just want to add the wow factors.
Choosing the right design and style for your bathroom flooring can add a big boost of beauty to your bathroom. The look of the bathroom changes, depending on the tiles on the floor.
Bathroom floors are vital as they are both beautiful décor and practical necessity. You should focus on choosing materials that match the style of your bathroom and that are durable and easy to clean.
Small Bathroom Flooring Ideas
Bold Pattern Bathroom Flooring Designs
Give your small bathroom flooring a classic look by making it all in white style. A patterned floor adds a lot of elegance to a neutral or white bathroom and makes it feel less stark.
Choose colourful mosaic vinyl or create a different design with ceramic tiles. The colour chosen should be contrasting with the wall and it should complement your towels, wash basin and other bathroom decors.
Wooden Bathroom Flooring Design
Wood or laminated wood floors for the bathroom not only give a stylish look but also add warmth and cosy effect. They help in giving an earthly, natural balance for the hardness of tile, glass and other bathroom surfaces.
This small bathroom flooring style suits you very well if you can bring the same wood tone and colour into other areas of your small bathroom. Decorate the Bathroom Cabinet With Mirror and other bathroom niches with wooden designs.
You can give the wooden design to your bathroom floor if you live in cold places because wood helps to keep the room warm.
Natural Stones Bathroom Flooring Design
If you want to give your small bathroom a luxurious look, you can opt for a beautiful stone design.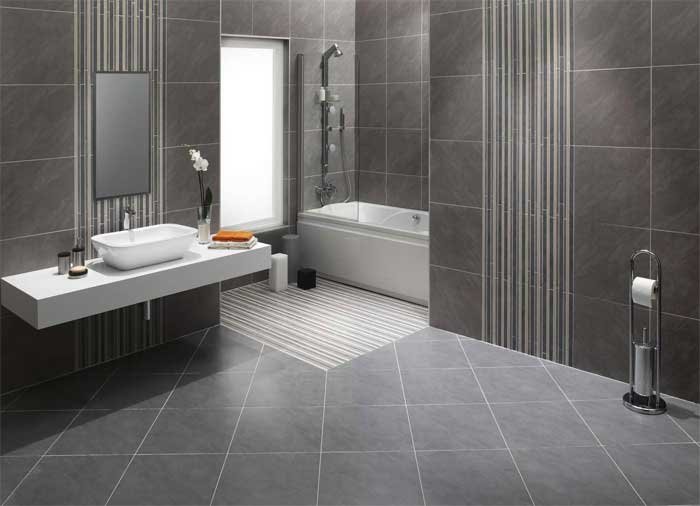 Natural stones such as marble, granite, slate or onyx, when made finely cut slabs and implemented in the bathroom floor adds real elegance to the tiny bathroom. Such bathroom flooring ideas are great, boosting a unique blend of lines and colours.
Porcelain Tiles Bathroom Flooring Design
If you have a choice for natural stones with low maintenance, you can opt for porcelain tiles flooring. Porcelain tiles have the texture of natural stones, giving the illusion of such stones.
Such flooring brings a feel of everyday elegance to small bathrooms. Porcelain tiles have uniform colours and patterns making them look excellent.

You can choose neutral shades laid in a classic diagonal pattern. Here it should match with bathroom doors and here are bathroom door designs colours are also an important factor for your tile design.
Tiles in Stripes Bathroom Flooring
Choose tiles in various hues for giving an awesome look to your bathroom flooring. Patterns such as stripes bring a twist to a monochromatic bath. Use the same tile shade to refine bathrooms and make a classic-looking bathroom.
Tiles in Geometric Shapes Bathroom Flooring
Bathrooms can be made creative and fun with unique flooring. Subway or diagonal tiles are quite common as bathroom tiles. You can use tiles in interesting geometric shapes.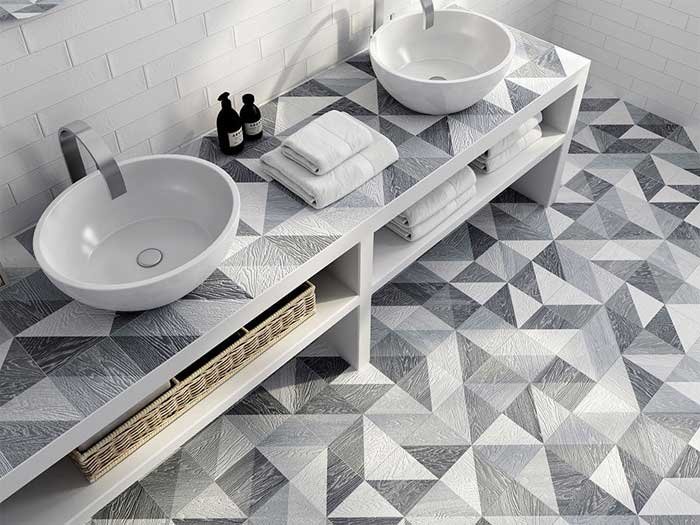 Choose tiles in circular or hexagonal or pentagonal shapes to break up and soften the angular lines of a small bathroom. Squares and triangular designs when used with circles give a beautiful style to the design. You can mix and match shapes for an exceptionally beautiful result.
Colourful Organic Stripes Bathroom Flooring
If you want to give your tiny bathroom the illusion of a bigger one, you can opt for this style. Such colourful tiles are ideal for giving it the look of a bigger space. Choose colours like blue, brown and tan to give a better effect.
To get a proper rich bathroom look you should also consider the bathroom shelf designs with the latest models.
FAQs – Related to Small Bathroom Flooring
Q.1 What flooring looks good in a small bathroom?
Ans. You can decorate your bathroom flooring with various modern ideas to give it a stylish look.
These are the 3 top small bathroom flooring ideas.
Ceramic and porcelain tiles.

Natural stones such as marble and granite.

Luxurious Vinyl Planks.
Q2. What colour flooring is best for small bathrooms?
Ans. White is the colour that will suit all materials in the bathroom. Also, most bathroom accessories have white as their colour. The white colour also symbolizes peace and purity, giving a positive vibe.
To create a stylish look, you can give an all-white look to your bathroom with matching white tiles flooring, making it look much brighter and glowing.
Q3.What flooring makes a small bathroom seem bigger?
Ans. Flooring in horizontal tiles, having uniform and even colours look less cramped, and thereby giving. The illusion of a bigger space in your small bathroom.
Q4. Should the bathroom floor be lighter or darker than the walls?
Ans. The best choice is to opt for dark shades in flooring than the shades of ceiling and walls.
Q5.What is the tile size for the best small bathroom flooring?
Ans. It completely depends on the style of the bathroom. Some small bathrooms look fabulous with large and small tiles combinations. But the medium-sized square tiles look great in all bathrooms, having sizes 1'x1' or a bit less.
Also, Read – Bathroom Designs and Trends To Follow
Conclusion
As you have seen there are a lot of ideas for small bathroom flooring which are creative and outstanding. From luxurious natural stones, and mosaics to patterns, stripes, geometric shapes and simple tiles and combinations you can create a stylish and beautiful small bathroom to an authentic piece of art.We recommend choosing colours such as beige, gray, bronze and other neutral colours for your flooring to get a sharp and polished look.