If you are looking for a modern and stylish steel bed designs or frame, then you should definitely consider investing in a the followings.
Steel bed frames are not only incredibly sturdy and durable, but they also look great when it comes to luxury & finishing in any modern bedroom.
If you want to add a touch of elegance to your bedroom without compromising on quality or durability, then a steel bed frame is the perfect choice for you.
You can choose from traditional designs, contemporary designs, or even ones that come with built-in storage space.
No matter what types of steel design you prefer, there is sure to be a steel bed frame that is perfect for your bedroom.
To check all modern steel sofa cum bed set refer to this.
Consider The Following Before Buying Steel Bed
A steel bed can give your bedroom a modern look. But before you buy one, consider the following:
Size: Make sure the bed is the right size for your room.
Style: There are many different styles of steel beds. Choose one that matches your bedroom's style.
Finish: Steel beds come in a variety of finishes, such as brushed steel, polished steel, and powder-coated steel. Choose one that you like the look of and that will match your other bedroom furniture.
Price: Steel beds can be expensive. Shop around to find the best price.
Consider viewing the modern steel gate design which is trendy nowadays here.
Steel Bed Price in India
The price of a steel bed in India can vary depending on the size, style, finish, and brand. A basic steel bed can start at around Rs. 5,000, while a more premium bed can cost up to Rs. 50,000.
Where can you Buy Steel Bed Online?
You can purchase steel beds online from a variety of retailers, including Amazon. To buy a steel bed from Amazon, simply search for "steel bed" on the website and browse through the available options. Add the bed you want to buy to your shopping cart and checkout once you've chosen it.
Click here to view all Latest Steel Bed on Amazon.
Types of Steel Beds
The different types of steel beds include single beds, double beds, queen-size beds, king-size beds, and bunk beds.
Single Beds: Single beds are perfect for small bedrooms or for people who sleep alone.
Double Beds: Double beds are perfect for couples or people who share a bedroom.
Queen-Size Beds: Queen-size beds are perfect for people who want more sleeping space than what a double bed offers.
King-Size Beds: King-size beds are perfect for people who want the most amount of sleeping space.
Bunk Beds: Bunk beds are perfect for kids or for people who share a bedroom. They are usually made up of two beds, one on top of the other, and take up less space than two single beds.
Also view modern name plate designs for main gate in steel here.
Modern Steel Bed Designs
1. Queen Size Floral Pattern Metal Bed
If you're searching for a bed with a floral pattern, this metal double bed is worth considering. The heart-shaped bed frame appears to be very lovely and attractive.
You may use this bed for your daughter's room. There's a curved aspect to the edges that adds appeal to the entire image of the bed.
This can be matched in a symmetery with modern steel railing design as well in your home.
2. Metal Bed With Storage
This is the ideal metal day bed for you if you're searching for one. The storage space section of this bed is raised by a hydraulic mechanism.
The metal base of this bed has a matte finish to it. This bed may be purchased online and delivered to your home, requiring only basic assembly from a carpenter.
Check these modern stairs railing designs in steel here as well which are perfect for a steel house.
3. Ivory Bed Design
White is a hue that adds brightness and warmth to a room. The room appears larger when you use white furnishings.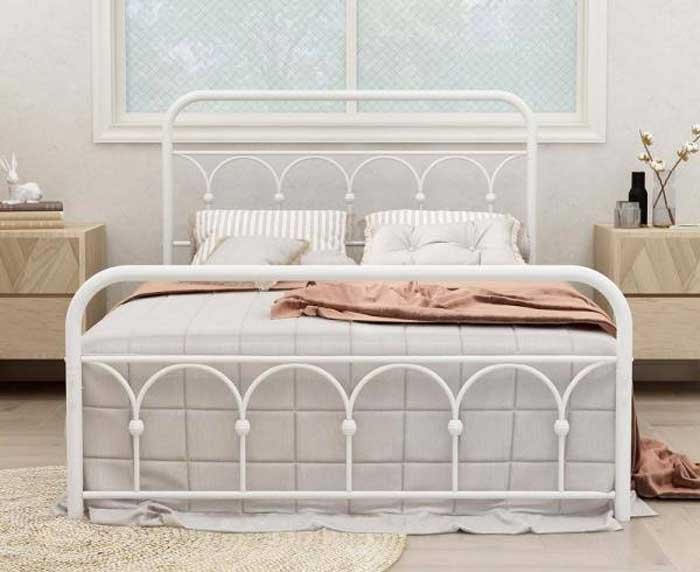 A magnificent wrought iron queen-size bed may be used to add white to your space. This beautiful metal bed has a wave pattern that will provide you with an eye-catching look.
4. Black Metal Bed Design
This sleek black metal bed has a minimalist style that would look great in your space or as a guest bedroom. Choose this attractive iron bed with a very basic and elegant appearance.
To create an appealing effect, complement the colorful bed linens. Choose the perfect size for your room; these beds are available in many measurements such as king, queen, and twin.
5. Twin Size Metal Bed Design
Twin-size single mattresses are used in the beds. There is a sturdy ladder that allows kids to access to the top bunk bed.
But make sure to follow bedroom vastu guidelines while bringing home a steel bed as this is very important as well.
6. Single Metal Bed Design
The single metal bed is similar to the double bed, but it sleeps just one person. This bed may be utilized in smaller areas like a children's room or even a guest bedroom.
This might also be used as an armchair in your living area.
7. Vein Pattern Metal Bed Design
This pattern is modern and creative, and it's one of the most popular sellers. Maintaining this bed is quite simple. The glossy sheen of the bed adds to its attractiveness.
Most customers like the three-year warranty period as well. This bed would be ideal for your house.
Know the best sleeping direction as per vastu here and place your bed accordingly to get positive energies.
8. Metal Double Bed
This is a beautiful iron bed with a curved headboard. This gives the bed its own distinct style. The look of the bed adds to the room's sense of spaciousness and vibrancy.
You have a fantastic area if you choose bright colors for the duvet coverings.
9. Queen Size Wrought Iron Bed Design
The wrought ironwork on this queen-size bed is magnificent. To add a pop of color, use vibrant and cheerful colors for the bed linens.
Simply apply a new coat to this bed and you'll be done in no time.
Consider vastu for bedroom furniture while bringing a modern steel bed at home.
Conclusion
These are some of the different types of metal beds that you can choose from. If you want a bed that is both comfortable and stylish, then you should definitely consider getting a metal bed.