Coming home to relax and lose ourselves in the engrossing worlds of movies, television shows, or video games is the best way to de-stress in the hectic environment in which we live.
There is just no substitute. A home theater creates the ideal setting for a relaxing vacation while also offering an unparalleled level of entertainment right there in the convenience of one's own residence. 
It doesn't matter if you're a movie buff, a sports fanatic, or a gaming addict; creating a home theater that caters to your specific requirements and tastes may be an exciting and rewarding endeavor.
In this article, we will explore a number of home theater ideas to help you create the ultimate entertainment room that will impress and thrill both family and friends. This space may be used to host gatherings of both family and friends.
Choosing the Right Space
Choosing the most appropriate room in which to install a home theater system is the first task at hand. If you want to improve the quality of your movie experience, you should look for a location that has very little natural light and can be completely darkened.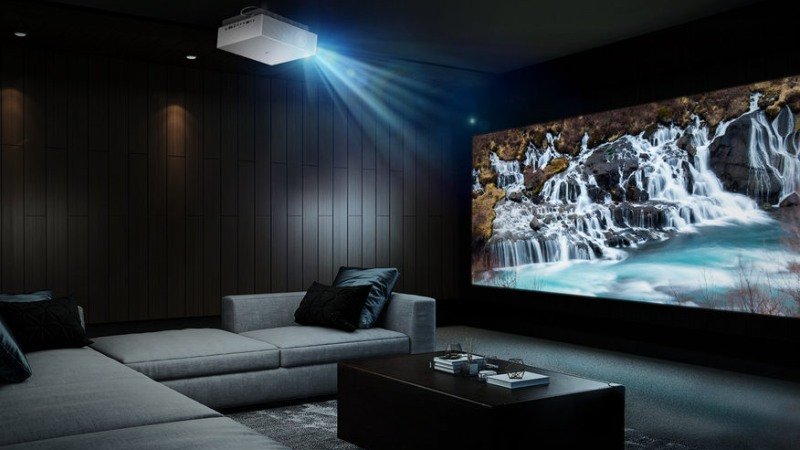 This is an excellent use for basements, spare rooms, or areas specifically designed for entertainment purposes. Make sure the room is big enough to properly fit the amount of seating, the audio equipment, and the screen size.
Also read about: Embracing Black Trim in House Interiors
Optimal Seating Arrangement
A home cinema experience can be greatly enhanced with the addition of some comfortable seating.
You may set up a wide sectional sofa or comfortable reclining chairs for everyone to sit back and relax on while watching the show. Consider chairs that have built-in tabletop space or cup holders.
High-Definition Projection
One of the most important parts of a home theater is a high-definition projector. To get the most bang for your buck, try to find a model with either Full HD or 4K resolution.
To recreate the cinematic experience at home, simply project the image onto a flat screen or wall.
You should also know: Home Office with Unique Lighting Ideas
Surround Sound System
To complement the visuals, a high-quality surround sound system is a must.
If you have a surround sound system installed, as both speakers strategically positioned around the room, you will feel like you are actually in the film.
Acoustic Treatment
Consider installing acoustic treatments in the room to get the best possible sound.
Soundproofing the walls, installing acoustic panels or diffusers, and laying down carpeting or rugs specifically designed to dampen echo are all viable options
Also consider reading the Living Room Royale Play Design.
Blackout Curtains
Placing blackout curtains or blinds is a great technique to manage the lighting in the space and block out ambient light that could otherwise interfere with the projection.
This will make for a more real and engrossing cinematic experience.
Themed Decor
Choose a theme for your home theater's decor to provide a special and distinctive touch to the space.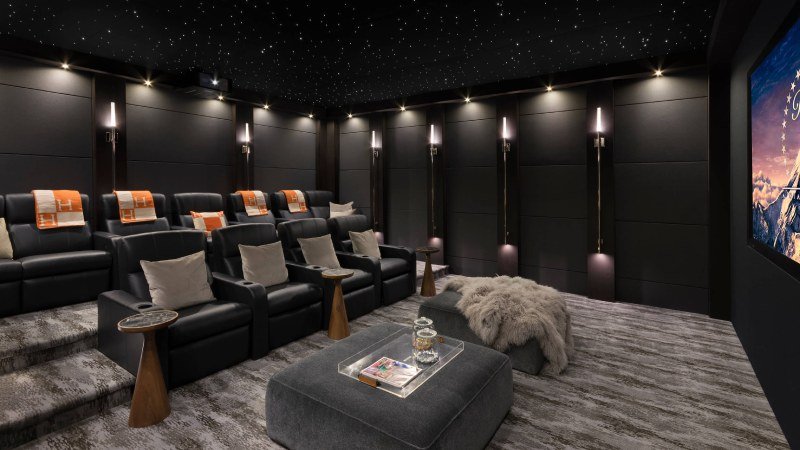 Themed design, whether it's a traditional movie theater motif, a futuristic sci-fi setting, or a retro Hollywood appearance, gives any room a sense of identity and style.
Apart from that, you can also read about living room with stylish wall clocks.
Smart Home Integration
Automate and streamline your life by combining your home theater with smart home technology.
Dim the lights, turn down the volume, and handle the room's other electronic equipment with just the sound of your voice.
Concession Stand
Set up a concession booth with a popcorn maker, candy bowls, and other movie theater staples to give your guests the whole cinema experience.
This will be a great addition because it will let people snack on their favorite foods while enjoying the show.
Gaming Zone
If you're a serious gamer, your home theater should have a dedicated gaming area.
Gather your buddies around game consoles, a gaming PC, and comfy seating for an in-depth gaming experience.
Comfort Lighting
Put in dimmable LED lights all over the room to make it feel warm and inviting.
Intermissions and the time before and after the main show are perfect opportunities to employ low-key lighting to set the mood.
Here is Sunroom Furniture Ideas.
Personal Touches
Framed movie posters, memorabilia, or original artwork inspired by your favorite films and TV episodes can add a unique touch to your home theater.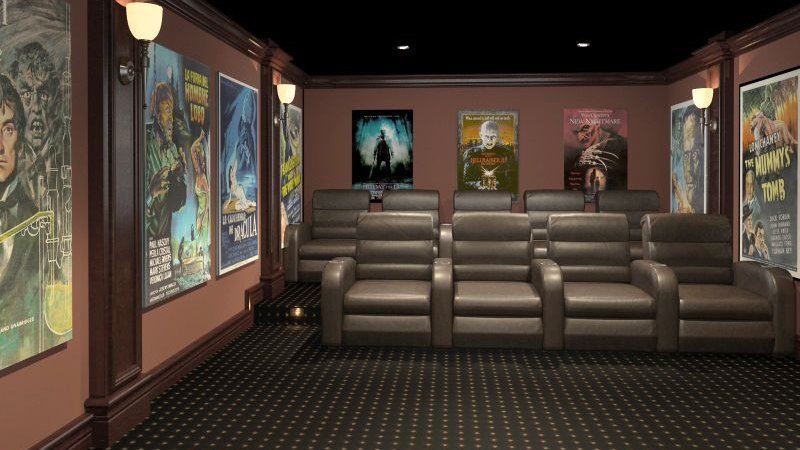 This will truly make the room your own.
You may also like to read about: Exploring the Beauty of 3D Tiles
Conclusion:
Building a home theater is an exciting project since it allows you to make a unique entertainment room that fits your needs and tastes.
Create an unforgettable home theater that will host all your favorite movie evenings, video gaming marathons, and family get-togethers with the correct audio-visual equipment, comfy seating, and tasteful design.
Whether you're a movie buff or a gamer, you'll find inspiration for creating the perfect home theater in this article. Prepare to kick back and enjoy the cinematic experience in the comfort of your own home.
Consider reading: