It's time to upgrade your house by installing some eye-catching wall shelves since the dull days have passed. This is a purchase that will always be in fashion. The most efficient way to organize your place is by using wall shelves. 
These shelves are not only useful and fashionable, but they can also give your space personality by quickly turning it into something to be envied. Wall shelves may be a very practical way to add some distinctive patterns to your own personal area. 
Your living space exhibits your individuality in a way that makes it seem like an expression of you. By utilizing wall shelves, one can now easily incorporate items from their personal collection into the living area. 
Wall-mounted shelving is one of the greatest methods to showcase and store products because of its various design possibilities, simplicity of installation, and capacity for reconfiguration to accommodate changing demands.
Why do we need a wall shelf?
An ideal touch of modernity

: Using décor pieces like shelves on the walls of your space is crucial if you're thinking of using trendy interiors. You may

display artwork, books, and flowers

on such shelves, which requires a lot of imagination and uniqueness to design.





A practical solution to maximize space and stylishly match the television unit or couch is with clever storage above and alongside it.

Use wall shelves to create your unique grid:

You may rearrange the inside of your home using the DIY method to save some money and make your space appear lovely.





The living room is the perfect

location for these shelves

since adopting a similar design on bare walls would complement the appearance of the space. 
You may save considerable money by using this technique, which will also improve the aesthetics of your home. You shuold also try these Top 10 modern ideas for decorating living room
Save some space and increase utility:

One might notice that their space gets more light when they opt to

install wall shelves

and set cabinets on the floor. You'll realize their usefulness as soon as you put them anywhere in your house to hold tiny cans since you can store all those goods that are rarely used there.





In addition to enhancing the aesthetic attractiveness of space by displaying plants, artifacts, or a specialized showpiece on glass shelves, these racks in your dining room may keep items you would often leave on the table, reducing the mess on the desk.
Do you know what best materials are used for the wall shelf?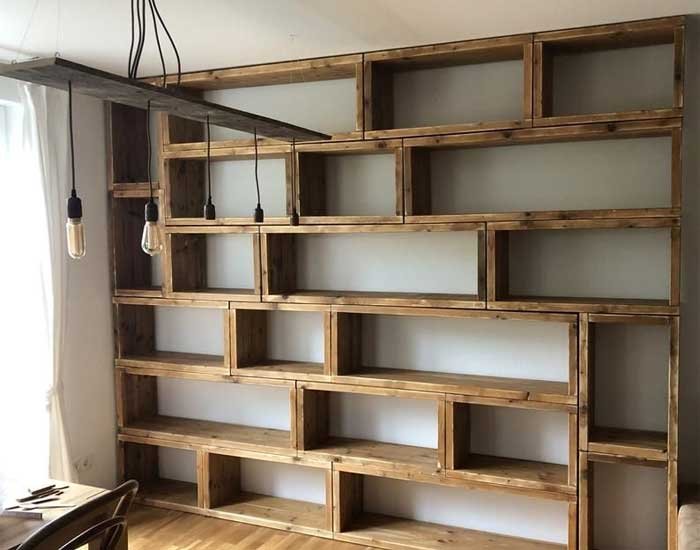 Board with a laminated edge
Different Types of Wall Shelves and Modern Design Ideas
Floating Wall Shelves

 
Instead of having a visible support like fixed bracket shelves have, floating shelves appear to be hanging from the wall by themselves. 
Such shelves are simple to construct and a lifesaver for homeowners who do not desire bulky clamps or hangers to damage their walls. These are sturdy and capable of supporting a respectable amount of weight if properly constructed and securely fastened.
Built-in shelves or corner shelves
These shelves utilize the nooks that already existed in a useful way. Built-in shelves are actually constructed into a corner or recess by using the alcove's pre-existing walls as a foundation. 
The number of shelves you place and the addition of a frame or gates to better safeguard the objects you show will depend on the available space. Instead of utilizing a straight wall for support, one could utilize this concept to build curvy wall shelves in a vacant corner. 
Also Read – The Complete Guide to Wallpaper to Decorate and Design Your Home
Hanging shelf
Hanging shelves are just what their name implies shelf supports like pipes, cables, or other objects dangling from the ceiling. They give a space an immediate theatrical flare. 
Depending on the design you choose, these shelves come in a variety of designs: modern shelves employ wood and cables, while boho shelves use ropes and delicate wood slats. You can also select any wooden almirah design and add near your hanging shelf into the house. 
Ladder Design Shelf

 
Another pleasant method of enhancing the room while increasing storage is to use ladder shelves. These shelves have a structure that is similar to a ladder. 
The "rungs" are either the same size throughout or get bigger as you ascend, according to the design you choose. The design is perfect for holding goods of various dimensions and forms. Ladder shelves also offer the solidity of fixed shelves without the need for wall drilling.
You may like to Read – Steel Almirah Design Ideas, Tips, and Inspiration to Decorate Your Home
Open and Closed Shelf Design

  
Typically, this form of shelving has both closed sections and open racks in metal frames. It may therefore be used for both storage space and exhibition. They are also great for use as functional separators.
DIY wall shelves? Isn't it interesting? Here are the steps to build your own wall shelf from scratch and add your personal touch.
Although it may be alluring to purchase your floating shelves through a large market retailer, you risk getting a less personalized design. The pre-made options are severely constrained by a limitation of color and size diversity as well as a broader, excessive box design. 
You may make your own personalized versions that are fitted to your house and color palette for nearly the comparable price or less.
Materials required for DIY floating shelves
Pine board

Drill Machine

Sand sheet

Cloth

Stain

Measuring tape

Round or miter saw
You can also build shelves without brackets by simply following these steps:
Figure out how many Shelves are required. Your available vertical capacity will be the primary determining factor in this. Consider the items you will be putting here on the shelf and the distance you will require between them.

Determine the space you have for these shelves.

You must place one end of a measuring tape inside one corner before extending it toward the other corner side.





To prevent a glaring space between both shelf ends and the wall, if they weren't square, you would be required to trim the end of the

oak planks

at a small slant. And

Oak wood

is also used for making shelves. There are most of the wall shelves are made from oak wood.

Wash and stain the wood boards.

The boards should be cut to your specifications. Measure the area and make a mark at the place where you want to place these shelves.

Dowels are then nailed and glued to the marked area.
Congratulations, now you have made your own wall self!!!