It's really difficult to mix and create natural skin tones. If you're a portrait artist or want to improve your painting skills, you'll need a basic understanding of flesh tones and how to combine them.
Making skin color is never a simple process, but with the right knowledge and techniques, it may not be as difficult as you think.
Before you discover all of the steps for producing skin color, there are a few things you should do first.
This will allow you to achieve accurate skin tones in the future. However, if you want to know how to make orange colour paint then refer to this post. 
Skin Tone Determination
There are a lot of various tones and skin hues when looking at a skin color mixing chart. There are also several undertone possibilities to consider.
Choosing your paints may be a little different than it was in grade school. You could use bright, vibrant colors like blue. There are frequently many various hues that go into simple skin tone.
Making a Skin Tone Family
Once you've determined your "starting point," experiment with it to develop a family of tones. You may brighten it, darken it, or add some yellow, red, or blue highlights to alter it.
If you combine several lighteners or darkeners, you can develop an extensive skin tone palette.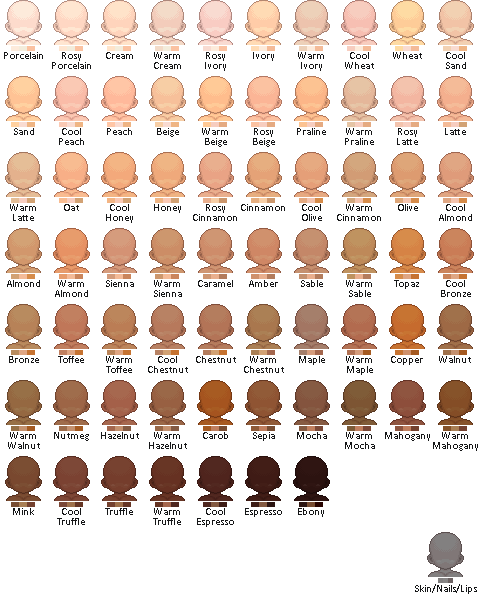 Make Skin Shades With Different Paints
It's also possible to change the skin color of an anime character by altering the hue, or color tone.
The process of determining how to make a skin tone differs according to the medium you're using.
Acrylic Paint
To ensure that your color matches your desired hue when it dries a bit darker, make it slightly lighter. Acrylic painting is not as simple as duplicating the same skin tone again.
If you require a lot of paint, it's probably best to generate a large batch at once.
Otherwise, keep meticulous records about how much each color you added. Simply be cautious when incorporating black, since it can create an extremely dark and murky effect when mixed into certain paints. We recommend using black only sparingly.
Consider reading how to make purple colour as well here to make purple color in easy steps.
Remember, you have a lot of options when it comes to color. Acrylic paint has a huge color mixing chart; however, all of this is due to just three colors. When combining acrylic paints, begin with the primaries.
Now you can mix any two primary colors to form a darker brown tone for your painting. This will serve as the start for almost every skin tone imaginable.
Once you've established the fundamental tone, you may modify it to achieve an exact color. To brighten or darken the tone, use white or your primary colors.
While using orange colour to make a skin shade you can also refer to how to make orange colour to get the perfect shade of skin colour from orange colour.
Oil Paints
Oil paints offer a broad selection of hues, making them ideal for creating custom colors. There are also many various skin tones to select from. As a result, you have a wide range of choices when it comes to combining the right hue.
You might begin with a vermilion red tone and mix some yellow ochre to make an orange shade. For depth and darkness, add some ultramarine blue.
Now you can add titanium white for a decent starting skin tone; simply vary the primary hues in different proportions to improve it.
Consider Reading two colour combinations for bedroom walls to make your bedroom look romantic.
You may also begin with a green foundation by combining yellow and blue. This may be lightened with little doses of orange or red to brighten the tone. From there, you can add white, darken with blue colour, and so on.
Watercolors
Watercolors have several interesting problems to deal with. Because these paints are drier than what is seen on the palette, be cautious about a paint tone that appears too dark.
When watercolors are used, white and black must be handled with care. When applying watercolors, use brown rather than black to darken them.
Yellow, red, and blue are the best colors to start with when learning how to create skin color paint with watercolors.
Have a look at the latest wall colour combination for hall here.
You must begin with a majority of yellow, a minor amount of red, and a little dot of blue rather than the other paints. This will result in an orange-brown color that is useful as a foundation.
To add even more variety, you may use very tiny quantities of red, yellow, blue, and even green. Experiment until you find the proper flesh tone.
This can then be used to make a variety of light and blush variations by changing it up.
Also read about two colour combinations for living room walls here.
It's a good idea to have some test paper on hand while mixing watercolors. Paint a tiny sample of each new tone onto the test paper to see how it turns out. Because watercolors dry rather swiftly, you may get a fair indication of what you'll be painting within no time.
Different Types of Skin Tones
It's not uncommon for a single person to have many different skin colors throughout their life. While each individual has a distinct skin tone, that color may be broken down into numerous variants on the same face.
You'll always need to produce several different versions of each hue while learning how to make skin color with paint.
Try these indian house colour combination outside to pick the perfect colors matching with the skin colour shade.
Blush Tones
After you've chosen the foundation color, you'll need to develop a set of tones around it. A key element of skin tone is blushed features, which can be utilized to add more accurate detail in areas that are exposed to the sun.
Check these two colour sunmica designs for wardrobe here as well.
A distinct hue must be generated and mixed into the surrounding pigmentation. Using undertones of red, yellow, or white is typically sufficient.
Tinted Light Skin Tones
Light has an impact on the color of your skin. In certain cases, you may need various light and dark tones in the base color to capture all of the shadows. White or yellow can be added to achieve lighter hues, while blue or purple can be used to create darker tones. Always exercise extra caution when using black, as it is quite sensitive.
You should begin with the basic color when learning how to make skin color using acrylic paint. Then, by adding a little more of each primary color, you may construct numerous variations of this.
Refer to modern texture paint designs if you are planning to opt for texture paint for your skin colour theme and making it a two-colour combination.
So, you start with the base skin tone, then move on to the blue version, yellow version, and red edition. This acrylic paint mixing chart will serve as a fantastic foundation for various light-tinted skin tones thanks to its use of several colors.
Conclusion
Making skin color with paint is a fun and rewarding experience. With these tips in mind, you should be well on your way to painting beautiful skin tones in no time.